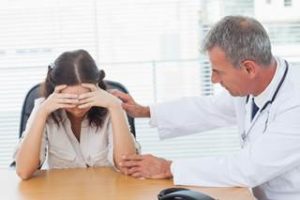 Manage Stress in Cancer Patients with Mindfulness
By John M. de Castro, Ph.D.
"For many people who have been diagnosed with cancer — or have been diagnosed with advanced cancer and are facing end-of-life issues — their mind is so full of worries about the future… that they can't fully be aware and enjoy the time they have now. Emotional distress, in turn, can have a significant impact on the course of the illness. Depression has been shown to hasten decline in cancer patients, and also to increase the risk of death. By reducing stress and negative emotions, mindfulness programs could potentially play an important role in the treatment process. [Cancer] is very demanding on the body and the mind, so the aim of this program is to help people learn ways to focus and calm their mind, and live more fully in the present moment so they can better manage difficult thoughts and difficult feelings," – Joanna Bell
Receiving a diagnosis of cancer has a huge impact on most people. Feelings of depression, anxiety, and fear are very common and are normal responses to this life-changing and potentially life-ending experience. These feeling can result from changes in body image, changes to family and work roles, feelings of grief at these losses, and physical symptoms such as pain, nausea, or fatigue and insomnia. People might also fear death, suffering, pain, or all the unknown things that lie ahead. So, coping with the emotions and stress of a cancer diagnosis is a challenge and there are no simple treatments for these psychological sequelae of cancer diagnosis.
But cancer diagnosis is not necessarily a death sentence. Over half of the people diagnosed with cancer are still alive 10 years later and this number is rapidly increasing. It is estimated that 15 million adults and children with a history of cancer are alive in the United States today. But, surviving cancer carries with it a number of problems. "Physical, emotional, and financial hardships often persist for years after diagnosis and treatment. Cancer survivors are also at greater risk for developing second cancers and other health conditions." National Cancer Survivors Day. It is estimated that nearly a third of breast cancer survivors have major disturbances of sleep that adds to the stress and damages recovery.
Mindfulness training has been shown to help with cancer recovery and help to alleviate many of the residual physical and psychological symptoms, including stress,  sleep disturbance, and anxiety and depression. In today's Research News article "Mindfulness-Based Stress Reduction as a Stress Management Intervention for Cancer Care: A Systematic Review." (See summary below or view the full text of the study at: https://www.ncbi.nlm.nih.gov/pmc/articles/PMC5871193/ ), Rush and Sharma review and summarize the findings of the published research on the effectiveness of one particular frequently used mindfulness training technique,  Mindfulness-Based Stress Reduction (MBSR) in reducing stress in cancer patients. MBSR is generally a 8-week program including meditation, yoga, and body scan, combined with home practice.
They identified 13 published research studies, 8 of which involved breast cancer. They found that the studies indicate that MBSR is effective in reducing the psychological and physiological responses to the stress of cancer and its treatment. Since, this stress produced can interfere with the patients ability of withstand treatment and its' psychological consequences, reducing stress responding may be greatly beneficial to the patients' health and well-being. Hence, the published literature supports the use of MBSR training for patients diagnosed with cancer, improving their physiological and psychological responses to the diagnosis and treatment of the disease. This can improve quality of life with cancer and hopefully lead to improved health and survival.
So, manage stress in cancer patients with Mindfulness-Based Stress Reduction (MBSR).
"Women who had the most stress before the study started benefited the most from the Mindfulness-Based Stress-Reduction for Breast Cancer program. The results of this study echo results from other small studies showing that mindfulness-based meditation can help ease the stress, anxiety, fear, and depression that often come along with a breast cancer diagnosis and treatment." – BreastCancer.org
CMCS – Center for Mindfulness and Contemplative Studies
This and other Contemplative Studies posts are also available on Google+ https://plus.google.com/106784388191201299496/posts and on Twitter @MindfulResearch
Study Summary
Rush, S. E., & Sharma, M. (2017). Mindfulness-Based Stress Reduction as a Stress Management Intervention for Cancer Care: A Systematic Review. Journal of Evidence-Based Complementary & Alternative Medicine, 22(2), 348–360. http://doi.org/10.1177/2156587216661467
Abstract
Cancer is acknowledged as a source of stress for many individuals, often leading to suffering, which can be long-lasting. Mindfulness-based stress reduction offers an effective way of reducing stress among cancer patients by combining mindfulness meditation and yoga in an 8-week training program. The purpose of this study was to inspect studies from October 2009 to November 2015 and examine whether mindfulness-based stress reduction can be utilized as a viable method for managing stress among cancer patients. A systematic search from Medline, CINAHL, and Alt HealthWatch databases was conducted for quantitative articles involving mindfulness-based stress reduction interventions targeting cancer patients. A total of 13 articles met the inclusion criteria. Of these 13 studies, 9 demonstrated positive changes in either psychological or physiological outcomes related to anxiety and/or stress, with 4 describing mixed results. Despite the limitations, mindfulness-based stress reduction appears to be promising for stress management among cancer patients.