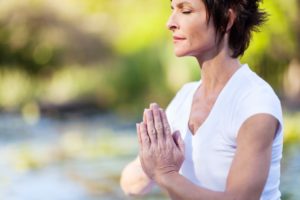 Improve Cancer Survivor Quality of Life with Exercise or Mindfulness
By John M. de Castro, Ph.D.
"One of the main reasons people with cancer use meditation is to help them to feel better. Meditation can reduce anxiety and stress. It might also help control problems such as: pain, difficulty sleeping, tiredness, feeling sick, high blood pressure." – Cancer Research UK
Receiving a diagnosis of cancer has a huge impact on most people. Feelings of depression, anxiety, and fear are very common and are normal responses to this life-changing and potentially life-ending experience. These feeling can result from changes in body image, changes to family and work roles, feelings of grief at these losses, and physical symptoms such as pain, nausea, or fatigue. People might also fear death, suffering, pain, or all the unknown things that lie ahead. So, coping with the emotions and stress of a cancer diagnosis is a challenge and there are no simple treatments for these psychological sequelae of cancer diagnosis.
But cancer diagnosis is not necessarily a death sentence. Over half of the people diagnosed with cancer are still alive 10 years later and this number is rapidly increasing. It is estimated that 15 million adults and children with a history of cancer are alive in the United States today. But, surviving cancer carries with it a number of problems. "Physical, emotional, and financial hardships often persist for years after diagnosis and treatment. Cancer survivors are also at greater risk for developing second cancers and other health conditions." National Cancer Survivors Day.
Mindfulness training has been shown to help with cancer recovery and help to alleviate many of the residual physical and psychological symptoms, including stress,  sleep disturbance, and anxiety and depression. In today's Research News article "Review of systematic reviews of non-pharmacological interventions to improve quality of life in cancer survivors." (See summary below or view the full text of the study at: https://www.ncbi.nlm.nih.gov/pmc/articles/PMC5719270/ ), Duncan and colleagues summarize the published scientific reviews of randomized controlled trials on the effects of non-drug interventions on the quality of life of adult cancer survivors. The interventions included fell into a number of categories including physical (e.g. aerobic exercise, yoga), psychological education,  peer support, and mind-body therapies (Mindfulness-Based Stress Reduction (MBSR), cognitive behavioral therapy (CBT), psychotherapy, relaxation training).
They discovered 21 published reviews of 362 randomized controlled trials. They found that the literature supported the efficacy of aerobic exercise, yoga, cognitive behavioral therapy (CBT), and Mindfulness-Based Stress Reduction (MBSR) in improving the quality of life in cancer survivors. Hence, published scientific randomized controlled trials of non-drug treatment approaches demonstrate that the quality of life of cancer survivors can be improved with exercise, CBT, and mindfulness practices such as MBSR and yoga.
It was not reported how these practices might improve quality of life in cancer survivors. But, it can be speculated that because cancer treatments are physically demanding and of themselves produce physical debilitation, that exercise is a useful countermeasure to help overcome the physical losses occurring in treatment. It can also be speculated that mindfulness training may be helpful by improving the survivor's ability to regulate the emotions produced by a cancer diagnosis and its treatment. These include anxiety, depression, fear, catastrophizing etc. By improving the ability to feel these emotions but react to them adaptively and thereby not amplifying them, the survivors may help to improve their emotional well-being and as a result their quality of life.
So, improve cancer survivor quality of life with exercise or mindfulness.
"We already know that psychosocial interventions like mindfulness meditation will help you feel better mentally, but now for the first time we have evidence that they can also influence key aspects of your biology," – Linda Carlson
CMCS – Center for Mindfulness and Contemplative Studies
This and other Contemplative Studies posts are also available on Google+ https://plus.google.com/106784388191201299496/posts and on Twitter @MindfulResearch
Study Summary
Duncan, M., Moschopoulou, E., Herrington, E., Deane, J., Roylance, R., Jones, L., … Bhui, K. (2017). Review of systematic reviews of non-pharmacological interventions to improve quality of life in cancer survivors. BMJ Open, 7(11), e015860. http://doi.org/10.1136/bmjopen-2017-015860
Strengths and limitations of this study
This is a systematic review of reviews and evidence synthesis of non-pharmacological interventions in cancer survivors.
Longer term studies are needed and studies of greater methodological quality that adopt similar reporting standards.
Definitions of survivor varied and more studies are needed for different types of cancer, and specifically for patients who have poor quality of life.
More studies are needed that investigate educational, online and multidisciplinary team-based interventions.
This review has some limitations in the methodology. Studies not in English and grey literature were not included. This was a review of reviews: we did not review individual studies focused on specific cancers or stage, and we did not reassess the quality of the primary studies included in each review.
Abstract
Objectives
Over two million people in the UK are living with and beyond cancer. A third report diminished quality of life.
Design
A review of published systematic reviews to identify effective non-pharmacological interventions to improve the quality of life of cancer survivors.
Data sources
Databases searched until May 2017 included PubMed, Cochrane Central, EMBASE, MEDLINE, Web of Science, the Cumulative Index to Nursing and Allied Health Literature, and PsycINFO.
Study selection
Published systematic reviews of randomised trials of non-pharmacological interventions for people living with and beyond cancer were included; included reviews targeted patients aged over 18. All participants had already received a cancer diagnosis. Interventions located in any healthcare setting, home or online were included. Reviews of alternative therapies or those non-English reports were excluded. Two researchers independently assessed titles, abstracts and the full text of papers, and independently extracted the data.
Outcomes
The primary outcome of interest was any measure of global (overall) quality of life.
Analytical methods
Quality assessment assessing methdological quality of systematic reviews (AMSTAR) and narrative synthesis, evaluating effectiveness of non-pharmacological interventions and their components.
Results
Of 14 430 unique titles, 21 were included in the review of reviews. There was little overlap in the primary papers across these reviews. Thirteen reviews covered mixed tumour groups, seven focused on breast cancer and one focused on prostate cancer. Face-to-face interventions were often combined with online, telephone and paper-based reading materials. Interventions included physical, psychological or behavioural, multidimensional rehabilitation and online approaches. Yoga specifically, physical exercise more generally, cognitive behavioural therapy (CBT) and mindfulness-based stress reduction (MBSR) programmes showed benefit in terms of quality of life.
Conclusions
Exercise-based interventions were effective in the short (less than 3–8 months) and long term. CBT and MBSR also showed benefits, especially in the short term. The evidence for multidisciplinary, online and educational interventions was equivocal.