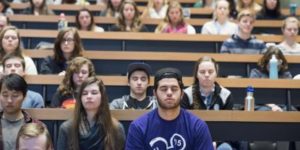 Reduce Anxiety and Depression in Stressed College Students with Mindfulness
By John M. de Castro, Ph.D.
"Mindfulness is so vital. It's being right there in the moment. It helps you be successful in everything you do. College students are under a lot of stress — that's been a given forever. Now, they have the tools in their pocket." – Cathleen Hardy Hansen
In the modern world education is a key for success. Where a high school education was sufficient in previous generations, a college degree is now required to succeed in the new knowledge-based economies. There is a lot of pressure on students to excel so that they can be admitted to the best universities and there is a lot of pressure on university students to excel so that they can get the best jobs after graduation. As a result, parents and students are constantly looking for ways to improve student performance in school. The primary tactic has been to pressure the student and clear away routine tasks and chores so that the student can focus on their studies. But, this might in fact be counterproductive as the increased pressure can actually lead to stress and anxiety which can impede the student's mental health, well-being, and school performance.
It is, for the most part, beyond the ability of the individual to change the environment to reduce stress, so it is important that methods be found to reduce the college students' responses to stress; to make them more resilient when high levels of stress occur. Contemplative practices including meditation, mindfulness training, and yoga practice have been shown to reduce the psychological and physiological responses to stress. So, it would seem important to examine various techniques to relieve the stress and its consequent symptoms in college students.
In today's Research News article "A Randomized Controlled Trial Comparing the Attention Training Technique and Mindful Self-Compassion for Students with Symptoms of Depression and Anxiety." (See summary below or view the full text of the study at: https://www.frontiersin.org/articles/10.3389/fpsyg.2018.00827/full?utm_source=F-AAE&utm_medium=EMLF&utm_campaign=MRK_662896_69_Psycho_20180605_arts_A ), Haukaas and colleagues explore the ability of attention training and mindfulness training to help relieve the anxiety and depression in college students resulting from stress.
They recruited undergraduate and graduate students who self-reported depression, anxiety, and stress. They were randomly assigned to receive 3 group sessions for 45 minutes for three consecutive weeks of either Attention Training or Mindfulness and Self-Compassion training. Each training included daily home practice with pre-recorded audio recordings. Attention training was designed "to strengthen attentional control and promote external focus of attention, to interrupt and break free of the cognitive attentional syndrome, consisting of prolonged worry or rumination, threat monitoring, and different unhelpful coping styles accompanied by a heightened self-focused attention." Mindfulness and Self-Compassion training consisted of training to pay attention to the present moment and "to relate to oneself in a kinder and more accepting manner." Training including Loving Kindness Meditation practice. Participants were measured before and after training for depression, anxiety, self-compassion, responses to thoughts, and mindfulness.
They found that both Attention Training and Mindfulness and Self-Compassion training produced significant reductions in general and test anxiety and depression and significant increases in mindfulness, self-compassion, attention flexibility, and self-esteem. The effects were moderate to large indicating fairly powerful effects of the treatments. It should be noted that there wasn't a control condition and both treatments were associated with significant changes. It is thus possible that confound or bias was present that could account for some or all of the changes. But, the effects were strong and commensurate with previous findings that mindfulness training reduces anxiety and depression and increases self-compassion. Thus, it would appear that the two treatments are effective for improving the psychological health of stressed university students.
So, reduce anxiety and depression in stressed college students with mindfulness and attention training.
"taking time to catch your breath and meditate can help increase students' overall life satisfaction. We found that underneath the stress that students are experiencing is a deep desire to appreciate life and feel meaningful connections with other people." – Kamila Dvorakova
CMCS – Center for Mindfulness and Contemplative Studies
This and other Contemplative Studies posts are also available on Google+ https://plus.google.com/106784388191201299496/posts and on Twitter @MindfulResearch
Study Summary
Haukaas RB, Gjerde IB, Varting G, Hallan HE and Solem S (2018) A Randomized Controlled Trial Comparing the Attention Training Technique and Mindful Self-Compassion for Students With Symptoms of Depression and Anxiety. Front. Psychol. 9:827. doi: 10.3389/fpsyg.2018.00827
The Attention Training Technique (ATT) and Mindful Self-Compassion (MSC) are two promising psychological interventions. ATT is a 12-min auditory exercise designed to strengthen attentional control and promote external focus of attention, while MSC uses guided meditation and exercises designed to promote self-compassion. In this randomized controlled trial (RCT), a three-session intervention trial was conducted in which university students were randomly assigned to either an ATT-group (n = 40) or a MSC-group (n = 41). The students were not assessed with diagnostic interviews but had self-reported symptoms of depression, anxiety, or stress. Participants listened to audiotapes of ATT or MSC before discussing in groups how to apply these principles for their everyday struggles. Participants also listened to audiotapes of ATT and MSC as homework between sessions. Participants in both groups showed significant reductions in symptoms of anxiety and depression accompanied by significant increases in mindfulness, self-compassion, and attention flexibility post-intervention. These results were maintained at 6-month follow-up. Improvement in attention flexibility was the only significant unique predictor of treatment response. The study supports the use of both ATT and MSC for students with symptoms of depression and anxiety. Further, it suggests that symptom improvement is related to changes in attention flexibility across both theoretical frameworks. Future studies should focus on how to strengthen the ability for attention flexibility to optimize treatment for emotional disorder.
https://www.frontiersin.org/articles/10.3389/fpsyg.2018.00827/full?utm_source=F-AAE&utm_medium=EMLF&utm_campaign=MRK_662896_69_Psycho_20180605_arts_A