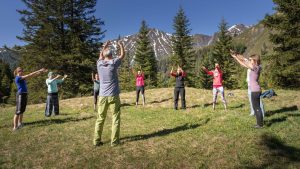 Improve Health and Treat Illness with Qigong
By John M. de Castro, Ph.D.
"in order to do qigong … we have to be pretend to be empty, so the first thing to empty is the mind, so we try not to think of anything and only listen to our breathing, relax all the strength and relax the mind, so it's some kind of meditation." – Joe Lok
Tai Chi and Qigong are ancient mindfulness practices involving slow prescribed movements. They are gentle and completely safe, can be used with the elderly and sickly, are inexpensive to administer, can be performed in groups or alone, at home or in a facility or even public park, and can be quickly learned. In addition, they can also be practiced in social groups without professional supervision. This can make it fun, improving the likelihood of long-term engagement in the practice.
Tai Chi and Qigong are both mindfulness practices and exercises. They have been shown to be beneficial to the health and well-being of individuals of a variety of ages, but particularly the elderly. They also improve the symptoms of a variety of diseases. The studies of the benefits for health of Tai Chi and Qigong are accumulating and so it makes sense to take a moment to summarize what has been learned.
In today's Research News article "Benefits of Qigong as an integrative and complementary practice for health: a systematic review." (See summary below or view the full text of the study at: https://www.ncbi.nlm.nih.gov/pmc/articles/PMC7365612/) Toneti and colleagues review and summarize the published research studies of the benefits for health of Qigong practice. They identified 28 published clinical trials.
They report that the published research studies found that Qigong practice significantly promotes health and is effective in the prevention and rehabilitation of diseases in adults and the elderly. The evidence supports the effectiveness of Qigong practice in treating the symptoms of cancer, fibromyalgia, Parkinson's disease, cardiovascular disease, and COPD. It has also been shown to be effective in reducing chronic pain including low back pain, cervical pain, and osteoarthritis pain. In addition, it has been shown to be effective in reducing perceived stress, burnout, fatigue, social isolation, and depression.
Hence, the available published research suggests that Qigong practice is effective in promoting physical and psychological health in healthy people and people with diseases at a variety of ages including the elderly. These are impressive benefits for a gentle and safe practice that can be rolled out to a wide audience at low cost. This suggests that people should be encouraged to participate in Qigong practice to promote their health and well-being.
So, improve health and treat illness with Qigong.
"Qi gong and tai chi are relaxing ways to improve your flexibility and balance. Both are great ways to stay active and vital. The gentle, flowing movements are easy on the joints." – Jodi Helmer
CMCS – Center for Mindfulness and Contemplative Studies
This and other Contemplative Studies posts are also available on Google+ https://plus.google.com/106784388191201299496/posts and on Twitter @MindfulResearch
Study Summary
Toneti, B. F., Barbosa, R., Mano, L. Y., Sawada, L. O., Oliveira, I. G., & Sawada, N. O. (2020). Benefits of Qigong as an integrative and complementary practice for health: a systematic review. Revista latino-americana de enfermagem, 28, e3317. https://doi.org/10.1590/1518-8345.3718.3317
Abstract
Objective:
to analyze, in the literature, evidence about the benefits of the integrative and complementary practice of Qigong with regard to the health of adults and the elderly.
Method:
a systematic review by searching for studies in the PubMed, CINAHL, LILACS, EMBASE and Cochrane Library databases. Randomized and non-randomized clinical trials were included; in Portuguese, English and Spanish; from 2008 to 2018. The Preferred Reporting Items for Systematic Reviews and Meta-Analyses strategy was adopted, as well as the recommendation of the Cochrane Collaboration for assessing the risk of bias in the clinical trials analyzed.
Results:
28 studies were selected that indicated the benefit of the practice to the target audience, which can be used for numerous health conditions, such as: cancer; fibromyalgia; Parkinson's disease; Chronic Obstructive Pulmonary Disease; Burnout; stress; social isolation; chronic low back pain; cervical pain; buzz; osteoarthritis; fatigue; depression; and cardiovascular diseases. However, there was a great risk of bias in terms of the blinding of the research studies.
Conclusion:
the practice of Qigong produces positive results on health, mainly in the medium and long term. This study contributes to the advancement in the use of integrative and complementary practices in nursing, since it brings together the scientific production in the area from the best research results available.
https://www.ncbi.nlm.nih.gov/pmc/articles/PMC7365612/