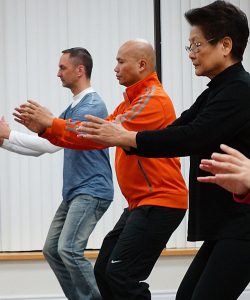 Decrease Hypertension with Tai Chi
By John M. de Castro, Ph.D.
"Tai chi may be just as effective as popular methods for lowering blood pressure, such as weight loss and lowered sodium intake. . . tai chi may positively affect blood cholesterol, related lipids and inflammation. This means that enjoying tai chi regularly may lower your chance of heart disease." – Abbot
High Blood Pressure (Hypertension) is an insidious disease because there are no overt symptoms. The individual feels fine. But it can be deadly as more than 360,000 American deaths, roughly 1,000 deaths each day, had high blood pressure as a primary or contributing cause. In addition, hypertension markedly increases the risk heart attack, stroke, heart failure, and kidney disease.  It is also a very common disorder with about 70 million American adults (29%) having high blood pressure and only about half (52%) of people with high blood pressure have their condition under control. Treatment frequently includes antihypertensive drugs. But these medications often have adverse side effects. So, patients feel lousy when taking the drugs, but fine when they're not. So, compliance is a major issue with many patients not taking the drugs regularly or stopping entirely.
Obviously, there is a need for alternative to drug treatments for hypertension. Mindfulness practices have been shown to aid in controlling hypertension. Mindful movement practices such Tai Chi and Qigong are ancient Chinese practices involving mindfulness and gentle movements. They are easy to learn, safe, and gentle. So, it may be appropriate for patients with hypertension who lack the ability to engage in strenuous exercises. Indeed, Qigong practice has been shown to reduce blood pressure. There have been a number of studies performed and it is useful to summarize what has been learned.
In today's Research News article "The Efficacy of Tai Chi and Qigong Exercises on Blood Pressure and Blood Levels of Nitric Oxide and Endothelin-1 in Patients with Essential Hypertension: A Systematic Review and Meta-Analysis of Randomized Controlled Trials." (See summary below or view the full text of the study at: https://www.ncbi.nlm.nih.gov/pmc/articles/PMC7414352/) Liu and colleagues review, summarize, and perform a meta-analysis of the effectiveness of Tai Chi practice in treating hypertension. They found 9 published randomized controlled trials including a total of 516 patients.
They report that the published research found that Tai Chi practice produced a significant reduction in both systolic and diastolic blood pressure and blood endothelin-1 levels and significant increases in blood nitrous oxide levels. Endothelin-1 is a powerful vasoconstrictor and Nitrous Oxide is a powerful vasodilator. So, the reduced levels of Endothelin-1 and increased levels of Nitrous Oxide in patients performing Tai Chi may be a physiological mechanism by which the practice lowers blood pressure.
These findings suggest that Tai Chi practice is a safe and effective treatment to lower blood pressure in patients with hypertension. Some advantages of Tai Chi include the facts that it is not strenuous, involves slow gentle movements, and is safe, having no appreciable side effects, it is appropriate for all ages including the elderly and for individuals with illnesses that limit their activities or range of motion. It can also be practiced without professional supervision and in groups making it inexpensive to deliver and fun to engage in. This makes Tai Chi practice an excellent treatment for hypertension.
So, decrease hypertension with Tai Chi.
"High blood pressure can precede cardiovascular complications, such as a heart attack, so it is important to keep it in check. If your blood pressure is too high, there is a simple exercise you can do at home. . . Evidence suggests tai chi, a mind-body practice that has its origin Chinese martial arts, can lower high blood pressure." – Adam Chapman
CMCS – Center for Mindfulness and Contemplative Studies
This and other Contemplative Studies posts are also available on Google+ https://plus.google.com/106784388191201299496/posts and on Twitter @MindfulResearch
Study Summary
Liu, D., Yi, L., Sheng, M., Wang, G., & Zou, Y. (2020). The Efficacy of Tai Chi and Qigong Exercises on Blood Pressure and Blood Levels of Nitric Oxide and Endothelin-1 in Patients with Essential Hypertension: A Systematic Review and Meta-Analysis of Randomized Controlled Trials. Evidence-based complementary and alternative medicine : eCAM, 2020, 3267971. https://doi.org/10.1155/2020/3267971
Abstract
Objective
Tai Chi and Qigong are the two similar traditional Chinese wellness exercises. A strong body of published clinical randomized controlled trials (RCTs) has investigated the health benefits of Tai Chi and Qigong exercises (TCQE) in patients with essential hypertension (EH). This is the first meta-analysis to evaluate the efficacy of TCQE on blood pressure (BP) and blood levels of nitric oxide (NO) and endothelin-1 (ET-1) in EH patients and explore the potential antihypertensive mechanism of TCQE.
Methods
We conducted a literature retrieval for Chinese and English studies in seven databases from their respective inceptions until January 14, 2020. All RCTs examining clinical efficacy of TCQE for EH patients were considered. The major therapeutic outcomes of TCQE were changes in the blood levels of NO, ET-1, and BP in EH patients. Methodological quality of the included RCTs was detected via The Cochrane Risk of Bias tool. We evaluated the data reported and performed the meta-analysis by Review Manager 5.3 software.
Results
9 RCTs involving 516 EH patients were included. The intervention duration lasted from 1.5 months to 6 months. The results of comprehensive analysis showed that compared with control interventions, experimental interventions were more effective in reducing the systolic blood pressure and the diastolic blood pressure and contributed higher blood levels of NO and lower blood levels of ET-1.
Conclusions
TCQE could be an effective complementary and alternative therapy for EH. The lower BP in EH patients who practice TCQE may have some connection with exercise-related increased blood NO levels and decreased blood ET-1 levels. However, further research is needed to make clear the efficacy of TCQE in management of EH and the mechanism of lowering BP in TCQE.
https://www.ncbi.nlm.nih.gov/pmc/articles/PMC7414352/