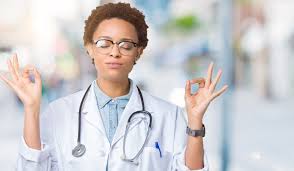 Improve Compassion and Self-Compassion in Health Care Professionals with Mindfulness
By John M. de Castro, Ph.D.
"Burgeoning research is showing that self-compassion skills can be of particular benefit to health care professionals, allowing them to experience greater satisfaction in their caregiving roles, less stress, and more emotional resilience." – CMSC
Stress is epidemic in the western workplace with almost two thirds of workers reporting high levels of stress at work. In high stress occupations, like healthcare, burnout is all too prevalent. Burnout is the fatigue, cynicism, emotional exhaustion, sleep disruption, and professional inefficacy that comes with work-related stress. It is estimated that over 45% of healthcare workers experience burnout. It not only affects the healthcare providers personally, but also the patients, as it produces a loss of empathy and compassion. Burnout, in fact, it is a threat to the entire healthcare system. Currently, over a third of healthcare workers report that they are looking for a new job. Hence, burnout contributes to the shortage of doctors and nurses.
Preventing burnout has to be a priority. Unfortunately, it is beyond the ability of the individual to change the environment to reduce stress and prevent burnout. So, it is important that methods be found to reduce the individual's responses to stress; to make the individual more resilient when high levels of stress occur. Contemplative practices have been shown to reduce the psychological and physiological responses to stress and improve well-being. Indeed, mindfulness has been shown to be helpful in treating and preventing burnout, increasing resilience, and improving sleep.
One way that mindfulness may help reduce burnout is by improving self-compassion. Self-compassion is "treating oneself with kindness and understanding when facing suffering, seeing one's failures as part of the human condition, and having a balanced awareness of painful thoughts and emotions" (Kristin Neff). This may reduce the perfectionism and self-judgement that is common among physicians and thereby reduce burnout.
In today's Research News article "Mindfulness, Compassion, and Self-Compassion Among Health Care Professionals: What's New? A Systematic Review." (See summary below or view the full text of the study at: https://www.frontiersin.org/articles/10.3389/fpsyg.2020.01683/full?utm_source=F-AAE&utm_medium=EMLF&utm_campaign=MRK_1401267_69_Psycho_20200811_arts_A) Conversano and colleagues review and summarize the published research studies of the effects of mindfulness on compassion and self-compassion and the symptoms of burnout in health care professionals. They identified 57 published studies consisting of: "randomized controlled trials (4), studies with pre-post measurements (23), cross-sectional studies (12), cohort studies (11), and qualitative studies (7)".
They report that the published research found that the Mindfulness-Based Stress Reduction (MBSR) program was effective in increasing mindfulness and self-compassion and reducing burnout, stress, anxiety and depression. Other mindfulness trainings were effective in increasing mindfulness and self-compassion and reducing negative emotions and compassion fatigue. Compassion training programs were effective in increasing mindfulness, positive emotions, and self-compassion and reducing interpersonal conflicts, negative emotions and compassion fatigue.
This research summary suggests that mindfulness training and compassion training are both useful in combatting the stress of healthcare work and reducing potential burnout of these professionals. The large number of studies employing different mindfulness and compassion training programs makes a strong case for the use of mindfulness and compassion training to reduce the likelihood of burnout of health care professionals and thereby improve the quality of the delivery of health care to the patients. This all suggests that mindfulness and compassion training should be routinely incorporated in the training and continuing education of healthcare workers,
Improve compassion and self-compassion in health care professionals with mindfulness.
"health care professionals who completed the MBSR program reported an increase in feelings of self-compassion and reduced stress." – Elaine Mead
CMCS – Center for Mindfulness and Contemplative Studies
This and other Contemplative Studies posts are also available on Google+ https://plus.google.com/106784388191201299496/posts and on Twitter @MindfulResearch
Study Summary
Conversano C, Ciacchini R, Orrù G, Di Giuseppe M, Gemignani A and Poli A (2020) Mindfulness, Compassion, and Self-Compassion Among Health Care Professionals: What's New? A Systematic Review. Front. Psychol. 11:1683. doi: 10.3389/fpsyg.2020.01683
Health care professionals (HCPs) are a population at risk for high levels of burnout and compassion fatigue. The aim of the present systematic review was to give an overview on recent literature about mindfulness and compassion characteristics of HCPs, while exploring the effectiveness of techniques, involving the two aspects, such as MBSR or mindfulness intervention and compassion fatigue-related programs. A search of databases, including PubMed and PsycINFO, was conducted following the Preferred Reporting Items for Systematic Review and Meta-Analyses (PRISMA) guidelines and the methodological quality for this systematic review was appraised using AMSTAR-2 (A MeaSurement Tool to Assess systematic Reviews-2). The number of articles that met the inclusion criteria was 58 (4 RCTs, 24 studies with pre-post measurements, 12 cross-sectional studies, 11 cohort studies and 7 qualitative studies). MBSR intervention was effective at improving, and maintaining, mindfulness and self-compassion levels and to improve burnout, depression, anxiety, stress. The most frequently employed interventional strategies were mindfulness-related trainings that were effective at improving mindfulness and self-compassion, but not compassion fatigue, levels. Compassion-related interventions have been shown to improve self-compassion, mindfulness and interpersonal conflict levels. Mindfulness was effective at improving negative affect and compassion fatigue, while compassion satisfaction may be related to cultivation of positive affect. This systematic review summarized the evidence regarding mindfulness- and compassion-related qualities of HCPs as well as potential effects of MBSR, mindfulness-related and compassion-related interventions on professionals' psychological variables like mindfulness, self-compassion and quality of life. Combining structured mindfulness and compassion cultivation trainings may enhance the effects of interventions, limit the variability of intervention protocols and improve data comparability of future research.
https://www.frontiersin.org/articles/10.3389/fpsyg.2020.01683/full?utm_source=F-AAE&utm_medium=EMLF&utm_campaign=MRK_1401267_69_Psycho_20200811_arts_A