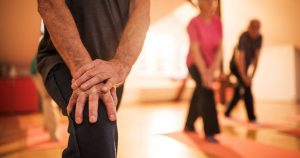 Improve the Quality of Life of Patients Living with HIV with Yoga
By John M. de Castro, Ph.D.
"yoga can have positive impact on mental health for people living with HIV," – Eugene Dunne
More than 35 million people worldwide and 1.2 million people in the United States are living with HIV infection. These include a significant number of children and adolescents. In 1996, the advent of the protease inhibitor and the so-called cocktail changed the prognosis for HIV. Since this development a 20-year-old infected with HIV can now expect to live on average to age 69. Hence, living with HIV is a long-term reality for a very large group of people.
People living with HIV infection experience a wide array of physical and psychological symptoms which decrease their perceived quality of life. The symptoms include chronic pain, muscle aches, anxiety, depression, weakness, fear/worries, difficulty with concentration, concerns regarding the need to interact with a complex healthcare system, stigma, and the challenge to come to terms with a new identity as someone living with HIV. Mindfulness training has been shown to improve psychological well-being, lower depression and strengthen the immune system of patients with HIV infection. Yoga practice has also been found to be effective in treating HIV.
In today's Research News article "Feasibility and Impact of a Yoga Intervention on Cognition, Physical Function, Physical Activity, and Affective Outcomes among People Living with HIV: A Randomized Controlled Pilot Trial." (See summary below or view the full text of the study at: https://www.ncbi.nlm.nih.gov/pmc/articles/PMC7318828/) Quigley and colleagues recruited patients living with HIV infection who were over the age of 35 years and randomly assigned them to receive 12 weeks of 3 times per week 1-hour Hatha yoga practice or to a no treatment control condition. They were measured before and after the practice period for cognitive ability, HIV-specific cognitive difficulties, balance, physical activity, medication adherence, HIV medical outcomes, quality of life, anxiety, depression, and mental health.
They found that the yoga classes were well attended, 82% of all classes and all participants reported satisfaction with the intervention. They also found that the yoga group had a significant improvement in health-related quality of life for cognitive function, and trends toward significance for depression and health -related quality of life for health transitions.
This was a small pilot study that did not have an active control condition and was not powered to detect small differences. As such, conclusions must be limited. But the study was successful in establishing that yoga practice for patients living with HIV is feasible and acceptable and appreciated by the participants, and that improvement in quality of life occurred with the yoga practice. These results are promising and thus strongly suggest that a large randomized controlled clinical trial with an active control condition be conducted in the future.
So, improve the quality of life of patients living with HIV with yoga
"Yoga quiets the mind, improves breathing and circulation, and reduces stress. Daily practice can help support the immune system in conjunction with a comprehensive HIV treatment program." – Jon Kaiser
CMCS – Center for Mindfulness and Contemplative Studies
This and other Contemplative Studies posts are also available on Google+ https://plus.google.com/106784388191201299496/posts and on Twitter @MindfulResearch
Study Summary
Quigley, A., Brouillette, M. J., Gahagan, J., O'Brien, K. K., & MacKay-Lyons, M. (2020). Feasibility and Impact of a Yoga Intervention on Cognition, Physical Function, Physical Activity, and Affective Outcomes among People Living with HIV: A Randomized Controlled Pilot Trial. Journal of the International Association of Providers of AIDS Care, 19, 2325958220935698. https://doi.org/10.1177/2325958220935698
Abstract
The purpose of this pilot randomized controlled trial is to assess the feasibility and impact of a triweekly 12-week yoga intervention among people living with HIV (PLWH). Additional objectives included evaluating cognition, physical function, medication adherence, health-related quality of life (HRQoL), and mental health among yoga participants versus controls using blinded assessors. We recruited 22 medically stable PLWH aged ≥35 years. A priori feasibility criteria were ≥70% yoga session attendance and ≥70% of participants satisfied with the intervention using a postparticipation questionnaire. Two participants withdrew from the yoga group. Mean yoga class attendance was 82%, with 100% satisfaction. Intention-to-treat analyses (yoga n = 11, control n = 11) showed no within- or between-group differences in cognitive and physical function. The yoga group improved over time in HRQoL cognition (P = .047) with trends toward improvements in HRQoL health transition (P =.063) and depression (P = .055). This pilot study provides preliminary evidence of feasibility and benefits of yoga for PLWH.
https://www.ncbi.nlm.nih.gov/pmc/articles/PMC7318828/