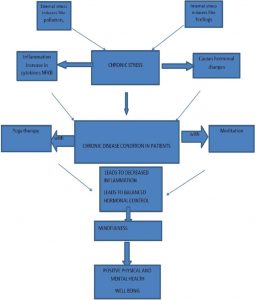 Yoga improves the Immune Response and Chronic Diseases
By John M. de Castro, Ph.D.
"yoga can be a helpful way to boost your immune system and decrease inflammation in the body." – Marlynn Wei
Mindfulness training has been shown to be effective in improving physical and psychological health and particularly with the physical and psychological reactions to stress. Techniques such as Mindfulness Training, Mindfulness-Based Stress Reduction (MBSR) and Mindfulness-Based Cognitive Therapy (MBCT) as well as Yoga practice and Tai Chi or Qigong practice have been demonstrated to be effective. This has led to an increasing adoption of these mindfulness techniques for the health and well-being of both healthy and ill individuals.
One important benefit of mindfulness practices appears to strengthen the immune system, the body's primary defense against disease. Through a series of steps called the immune response, this system attacks organisms and substances that invade body systems and cause disease. It is important that it be properly tuned as too weak of an immune response can allow diseases to develop while too strong of a response can result in autoimmune diseases. Much has been learned and it makes sense to step back and summarize what has been discovered.
In today's Research News article "Molecular Signature of the Immune Response to Yoga Therapy in Stress-related Chronic Disease Conditions: An Insight." (See summary below or view the full text of the study at: https://www.ncbi.nlm.nih.gov/pmc/articles/PMC6937878/), Venkatesh and colleagues review and summarize the published research on the effects of yoga practice on chronic diseases and the immune system.
They report that the research finds that Yoga therapy is effective for the treatment of depression, anxiety, posttraumatic stress, schizophrenia, autism, learning disorders, obesity, heart diseases, attention deficit disorder, diabetes, depression, gastrointestinal problems, asthma, headaches, hypertension, chronic low back pain, ulcers, and multiple sclerosis. It appears to have these wide-ranging positive effects by affecting the immune system. It reduces the biological mechanisms that produce inflammation. Many chronic diseases result from or are exacerbated by inflammation. So, the reduction of inflammation reduces the symptoms of these chronic diseases improving for health and well-being.
Hence, they conclude that yoga improves mental and physical health by improving the biochemical mechanisms involved in the immune response particularly the response to stress. This in turn reduces the inflammatory response that contributes to many chronic diseases. The practice of yoga is seen as a safe and effective method to modulate the biological mechanisms of the immune system that respond to stress.
So, yoga improves the immune response and chronic diseases.
"Proper hygeine and healthy eating habits can reduce the risk of common sicknesses, but we don't have to stop there. Yoga can also help us fight infections by boosting our immune system, reducing stress and strengthening our body's functions and systems." – Anna Roberts McMurray
CMCS – Center for Mindfulness and Contemplative Studies
This and other Contemplative Studies posts are also available on Google+ https://plus.google.com/106784388191201299496/posts and on Twitter @MindfulResearch
Error! Hyperlink reference not valid.
Study Summary
Venkatesh, H. N., Ravish, H., Wilma Delphine Silvia, C. R., & Srinivas, H. (2020). Molecular Signature of the Immune Response to Yoga Therapy in Stress-related Chronic Disease Conditions: An Insight. International journal of yoga, 13(1), 9–17. https://doi.org/10.4103/ijoy.IJOY_82_18
Abstract
The world Health Organization defines health as complete well-being in terms of physical, mental and social, and not merely the absence of disease. To attain this, individual should adapt and self-mange the social, physical and emotional challenges of life. Exposure to chronic stress due to urbanization, work stress, nuclear family, pollution, unhealthy food habits, lifestyle, accidental death in the family, and natural calamities are the triggering factors, leading to hormonal imbalance and inflammation in the tissue. The relationship between stress and illness is complex; all chronic illnesses such as cardiovascular disease and asthma have their root in chronic stress attributed by inflammation. In recent times, yoga therapy has emerged as an important complementary alternative medicine for many human diseases. Yoga therapy has a positive impact on mind and body; it acts by incorporating appropriate breathing techniques and mindfulness to attain conscious direction of our awareness of the present moment by meditation, which helps achieve harmony between the body and mind. Studies have also demonstrated the important regulatory effects of yoga therapy on brain structure and functions. Despite these advances, the cellular and molecular mechanisms by which yoga therapy renders its beneficial effects are inadequately known. A growing body of evidence suggests that yoga therapy has immunomodulatory effects. However, the precise mechanistic basis has not been addressed empirically. In this review, we have attempted to highlight the effect of yoga therapy on immune system functioning with an aim to identify important immunological signatures that index the effect of yoga therapy. Toward this, we have summarized the available scientific evidence showing positive impacts of yoga therapy. Finally, we have emphasized the efficacy of yoga in improving physical and mental well-being. Yoga has been a part of Indian culture and tradition for long; now, the time has come to scientifically validate this and implement this as an alternative treatment method for stress-related chronic disease.
https://www.ncbi.nlm.nih.gov/pmc/articles/PMC6937878/