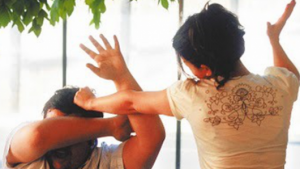 Reduce Dating Violence Due to Perceived Infidelity with Mindfulness
By John M. de Castro, Ph.D.
"It takes patience, mindfulness and knowledge of trauma-informed practices to effectively implement lasting and profound changes to victims of domestic and sexual violence." – Sara Mahoney
Dating should be a time for young people to get together, get to know one another and have fun. But all too often, dating involves violence or aggression. Nearly 1.5 million high school students in the U.S. experience physical abuse from a dating partner each year, 33% are victims of physical, sexual, emotional or verbal abuse from a dating partner, and 10% have been purposefully hit, slapped or physically hurt. Dating violence doesn't just occur in High School as 43% of college women experience violent or abusive dating behaviors. Sadly, only about a third of the victims ever tell anyone about the abuse. Hence it is important to find ways to prevent dating violence. Mindfulness has potential to reduce dating violence.
Dating violence is often linked to suspicions regarding the infidelity of the partner and frequently to alcohol intake. It is not known if mindfulness in some way affects the influence of infidelity suspicion on physical assault. In today's Research News article "Dispositional Mindfulness as a Moderator of the Relationship Between Perceived Partner Infidelity and Women's Dating Violence Perpetration. Journal of interpersonal violence." (See summary below or view the full text of the study at: https://www.ncbi.nlm.nih.gov/pmc/articles/PMC6944186/), Brem and colleagues investigate the moderating influence of mindfulness on the relationship between perceived infidelity and violence perpetration.
They recruited college women who were involved in a romantic relationship. They were asked to complete measures of physical assault perpetration, mindfulness, perceived partner infidelity, and alcohol use. The majority of perceived infidelity reported consisted of their partner "checking out" or flirting with another.
They found that the higher the levels of mindfulness, the lower the levels of alcohol use and physical assault. Additionally, they found that the higher the levels of perceived infidelity the higher the levels of alcohol use and physical assault. They also found, taking alcohol intake into account, that the relationship between perceived infidelity and physical assault was significant for women low in mindfulness but not for women high in mindfulness, suggesting a moderating influence of mindfulness.
These results are correlational and as such causation cannot be determined. But, it has been demonstrated in previous research that mindfulness produces reductions in violent and aggressive tendencies. So, it is likely that the present findings are due to the causal consequences of mindfulness on violence and aggression. Nevertheless, the results suggest that mindfulness may lower perpetration of physical assault by preventing suspicions regarding infidelity being expressed as physical assault. This in turn suggests that mindfulness training may be useful in reducing violence and aggression in romantic relationships.
So, reduce dating violence due to perceived infidelity with mindfulness.
"Although they are not designed specifically to reduce incidences of domestic violence, programs that teach people mindfulness and meditation have shown some promise in reducing incidences of violence in several settings." – Michael Kraut
CMCS – Center for Mindfulness and Contemplative Studies
This and other Contemplative Studies posts are also available on Google+ https://plus.google.com/106784388191201299496/posts and on Twitter @MindfulResearch
Study Summary
Brem, M. J., Wolford-Clevenger, C., Zapor, H., Elmquist, J., Shorey, R. C., & Stuart, G. L. (2018). Dispositional Mindfulness as a Moderator of the Relationship Between Perceived Partner Infidelity and Women's Dating Violence Perpetration. Journal of interpersonal violence, 33(2), 250–267. https://doi.org/10.1177/0886260515604415
Abstract
Mindfulness gained increased attention as it relates to aggressive behavior, including dating violence. However, no known studies examined how the combined influences of dispositional mindfulness and perceived partner infidelity, a well-documented correlate of dating violence, relate to women's dating violence perpetration. Using a sample of college women (N = 203), we examined the relationship between perceived partner infidelity and physical dating violence perpetration at varying levels of dispositional mindfulness, controlling for the influence of alcohol use. Results indicated perceived partner infidelity and dating violence perpetration were positively related for women with low and mean dispositional mindfulness, but not for women with high dispositional mindfulness. These results further support the applicability of mindfulness theory in the context of dating violence. Implications of the present findings provide preliminary support for mindfulness intervention in relationships characterized by infidelity concerns.
https://www.ncbi.nlm.nih.gov/pmc/articles/PMC6944186/