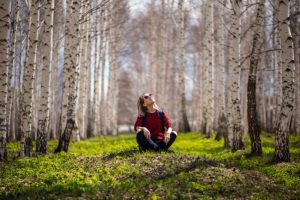 Improve Mindfulness Training with Natural Settings
By John M. de Castro, Ph.D.
"Our deepest origins lie in the natural world and time in the great outdoors can be calming, invigorating, beautiful… and lots of fun! Mindfulness is paying attention without judgement to the present moment and it's the perfect way to enhance our connection with nature."- Claire Thompson
Modern living is stressful, perhaps, in part because it has divorced us from the natural world that our species was immersed in throughout its evolutionary history. Modern environments may be damaging to our health and well-being simply because the species did not evolve to cope with them. This suggests that returning to nature, at least occasionally, may be beneficial. Indeed, researchers are beginning to study nature walks or what the Japanese call "Forest Bathing" and their effects on our mental and physical health.
Mindfulness practices have been found routinely to reduce the psychological and physiological responses to stress and improve mood. People have long reported that walking in nature elevates their mood. It appears intuitively obvious that if mindfulness training occurred in a beautiful natural place, it would greatly improve the effectiveness of mindfulness practice. Pictures in the media of meditation almost always show a practitioner meditating in a beautiful natural setting. But there is little systematic research regarding the effects of mindfulness training in nature. It's possible that the combination might magnify the individual benefits of each.
In today's Research News article "A Systematic Review and Meta-Analysis of Nature-Based Mindfulness: Effects of Moving Mindfulness Training into an Outdoor Natural Setting." (See summary below or view the full text of the study at: https://www.ncbi.nlm.nih.gov/pmc/articles/PMC6747393/), Diernis and colleagues review and summarize the published research studies of the effects of combining mindfulness training with natural environments. They found 26 published studies.
They report that the published research studies found that mindfulness practice in nature produced greater improvements in psychological, social, and physical well-being with moderate to small effect sizes. These effects were present regardless of whether the study employed a no-treatment or active control condition. In addition, natural environments that were wild and/or forested tended to produce greater effects than natural environments that were garden or park environments.
The meta-analysis suggests that mindfulness training in the natural environment, especially in wild environments, produces greater benefits than similar training in non-natural settings. It is not clear why this would be true. Perhaps, removing the individual from the environments that their accustomed to, potentiates mindfulness training. Or perhaps, returning the individual to the type of environments that reflect their evolutionary history, reduces stress and produces greater relaxation and improved attention. Regardless, it's clear that practicing mindfulness in nature is very beneficial.
So, improve mindfulness training with natural settings.
"During my first mindfulness-in-nature retreat, when my hand touched the sun-warmed ground, I felt a connection to the Earth I didn't know was possible. It was as if the energy of the Earth connected with my own. There was no separation. It was grounding, warm, and it felt like home." – Sara Overton
CMCS – Center for Mindfulness and Contemplative Studies
This and other Contemplative Studies posts are also available on Google+ https://plus.google.com/106784388191201299496/posts and on Twitter @MindfulResearch
Study Summary
Djernis, D., Lerstrup, I., Poulsen, D., Stigsdotter, U., Dahlgaard, J., & O'Toole, M. (2019). A Systematic Review and Meta-Analysis of Nature-Based Mindfulness: Effects of Moving Mindfulness Training into an Outdoor Natural Setting. International journal of environmental research and public health, 16(17), 3202. doi:10.3390/ijerph16173202
Abstract
Research has proven that both mindfulness training and exposure to nature have positive health effects. The purpose of this study was to systematically review quantitative studies of mindfulness interventions conducted in nature (nature-based mindfulness), and to analyze the effects through meta-analyses. Electronic searches revealed a total of 25 studies to be included, examining 2990 participants. Three analyses were conducted: Nature-based mindfulness interventions evaluated as open trials (k = 13), nature-based mindfulness compared with groups in non-active control conditions (k = 5), and nature-based mindfulness compared with similar interventions but without contact with nature (k = 7). The overall combined psychological, physiological, and interpersonal effects from pre- to post-intervention were statistically significant and of medium size (g = 0.54, p < 0.001). Moderation analyses showed that natural environments characterized as forests/wild nature obtained larger numerical effects than environments characterized as gardens/parks, as did informal mindfulness compared with formal mindfulness. The small number of studies included, as well as the heterogeneity and generally low quality of the studies, must be taken into consideration when the results are interpreted
https://www.ncbi.nlm.nih.gov/pmc/articles/PMC6747393/