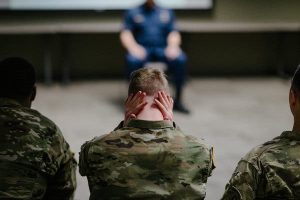 Improve Psychiatric Problems among Veterans with Mindfulness
By John M. de Castro, Ph.D.
"mindfulness-based interventions show promise in helping soldiers reduce symptoms of PTS and depression as well as experience improvements in various psychosocial domains." – Adam Clark
There are vast numbers of people worldwide who suffer with mental or physical illnesses. Mindfulness practices have been found to be helpful with coping with these illnesses and in many cases reducing the symptoms of the diseases. Mindfulness-Based Cognitive Therapy (MBCT) involves mindfulness training, containing sitting, walking and body scan meditations, and cognitive therapy that attempts to teach patients to distinguish between thoughts, emotions, physical sensations, and behaviors, and to recognize irrational thinking styles and how they affect behavior. MBCT has been found to be effective in treating a wide range of psychological issues. Military veterans are highly susceptible to psychiatric illnesses. So, it would make sense to investigate the effectiveness of MBCT for treating the psychiatric problems of military veterans
In today's Research News article "Treatment Engagement and Outcomes of Mindfulness-Based Cognitive Therapy for Veterans with Psychiatric Disorders." (See summary below or view the full text of the study at: https://www.ncbi.nlm.nih.gov/pmc/articles/PMC6748402/), Marchand and colleagues examined the medical records of veterans who had undergone Mindfulness-Based Cognitive Therapy (MBCT) therapy for psychiatric illnesses. MBCT was provided in 8 weeks of once a week 2-hour sessions. Their conditions included psychiatric disorders such as anxiety and depression, substance abuse, and ADHD, and medical disorders such as diabetes, hypertension, and chronic pain.
They found that only 67% of the veterans completed the Mindfulness-Based Cognitive Therapy (MBCT)  program. The greater the number of emergency room visits and psychiatric admission prior to the study significantly predicted the likelihood of completion of the MBCT program. This suggests that veterans who have a history of seeking treatment are more likely to complete therapy. Importantly, they found that following the MBCT program there was a significant decrease in psychiatric admission with large effect size.
These are interesting findings that suggest that the Mindfulness-Based Cognitive Therapy (MBCT)  program is effective in treating a variety of psychiatric conditions in military veterans. There appears to be a problem, however, with veterans who don't have a history of seeking treatment completing the therapeutic program. This may signal the need for further study of what can be done to improve participation in this group. It is also possible that prior care with these particular veterans has not been effective and their dropping out of therapy may reflect the lack of success for them with the MBCT program. It is clear nonetheless that when the veterans complete the program it is highly effective in treating their conditions.
So, improve psychiatric problems among veterans with mindfulness.
"We now have a lot of evidence that mindfulness meditation is helpful for a range of different conditions, including depression, anxiety, substance problems and chronic pain." – Joseph Wielgosz
CMCS – Center for Mindfulness and Contemplative Studies
This and other Contemplative Studies posts are also available on Google+ https://plus.google.com/106784388191201299496/posts and on Twitter @MindfulResearch
Study Summary
Marchand, W. R., Yabko, B., Herrmann, T., Curtis, H., & Lackner, R. (2019). Treatment Engagement and Outcomes of Mindfulness-Based Cognitive Therapy for Veterans with Psychiatric Disorders. Journal of alternative and complementary medicine (New York, N.Y.), 25(9), 902–909. doi:10.1089/acm.2018.0511
Abstract
Objectives: The aim of this study was to evaluate utilization and outcomes of mindfulness-based cognitive therapy (MBCT) provided to veterans with psychiatric disorders.
Design: Retrospective chart review.
Settings: Veterans Administration Medical Center (VAMC).
Subjects: Ninety-eight veterans with psychiatric illness who were enrolled in an MBCT class between May of 2012 and January of 2016. Subjects were predominately white (95%), male (81%), and >50 years old (74%). The most common psychiatric conditions were any mood disorder (82%) and post-traumatic stress disorder (54%).
Intervention: Eight-week MBCT class.
Outcome measures: Session attendance and pre- to postintervention changes in numbers of emergency department (ED) visits and psychiatric hospitalizations.
Results: The average number of sessions attended was 4.87 of 8 and only 16% were present for all sessions. Veteran demographic variables did not predict the number of MBCT sessions attended. However, both greater numbers of pre-MBCT ED visits (p = 0.004) and psychiatric admissions (p = 0.031) were associated with attending fewer sessions. Among patients who experienced at least one pre- or post-treatment psychiatric admission in the 2 years pre- or postintervention (N = 26, 27%), there was a significant reduction in psychiatric admissions from pre to post (p = 0.002). There was no significant change in ED visits (p = 0.535).
Conclusions: MBCT may be challenging to implement for veterans with psychiatric illness in, at least some, outpatient VAMC settings due to a high attrition rate. Possible mediation approaches include development of methods to screen for high dropout risk and/or development of shorter mindfulness-based interventions (MBIs) and/or coupling MBIs with pleasurable activities. The finding of a significant decrease in psychiatric hospitalizations from pre- to post-MBCT suggests that prospective studies are warranted utilizing MBCT for veterans at high risk for psychiatric hospitalization.
https://www.ncbi.nlm.nih.gov/pmc/articles/PMC6748402/