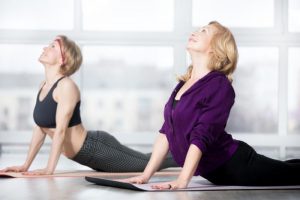 Improve Coping with Chronic Pain with Yoga
By John M. de Castro, Ph.D.
"By first understanding chronic pain as a mind-body experience and then using yoga's toolbox of healing practices—including breathing exercises and restorative poses—you can find true relief from pain and begin to reclaim your life." – Kelly McGonigal
We all have to deal with pain. It's inevitable, but hopefully it's mild and short lived. For a wide swath of humanity, however, pain is a constant in their lives. At least 100 million adult Americans have chronic pain conditions. The most common treatment for chronic pain is drugs. These include over-the-counter analgesics and opioids. But opioids are dangerous and highly addictive. Prescription opioid overdoses kill more than 14,000 people annually. So, there is a great need to find safe and effective ways to lower the psychological distress and improve the individual's ability to cope with the pain.
Pain involves both physical and psychological issues. The stress, fear, and anxiety produced by pain tends to elicit responses that actually amplify the pain. So, reducing the emotional reactions to pain may be helpful in pain management. There is an accumulating volume of research findings to demonstrate that mind-body therapies have highly beneficial effects on the health and well-being of humans. Mindfulness practices have been shown to improve emotion regulation producing more adaptive and less maladaptive responses to emotions. Indeed, mindfulness practices, in general, are effective in treating pain and specific practices such as yoga can be effective for the relief of chronic pain.
In today's Research News article "Yoga for People With Chronic Pain in a Community-Based Setting: A Feasibility and Pilot RCT." (See summary below or view the full text of the study at: https://www.ncbi.nlm.nih.gov/pmc/articles/PMC6689911/), Schmid and colleagues recruited adult pain patients from a pain clinic who had chronic pain for at least 6 months. They received treatment as usual but half were randomly assigned to receive an additional program of yoga practice for 60 minutes, twice a week, for 8 weeks, including both seated and standing poses. They were measured before and after training for pain severity, pain interference with daily activities, mental and physical quality of life, self-efficacy, and body responsiveness.
They found that after treatment the yoga group had significant improvements in pain interference with daily activities, self-efficacy surrounding pain management, physical function, and coping with symptoms, confidence to address pain and chronic disease, and body responsiveness. Hence, it appears that yoga practice, while not altering pain severity itself, does improve the patients' ability to manage the pain and prevent it from interfering with their daily activities and thereby improve their quality of life. Chronic pain produces suffering, which interferes with the conduct of the patients' lives. Relief is critical. Yoga practice appears to produce a modicum of that relief.
So, improve coping with chronic pain with yoga.
"Yoga can be helpful in pain management with both physical and mental benefits, but yoga is not a quick fix solution. Yoga has many of the same benefits as mindfulness practice, due to the common focus on breath, body and present moment awareness. Because yoga is also a physical practice many people find yoga more accessible than traditional meditation practices, which are undertaken in stillness." – PainHealth
CMCS – Center for Mindfulness and Contemplative Studies
This and other Contemplative Studies posts are also available on Google+ https://plus.google.com/106784388191201299496/posts and on Twitter @MindfulResearch
Study Summary
Schmid, A. A., Fruhauf, C. A., Sharp, J. L., Van Puymbroeck, M., Bair, M. J., & Portz, J. D. (2019). Yoga for People With Chronic Pain in a Community-Based Setting: A Feasibility and Pilot RCT. Journal of evidence-based integrative medicine, 24, 2515690X19863763. doi:10.1177/2515690X19863763
Abstract
The purpose of this feasibility pilot study was to assess benefits of 8 weeks of yoga in people with chronic pain. Participants completed baseline assessments and were randomized to yoga or usual care. Yoga was offered twice a week for 8 weeks. We assessed feasibility and the Brief Pain Inventory (BPI) was the primary outcome, assessing pain-severity and pain interference on daily activities. Eighty-three people were recruited; 67 people completed the study and were included in the analyses. Average age of participants was 50.78 ± 10.43 years and most participants had pain >10 years. The intervention appeared feasible and there were significant improvements (P < .05) in multiple measures for the yoga group, including a decrease in BPI interference scores from 7.15 ± 1.70 to 6.14 ± 2.21 (P = .007). There was a significant difference in body responsiveness and pain management scores between groups at 8 weeks. It appears that yoga was feasible and positively influenced multiple outcome measures for people with chronic pain.
https://www.ncbi.nlm.nih.gov/pmc/articles/PMC6689911/