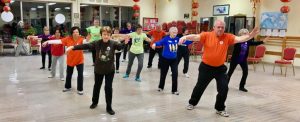 Facilitate Stroke Rehabilitation with Tai Chi Practice
By John M. de Castro, Ph.D.
"implementing the ancient Chinese art of tai chi into one's routine may produce strong results of increased stability and functionality, leading to an overall sense of well being for the stroke survivor." – Saebo
Every year, more than 795,000 people in the United States have a stroke and it is the third leading cause of death, killing around 140,000 Americans each year. A stroke results from an interruption of the blood supply to the brain, depriving it of needed oxygen and nutrients. This can result in the death of brain cells and depending on the extent of the damage produce profound loss of function. Even after recovery from stroke patients can experience residual symptoms. Problems with balance and falling are very common.
It is clear that basic physical fitness and exercise are excellent for stroke prevention and rehabilitation. Yoga practice is an exercise that can be adapted to the needs and limitations of stroke victims. The ancient mindful movement technique Tai Chi and Qigong are very safe forms of gentle exercise that appears to be beneficial for stroke victims including improving balance. It is difficult to get stroke survivors to engage in exercise. Perhaps the practice of Tai Chi, since it is adaptable, very gentle, and fun, might be acceptable and effective in the treatment of stroke survivors.
In today's Research News article "The effect of Tai Chi exercise on motor function and sleep quality in patients with stroke: A meta-analysis." (See summary below or view the full text of the study at: https://www.ncbi.nlm.nih.gov/pmc/articles/PMC6626210/), Li and colleagues review, summarize, and perform a meta-analysis of the published research literature on the effectiveness of Tai Chi practice for the rehabilitation of patients who have survived strokes. They identified 17 published randomized controlled trials.
They report that the published studies found that Tai Chi practice produced a significant improvement in balance and ability to perform daily activities in the stroke survivors. There were no significant improvements in either sleep quality or walking ability.
The results of the published research to date suggest that Tai Chi practice is a safe and effective treatment to improve stroke survivors ability to perform daily activities. This is important for improving the independence of the survivors and for their quality of life. The studies also found that Tai Chi practice improved balance. This is very important as this would reduce the likelihood of falls which are a real threat to the health and even longevity of stroke survivors. So, Tai Chi practice produces important benefits for the health and well-being of stroke survivors.
So, facilitate stroke rehabilitation with Tai Chi practice.
"The benefits of tai chi for stroke patients may come from the unique combination of slow, controlled movements coupled with relaxation. In one study on tai chi for stroke recovery, patients who didn't participated in tai chi sustained 5 times more falls than those who did." – Flint Rehab
CMCS – Center for Mindfulness and Contemplative Studies
This and other Contemplative Studies posts are also available on Google+ https://plus.google.com/106784388191201299496/posts and on Twitter @MindfulResearch
Study Summary
Li, Y., Zhang, Y., Cui, C., Liu, Y., Lei, M., Liu, T., … Jin, C. (2017). The effect of Tai Chi exercise on motor function and sleep quality in patients with stroke: A meta-analysis. International Journal of Nursing Sciences, 4(3), 314–321. doi:10.1016/j.ijnss.2017.06.001
Abstract
Objective
The meta-analysis is to objectively evaluate the efficacy of Tai Chi exercise for motor function and sleep quality in patients with stroke.
Methods
Randomized controlled trials(RCTs) about the effects of Tai Chi versus a non-exercise or conventional rehabilitation exercise control group on motor function and sleep quality in patients with stroke were searched from multiple electronic databases(PubMed, Web of Science, the Cochrane Library, EMBASE, AMED, CBM, CNKI, Wanfang and VIP) until August 2016. Two investigators independently screened eligible studies, extracted data, and assessed the methodological quality by using the quality evaluation criteria for RCTs recommended by Cochrane Handbook. Then meta-analysis was performed by RevMan5.3 software.
Results
A total of 17 RCTs with 1209 participants were included. The meta-analysis indicated that there was a significant difference on improving the balance function(P < 0.001) and ability of daily activity (P = 0.0003) of patients with stroke between Tai Chi group and control group. However, no significant effect was found on Tai Chi for walking function and sleep quality(P > 0.05).
Conclusion
Tai Chi exercise can significantly improve the balance function and ability of daily activities of patients with stroke, and there are no significant differences in walking function and sleep quality. Therefore, lots of multicenter, large-sample, higher quality randomized controlled trials are needed to verify the effects of Tai Chi exercise in improving walking function and sleep quality for patients with stroke.
https://www.ncbi.nlm.nih.gov/pmc/articles/PMC6626210/