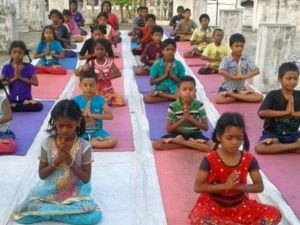 Improve the Symptoms of HIV Infection in Children with Yoga
By John M. de Castro, Ph.D.
"It's about going deep under the waves—the hurricane that's HIV—and finding a stillness. As debilitating and emotional as HIV is, yoga helps me transcend it so that I can rediscover myself. Then I remember I am not HIV; I am not the face of AIDS. I am me." – River Huston
More than 35 million people worldwide and 1.2 million people in the United States are living with HIV infection. These include a significant number of children and adolescents. In 1996, the advent of the protease inhibitor and the so-called cocktail changed the prognosis for HIV. Since this development a 20-year-old infected with HIV can now expect to live on average to age 69. Hence, living with HIV is a long-term reality for a very large group of people. People living with HIV infection experience a wide array of physical and psychological symptoms which decrease their perceived quality of life. The symptoms include chronic pain, muscle aches, anxiety, depression, weakness, fear/worries, difficulty with concentration, concerns regarding the need to interact with a complex healthcare system, stigma, and the challenge to come to terms with a new identity as someone living with HIV.
Mindfulness training has been shown to improve psychological well-being, lower depression and strengthen the immune system of patients with HIV infection. Yoga practice has also been found to be effective in treating HIV. Most studies, however, focus on adult patients with HIV. There are, however, a large number of children and adolescents who are infected with HIV. Hence it makes sense to examine the ability of yoga training to treat HIV infection in children and adolescents.
In today's Research News article "Effect of Yoga on Immune Parameters, Cognitive Functions, and Quality of Life among HIV-Positive Children/Adolescents: A Pilot Study." (See summary below or view the full text of the study at: https://www.ncbi.nlm.nih.gov/pmc/articles/PMC6521755/), Chandra and colleagues recruited children and adolescents (aged 8 to 18 years) who had HIV infection from a HIV/AIDS rehabilitation center. Treatment as usual was continued while they were provided with daily 1-hour yoga practice sessions for 6 months. They were measured before and after training for immune system function, health-related quality of life, fatigue-related quality of life, depression, and cognitive function.
They found that in comparison to baseline, yoga practice produced a significant decrease in in HIV viral load and a significant increase in plasma CD4 counts. There was also a significant increase in health-related quality of life, including the health and general activities, feelings, getting along with others, and about school subscales, and fatigue-related quality of life, including general fatigue (b) sleep fatigue, and (c) cognitive fatigue. After yoga practice the children and adolescents had significant improvements in cognitive function and increases in depression.
The observed effectiveness of yoga practice for the treatment of HIV infected children and adolescents, parallels that observed in prior studies with adults. These include reducing the presence of the virus in the blood, improvement of immune system function, quality of life, and mental abilities. This was a pilot study and did not have a control condition, so conclusions need to be tempered. The results, though are encouraging and should motivate conducting a large randomized controlled trial. Regardless, the results are very encouraging and suggest that yoga practice is beneficial for the health and well-being of youths infected with HIV.
So, improve the symptoms of HIV infection in children with yoga.
"Yoga is an ideal exercise for people with HIV. It not only helps build muscle and energy, but also reduces stress. . .  stress greatly increases the risk that HIV will progress to AIDS." – Matt McMillen
CMCS – Center for Mindfulness and Contemplative Studies
This and other Contemplative Studies posts are also available on Google+ https://plus.google.com/106784388191201299496/posts and on Twitter @MindfulResearch
Study Summary
Hari Chandra, B. P., Ramesh, M. N., & Nagendra, H. R. (2019). Effect of Yoga on Immune Parameters, Cognitive Functions, and Quality of Life among HIV-Positive Children/Adolescents: A Pilot Study. International journal of yoga, 12(2), 132–138. doi:10.4103/ijoy.IJOY_51_18
Abstract
Context:
HIV/AIDS individuals have problems relating to immune system, quality of life (QOL), and cognitive functions (CFs). Yoga is found to be useful in similar conditions. Hardly, any work is reported on yoga for HIV-positive adults/adolescents. Hence, this study is important.
Aim:
The aim of the study is to determine the effect of yoga on immune parameters, CFs, and QOL of HIV-positive children/adolescents.
Settings and Design:
Single-group, pre–post study with 4-month yoga intervention.
Methods:
The study had 18 children from an HIV/AIDS rehabilitation center for children/adolescents. CD4, CD8, CD4/CD8 ratio, and viral loads were studied. CF tests included six letter cancellation test, symbol digit modalities test, digit-span forward backward test, and Stroop tests. QOL was assessed using PedsQL-QOL and fatigue questionnaire. Depression was assessed using CDI2-SR.
Statistical Analysis Used:
t-test and Wilcoxon signed-rank tests, as applicable.
Results:
The study included 18 children/adolescents. There was improvement in general health of the participants. There was statistically significant increase in CD4 cells counts (p = 0.039) and significant decrease in viral load (p = 0.041). CD4/CD8 ratio moved to normal range. QOL significantly improved. CFs had mixed results with improved psychomotor performance (PP) and reduced executive functions.
Conclusions:
There was improvement in general health and immune parameters. While depression increased, QOL improved. CFs showed mixed results with improved PP and reduced executive functions.
https://www.ncbi.nlm.nih.gov/pmc/articles/PMC6521755/