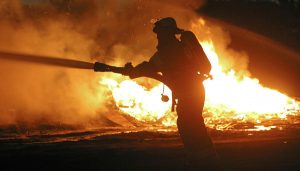 Mindfulness is Associated with Better Mental Health in Firefighters
By John M. de Castro, Ph.D.
"mindfulness practices work at both a preventative and remedial level by assisting them to maintain higher levels of resilience to deal with their emergency responder roles and helping to reduce and cease distressing reactions after difficult personal and traumatic incidents." – Mark Molony
Experiencing trauma is quite common. It has been estimated that 60% of men and 50% of women will experience a significant traumatic event during their lifetime with 7%-8% of the population developing Post-Traumatic Stress Disorder (PTSD). First responders such as firefighters and police experience traumatic events as part of their jobs and many develop symptoms of PTSD. This is responsible for the fact that wore firefighters and police officers die by suicide than all line-of-duty deaths combined. 103 firefighters and 140 police officers died by suicide in 2017, compared to 93 firefighter and 129 officer line-of-duty deaths.
Obviously, stress and trauma effects are troubling problems for firefighters that need to be addressed. There are a number of therapies that have been developed to treat PTSD. One of which, mindfulness training has been found to be particularly effective.  Indeed, mindfulness has been shown to has been shown to reduce the physiological and psychological responses to stress, to reduce suicidality and to reduce the impact of trauma on the individual. So, a firefighter's level of mindfulness may be associated with better mental health.
In today's Research News article "Mental health and mindfulness amongst Australian fire fighters." (See summary below or view the full text of the study at: https://www.ncbi.nlm.nih.gov/pmc/articles/PMC6570940/), Counson and colleagues recruited healthy firefighters who had experienced trauma in the last 6 months. The firefighters completed measures of mindfulness, anxiety, depression, and psychological well-being.
They found that the higher the firefighters' levels of mindfulness, the lower the levels of anxiety and depression and the higher the levels of psychological well-being. Hence, mindfulness was found to be associated with better mental health in these firefighters who are exposed to trauma. This study is correlational and no conclusions regarding causation can be reached. But previous research has demonstrated that mindfulness has causal effects on anxiety, depression, and psychological well-being. So, it is likely that the associations seen here were due to causal connections.
These results suggest that mindful firefighters are resistant to the effects of trauma. It has been shown the mindfulness is effective in treating Post-Traumatic Stress Disorder (PTSD). The present results then combined with these previous findings suggest that mindfulness may help to protect firefighters from trauma making it less likely that they'll develop PTSD.
So, mindfulness is associated with better mental health in firefighters.
"targeted mindfulness training program increases some aspects of firefighter resilience (distress tolerance, positive adjustment, and perseverance). . . . The more lessons firefighters completed, the greater their improvements in both mindfulness and resilience." – AMRA
CMCS – Center for Mindfulness and Contemplative Studies
This and other Contemplative Studies posts are available at the Contemplative Studies Blog http://contemplative-studies.org/wp/
They are also available on Google+ https://plus.google.com/106784388191201299496/posts and on Twitter @MindfulResearch
Study Summary
Counson, I., Hosemans, D., Lal, T. J., Mott, B., Harvey, S. B., & Joyce, S. (2019). Mental health and mindfulness amongst Australian fire fighters. BMC psychology, 7(1), 34. doi:10.1186/s40359-019-0311-2
Abstract
Background
While extensive research has highlighted the positive mental health outcomes associated with mindfulness, little work has examined how mindfulness may protect the mental health of first responders exposed to trauma. This is important as there is increasing evidence that mindfulness skills, if protective, can be taught to groups of at-risk workers. The purpose of the current research was to examine the potential role mindfulness may have in supporting the mental health of Australian fire fighters.
Methods
The sample consisted of 114 professional fire fighters who completed demographic and job-related questions followed by measures of mindfulness (FMI-14), well-being (WHO-5), depression (HADS-D) and anxiety (HADS-A). Hierarchical multiple linear regressions were performed to determine whether levels of mindfulness were associated with anxiety, depression and wellbeing after accounting for age and number of years of fire service.
Results
High levels of mindfulness were associated with decreased depression (p ≤ .001) and anxiety (p ≤ .001) as well as increased psychological well-being (p ≤ .001). Measures of mindfulness were able to explain a substantial amount of the variability in well-being (26.8%), anxiety (23.6%) and depression (22.4%), regardless of age and years of fire service.
Conclusions
The present study provides evidence for robust associations between dispositional mindfulness and mental health markers of depression, anxiety and well-being in Australian fire fighters recently exposed to trauma. Mindfulness is a psychological characteristic that may be able to be modified, although further research is required to substantiate these findings and to formally test mindfulness interventions. Such studies would allow greater insight into the underlying mechanisms through which mindfulness may exert its beneficial effects.
Electronic supplementary material
The online version of this article (10.1186/s40359-019-0311-2) contains supplementary material, which is available to authorized users.
https://www.ncbi.nlm.nih.gov/pmc/articles/PMC6570940/