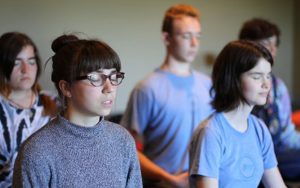 Increase Positive Emotions and Decrease Emotional Disturbance in Adolescents with Meditation
By John M. de Castro, Ph.D.
"Adolescence is a time of change and growth. It is the period of life reserved for rebellion and self-discovery, but as the demands in life increase for teens, this time is often fraught with confusion, anxiety or depression. For many teens these challenges lead to disconnection and isolation." – Making Friends with Yourself
Adolescence is a time of mental, physical, social, and emotional growth. But adolescence can be a difficult time, fraught with challenges. During this time the child transitions to young adulthood; including the development of intellectual, psychological, physical, and social abilities and characteristics. There are so many changes occurring during this time that the child can feel overwhelmed and unable to cope with all that is required. Indeed, up to a quarter of adolescents suffer from depression or anxiety disorders, and an even larger proportion struggle with subclinical symptoms.
Mindfulness training has been shown in adolescents to improve emotion regulation and to benefit the psychological and emotional health. Since adolescent girls are more likely to have emotional issues than boys, it would seem reasonable to hypothesize that mindfulness would have greater psychological benefits for adolescent girls than for boys.
In today's Research News article "Gender differences in response to a school-based mindfulness training intervention for early adolescents." (See summary below or view the full text of the study at: https://www.ncbi.nlm.nih.gov/pmc/articles/PMC6174072/), Kang and colleagues recruited male and female 6th grade students and randomly assigned them to receive a school-based, 6-week program, 4-5 times per week for, on average, 5 minutes per day of either guided meditations or brief lessons on African history. Before and after training the students were measured for global emotional disturbance, positive emotions, mindfulness, and self-compassion.
They found that in comparison to baseline and the active controls, the adolescents who meditated had significantly higher positive emotions and significantly lower global emotional disturbance. For males there were significant increases in positive emotions for both groups while for females there were significant increases in positive emotions only for the meditation group. A similar trend was present for global emotional disturbance. In addition, they found that for females the higher the levels of self-compassion the higher the levels of positive emotions and the lower the levels of global emotional disturbance. This was not true for males.
The results appear to show that meditation training is particularly effective in improving emotions in female but not male adolescents. But the difference was not in the meditation condition but rather in the control condition. Whereas the female controls did not show any improvement in emotions while the meditation group improved. For the males, both groups improved. So, both males and female adolescents had improved emotions following 6-weeks of meditation practice. Adolescents is a turbulent time with strong emotions. The present results suggest that providing meditation training in school may be helpful in controlling and leveling these emotions.
So, increase positive emotions and decrease emotional disturbance in adolescents with meditation.
"Adolescence is a developmental moment of peak stress, and a teen's heightened self-consciousness ("Do I look weird? Did I just sound stupid in class?") cranks up the volume of the inner critic. Self-compassion encourages mindfulness, or noticing your feelings without judgment; self-kindness, or talking to yourself in a soothing way; and common humanity, or thinking about how others might be suffering similarly." – Rachel Simmons
CMCS – Center for Mindfulness and Contemplative Studies
This and other Contemplative Studies posts are also available on Google+ https://plus.google.com/106784388191201299496/posts and on Twitter @MindfulResearch
Study Summary
Kang, Y., Rahrig, H., Eichel, K., Niles, H. F., Rocha, T., Lepp, N. E., … Britton, W. B. (2018). Gender differences in response to a school-based mindfulness training intervention for early adolescents. Journal of school psychology, 68, 163–176. doi:10.1016/j.jsp.2018.03.004
Abstract
Mindfulness training has been used to improve emotional wellbeing in early adolescents. However, little is known about treatment outcome moderators, or individual differences that may differentially impact responses to treatment. The current study focused on gender as a potential moderator for affective outcomes in response to school-based mindfulness training. Sixth grade students (N = 100) were randomly assigned to either the six weeks of mindfulness meditation or the active control group as part of a history class curriculum. Participants in the mindfulness meditation group completed short mindfulness meditation sessions four to five times per week, in addition to didactic instruction (Asian history). The control group received matched experiential activity in addition to didactic instruction (African history) from the same teacher with no meditation component. Self-reported measures of emotional wellbeing/affect, mindfulness, and self-compassion were obtained at pre and post intervention. Meditators reported greater improvement in emotional wellbeing compared to those in the control group. Importantly, gender differences were detected, such that female meditators reported greater increases in positive affect compared to females in the control group, whereas male meditators and control males displayed equivalent gains. Uniquely among females but not males, increases in self-reported self-compassion were associated with improvements in affect. These findings support the efficacy of school-based mindfulness interventions, and interventions tailored to accommodate distinct developmental needs of female and male adolescents.
https://www.ncbi.nlm.nih.gov/pmc/articles/PMC6174072/