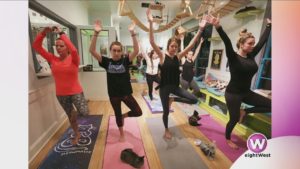 Improve Major Mental Illnesses with Mindfulness and Yoga
By John M. de Castro, Ph.D.
"for many patients dealing with depression, anxiety, or stress, yoga may be a very appealing way to better manage symptoms. Indeed, the scientific study of yoga demonstrates that mental and physical health are not just closely allied, but are essentially equivalent. The evidence is growing that yoga practice is a relatively low-risk, high-yield approach to improving overall health." – Harvard Health
There are vast numbers of people who suffer with mental illnesses. In the United states it has been estimated that in any given year 1 in 5 people will experience a mental illness. Many are treated with drugs. But drug treatment can produce unwanted side effects, don't work for many patients, and often can lose effectiveness over time. Mindfulness practices provide a safe alternative treatment. They have been found to be helpful with coping with these illnesses and in many cases reducing the symptoms of the diseases. Hence, it appears that mindfulness practices are safe and effective treatments for a variety of psychiatric conditions including anxiety, depression, psychoses, addictions, etc..
Yoga practice is a mindfulness practice that includes beneficial exercise. There is accumulating research that mindfulness and yoga practices may be beneficial for patients with major mental illnesses. Hence it makes sense to step back and summarize what has been learned regarding the effectiveness of yoga practice for major mental illnesses.
In today's Research News article "Role of Yoga and Mindfulness in Severe Mental Illnesses: A Narrative Review." (See summary below or view the full text of the study at: https://www.ncbi.nlm.nih.gov/pmc/articles/PMC6329226/), Sathyanarayanan and colleagues reviewed and summarized published research studies of the effects of mindfulness and yoga practices for the treatment of major mental illnesses including schizophrenia, psychosis, major depression, and bipolar disorder. They identified 49 published studies.
They report that the research finds that yoga practice is effective in improving the symptoms of schizophrenia including reducing emotional and social withdrawal, and improving flat emotions, rapport, spontaneity, and cognitive functions, including attention and cognitive flexibility. There were also significant improvements in social and occupational functioning, quality of life, achieving functional remission, subjective well-being, personal hygiene, life skills, interpersonal activities, and communication. Mindfulness-Based treatments were also effective in improving the symptoms of schizophrenia including stress, anxiety, depression, obsession, anger, impulsivity, lack of concentration, agoraphobic symptoms, awareness of the psychotic experiences and helps individuals to articulate their distress.
Yoga and mindfulness practices have been shown to significantly improve bipolar disorder including improvements in cognitive, emotional, and physical domains. Yoga and mindfulness practices have also been shown to improve the symptoms of major depressive disorder, including significant reductions in depression and anxiety and increases in activation. They have also been shown to reduce depression in Post-Traumatic Stress Disorder (PTSD).
In most of the reviewed studies the patients continued drug treatments and yoga and mindfulness trainings were provided in addition to the drug treatments. This suggests that both yoga and mindfulness practices are safe and effective adjunctive treatment for major mental illnesses. This is particularly significant as these illnesses are particularly difficult to treat. Hence, the additional benefits of yoga and mindfulness practices are very important and welcome in the treatment of these debilitating conditions.
So, improve major mental illnesses with mindfulness and yoga.
"Yoga is incredible in terms of stress management. It brings a person back to homeostasis [or equilibrium]. For people who have anxieties of many kinds, yoga helps lower their basic physiological arousal level." – Eleanor Criswell
CMCS – Center for Mindfulness and Contemplative Studies
This and other Contemplative Studies posts are also available on Google+ https://plus.google.com/106784388191201299496/posts and on Twitter @MindfulResearch
Study Summary
Sathyanarayanan, G., Vengadavaradan, A., & Bharadwaj, B. (2019). Role of Yoga and Mindfulness in Severe Mental Illnesses: A Narrative Review. International journal of yoga, 12(1), 3–28. doi:10.4103/ijoy.IJOY_65_17
Abstract
Background:
Yoga has its origin from the ancient times. It is an integration of mind, body, and soul. Besides, mindfulness emphasizes focused awareness and accepting the internal experiences without being judgemental. These techniques offer a trending new dimension of treatment in various psychiatric disorders.
Aims:
We aimed to review the studies on the efficacy of yoga and mindfulness as a treatment modality in severe mental illnesses (SMIs). SMI includes schizophrenia, major depressive disorder (MDD), and bipolar disorder (BD).
Methods:
We conducted a literature search using PubMed, Google Scholar, and Cochrane Library with the search terms "yoga," "meditation," "breathing exercises," "mindfulness," "schizophrenia spectrum and other psychotic disorders," "depressive disorder," and "bipolar disorder" for the last 10-year period. We also included relevant articles from the cross-references.
Results:
We found that asanas and pranayama are the most commonly studied forms of yoga for schizophrenia. These studies found a reduction in general psychopathology ratings and an improvement in cognition and functioning. Some studies also found modest benefits in negative and positive symptoms. Mindfulness has not been extensively tried, but the available evidence has shown benefits in improving psychotic symptoms, improving level of functioning, and affect regulation. In MDD, both yoga and mindfulness have demonstrated significant benefit in reducing the severity of depressive symptoms. There is very sparse data with respect to BD.
Conclusion:
Both yoga and mindfulness interventions appear to be useful as an adjunct in the treatment of SMI. Studies have shown improvement in the psychopathology, anxiety, cognition, and functioning of patients with schizophrenia. Similarly, both the techniques have been established as an effective adjuvant in MDD. However, more rigorously designed and larger trials may be necessary, specifically for BD.
https://www.ncbi.nlm.nih.gov/pmc/articles/PMC6329226/