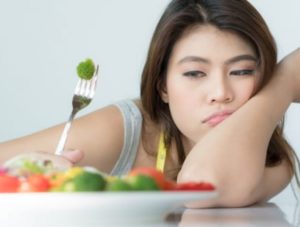 Reduce Eating Disorders with Effective Coping and Mindfulness
By John M. de Castro, Ph.D.
"For individuals suffering from an eating disorder, becoming mindful, or aware of the present moment, can help save individuals from the critical voices inside of their heads."
Around 30 million people in the United States of all ages and genders suffer from an eating disorder; either anorexia nervosa, bulimia, or binge eating disorder. 95% of those who have eating disorders are between the ages of 12 and 26. Eating disorders are not just troubling psychological problems, they can be deadly, having the highest mortality rate of any mental illness. Eating disorders can be difficult to treat because eating is necessary and cannot be simply stopped as in smoking cessation or abstaining from drugs or alcohol. One must learn to eat appropriately not stop. So, it is important to find methods that can help prevent and treat eating disorders. Contemplative practices, mindfulness, and mindful eating have shown promise for treating eating disorders.
In today's Research News article Mindfulness, rumination, and coping skills in young women with Eating Disorders: A comparative study with healthy controls." (See summary below or view the full text of the study at: https://www.ncbi.nlm.nih.gov/pmc/articles/PMC6420013/), Hernando and colleagues explored the relationship between eating disorders and mindfulness. They recruited female patients diagnosed with an eating disorder and a matched healthy female control group. The participants completed measures of mindfulness, rumination, effective coping, and coping styles.
They found that in comparison to the matched healthy controls, the women with eating disorders had significantly lower levels of mindfulness and effective coping and higher levels of rumination. They also found that the higher the levels of mindfulness or the higher the levels of effective coping, the lower the likelihood of an eating disorder. In addition, they found that the higher the levels of rumination, the greater the likelihood of an eating disorder.
It should be kept in mind that the study was cross-sectional in nature and thus caution must be exercised in reaching conclusions especially regarding causation. Nevertheless, the results suggest that mindfulness is associated with less likelihood of an eating disorder and the higher the levels of rumination the greater the likelihood of and eating disorder. This makes sense as being able to be focused in the present moment is the antithesis of rumination which is being focused in the past (worry) or the future (anxiety). The results also suggest that being able to effectively cope with negative feeling is also associated with less likelihood of and eating disorder. This suggests that disordered eating may be a means that the patient uses to cope with negative feelings. If the patient has other more effective means of coping, disordered eating is less likely.
Reduce eating disorders with effective coping and mindfulness.
"It is common for individuals with eating disorders to numb emotions through restricting, binging or choosing foods that are not pleasurable while eating. Mindful eating can help a person reconnect to the joy and experience of eating by creating an awareness of thoughts, emotions, feeling, and behaviors associated with the eating experience." – Julia Cassidy
CMCS – Center for Mindfulness and Contemplative Studies
This and other Contemplative Studies posts are also available on Google+ https://plus.google.com/106784388191201299496/posts and on Twitter @MindfulResearch
Study Summary
Hernando, A., Pallás, R., Cebolla, A., García-Campayo, J., Hoogendoorn, C. J., & Roy, J. F. (2019). Mindfulness, rumination, and coping skills in young women with Eating Disorders: A comparative study with healthy controls. PloS one, 14(3), e0213985. doi:10.1371/journal.pone.0213985
Abstract
Eating Disorders (ED) have been associated with dysfunctional coping strategies, such as rumination. Promoting alternative ways of experiencing mental events, based on a mindfulness approach, might be the clue for learning more effective coping and regulatory strategies among young women with ED. This study examined the comparison between patients with ED diagnosis and healthy subjects in mindfulness, rumination and effective coping. In addition, we analyzed the independent association of those with the presence of ED. The study sample was formed by two groups of young women ranged 13–21 years: Twenty-five with an ED diagnosis and 25 healthy subjects. They were assessed by using the Freiburg Mindfulness Inventory (FMI) and the Responses Styles Questionnaire (RSQ). Our findings show that ED patients have significantly lesser average scores in mindfulness and effective coping than the healthy sample (p < .05). Also, our data concludes that mindfulness and effective coping independently predict the presence or absence of ED in young women. The study results suggest that training mindfulness abilities may contribute to making effective coping strategies more likely to occur in ED patients, which is incompatible with some eating-related symptoms. Further studies are needed, trough prospective and experimental designs, to evaluate clinical outcomes of mindfulness training among young women with ED.
https://www.ncbi.nlm.nih.gov/pmc/articles/PMC6420013/