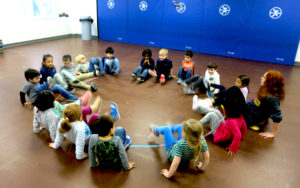 Improve Attention and Hyperactivity in Kindergarten Children with Yoga
By John M. de Castro, Ph.D.
"Yoga is a systematic workout regimen that has rejuvenating and calming effects on our body and mind. Young kids go through conflicting emotions, and yoga helps calm them down. They are also extremely flexible and therefore, a practice like yoga will help them contort their bodies in different ways." – Shirin Mehdi
Yoga practice has been shown to have a large number of beneficial effects on the psychological, emotional, and physical health of the individual and is helpful in the treatment of mental and physical illness. The acceptance of yoga practice has spread from the home and yoga studios to its application with children in schools. Studies of these school programs have found that yoga practice produces a wide variety of positive psychosocial and physical benefits.
Teachers also note improvements in their students following yoga practice. These include improved classroom behavior and social–emotional skills, concentration, mood, ability to function under pressure, social skills, and attention and lower levels of hyperactivity. In addition, school records, academic tests have shown that yoga practice produces improvements in student grades and academic performance. This, in turn, improves the classroom experience for the teachers. Hence there are very good reasons to further study the effects of yoga practice early in children's schooling; kindergarten.
In today's Research News article "12 Weeks of Kindergarten-Based Yoga Practice Increases Visual Attention, Visual-Motor Precision and Decreases Behavior of Inattention and Hyperactivity in 5-Year-Old Children." (See summary below or view the full text of the study at: https://www.frontiersin.org/articles/10.3389/fpsyg.2019.00796/full?utm_source=F-AAE&utm_medium=EMLF&utm_campaign=MRK_963174_69_Psycho_20190416_arts_A), Jarraya and colleagues recruited kindergarten students and randomly assigned them to either practice yoga, normal physical education, or no treatment control. Yoga and Physical Education occurred twice per week for 30 minutes for 12 weeks. The Hatha yoga practice included postures and breathing exercises. The children were measured by their kindergarten teacher before and after the treatments for visual attention, visuomotor precision, inattention, and hyperactivity/impulsivity.
They found that in comparison to PE and control children, the children who practiced yoga had significantly improved visual attention and visuomotor precision, and significantly lower inattention, and hyperactivity/impulsivity. Visuomotor precision is a measure of cognitive function and includes measures of language, memory and learning, sensorimotor, social perception, and visuospatial processing. Hence, yoga practice improved attention, behavioral control, and higher-level thinking in the kindergarten children.
These are exciting results that are similar to those observed with older children. The abilities observed to have improved in the kindergarten children who practiced yoga are abilities that are essential for school performance. Attention is a key ability and that along with an additional reduction in hyperactivity sets the stage for learning. Then improved cognitive ability further heightens learning ability. This suggests that yoga practice has large benefits and should be recommended for young children to promote their ability to learn and perform in school.
So, improve attention and hyperactivity in kindergarten children with yoga.
"It sounds kind of goofy to people who don't work with little kids, but kids that have a weak core have a hard time sitting still, and that can look like they're not paying attention. Those are the kinds of mind-body connections you don't think about until you start looking into it." – Chas Zelinsky
CMCS – Center for Mindfulness and Contemplative Studies
This and other Contemplative Studies posts are also available on Google+ https://plus.google.com/106784388191201299496/posts and on Twitter @MindfulResearch
Study Summary
Jarraya S, Wagner M, Jarraya M and Engel FA (2019) 12 Weeks of Kindergarten-Based Yoga Practice Increases Visual Attention, Visual-Motor Precision and Decreases Behavior of Inattention and Hyperactivity in 5-Year-Old Children. Front. Psychol. 10:796. doi: 10.3389/fpsyg.2019.00796
The present study assesses the impact of Kindergarten-based yoga on cognitive performance, visual-motor coordination, and behavior of inattention and hyperactivity in 5-year-old children. In this randomized controlled trial, 45 children (28 female; 17 male; 5.2 ± 0.4 years) participated. Over 12 weeks, 15 children performed Hatha-yoga twice a week for 30 min, another 15 children performed generic physical education (PE) twice a week for 30 min, and 15 children performed no kind of physical activities, serving as control group (CG). Prior to (T0) and after 12 weeks (T1), all participants completed Visual Attention and Visuomotor Precision subtests of Neuropsychological Evaluation Battery and teachers evaluated children's behavior of inattention and hyperactivity with the Attention-Deficit/Hyperactivity Disorder (ADHD) Rating Scale-IV. At T0, no significant differences between groups appeared. Repeated measures analysis of variance revealed that following Bonferroni–Holm corrections yoga, in comparison to PE and CG, had a significant positive impact on the development on behavior of inattention and hyperactivity. Further, yoga has a significant positive impact on completion times in two visumotor precision tasks in comparison to PE. Finally, results indicate a significant positive effect of yoga on visual attention scores in comparison to CG. 12 weeks of Kindergarten-based yoga improves selected visual attention and visual-motor precision parameters and decreases behavior of inattention and hyperactivity in 5-year-old children. Consequently, yoga represents a sufficient and cost-benefit effective exercise which could enhance cognitive and behavioral factors relevant for learning and academic achievement among young children.
https://www.frontiersin.org/articles/10.3389/fpsyg.2019.00796/full?utm_source=F-AAE&utm_medium=EMLF&utm_campaign=MRK_963174_69_Psycho_20190416_arts_A