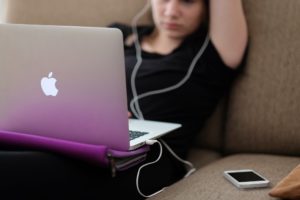 Reduce Stress and Enhance Academic Buoyancy in Adolescents with Online Acceptance and Commitment Therapy
By John M. de Castro, Ph.D.
"In the last few years mindfulness has emerged as a way of treating children and adolescents with conditions ranging from ADHD to anxiety, autism spectrum disorders, depression and stress. And the benefits are proving to be tremendous." – Julianne Garey
Adolescence is a time of mental, physical, social, and emotional growth. But adolescence can be a difficult time, fraught with challenges. During this time the child transitions to young adulthood; including the development of intellectual, psychological, physical, and social abilities and characteristics. There are so many changes occurring during this time that the child can feel overwhelmed and unable to cope with all that is required. Indeed, up to a quarter of adolescents suffer from depression or anxiety disorders, and an even larger proportion struggle with subclinical symptoms.
Mindfulness training in adults has been shown in adolescents to improve emotion regulation and to benefit the psychological and emotional health. A therapeutic technique that contains mindfulness training is Acceptance and Commitment Therapy (ACT). It is a mindfulness-based psychotherapy technique that is employs many of the techniques of Cognitive Behavioral Therapy (CBT). ACT focuses on the individual's thoughts, feelings, and behavior and how they interact to impact their psychological and physical well-being. It then works to change thinking to alter the interaction and produce greater life satisfaction. ACT employs mindfulness practices to increase awareness and develop an attitude of acceptance and compassion in the presence of painful thoughts and feelings. ACT teaches individuals to "just notice", accept and embrace private experiences and focus on behavioral responses that produce more desirable outcomes.
The original form of Acceptance and Commitment Therapy (ACT), however, required a certified trained therapist. This resulted in costs that many clients couldn't afford. In addition, the participants had to be available to attend multiple sessions at particular scheduled times that were not always compatible with busy schedules and at locations that were not always convenient. As an alternative, mindfulness-based treatments delivered over the internet have been developed. These have tremendous advantages in decreasing costs, making training schedules much more flexible, and eliminating the need to go repeatedly to specific locations. But the question arises as to the effectiveness of ACT for adolescents when delivered over the internet.
In today's Research News article "Reducing Stress and Enhancing Academic Buoyancy among Adolescents Using a Brief Web-based Program Based on Acceptance and Commitment Therapy: A Randomized Controlled Trial." (See summary below or view the full text of the study at: https://www.ncbi.nlm.nih.gov/pmc/articles/PMC6394525/ ), Puolakanaho and colleagues recruited adolescents in the 9th grade and randomly assigned them to receive a 5-week online program of Acceptance and Commitment Therapy (ACT) or to a no-treatment control condition. They were measured before and after the program for academic skills, reading fluency, math skills, stress, school stress, and academic buoyancy. Academic buoyancy "refers to a student's capacity to overcome everyday academic life setbacks and challenges successfully."
They found that 76% of the participants completed the Acceptance and Commitment Therapy (ACT) program. They found that in comparison to baseline and the no-treatment controls that ACT produced a significant reduction in overall stress levels and a significant increase in academic buoyancy. These findings suggest that ACT can be taught online to adolescents and successfully promote their ability to withstand the stress of adolescence and to promote their ability to overcome the challenges of school.
So, reduce stress and enhance academic buoyancy in adolescents with online acceptance and commitment therapy.
"mindfulness is uniquely able to help adolescents navigate this time of growing autonomy, more complicated life challenges and heightened reactivity to stressors in their lives." – Karen Pace
CMCS – Center for Mindfulness and Contemplative Studies
This and other Contemplative Studies posts are also available on Google+ https://plus.google.com/106784388191201299496/posts and on Twitter @MindfulResearch
Study Summary
Puolakanaho, A., Lappalainen, R., Lappalainen, P., Muotka, J. S., Hirvonen, R., Eklund, K. M., Ahonen, T., … Kiuru, N. (2018). Reducing Stress and Enhancing Academic Buoyancy among Adolescents Using a Brief Web-based Program Based on Acceptance and Commitment Therapy: A Randomized Controlled Trial. Journal of youth and adolescence, 48(2), 287-305.
Abstract
Acceptance and commitment therapy programs have rarely been used as preventive tools for alleviating stress and enhancing coping skills among adolescents. This randomized controlled trial examined the efficacy of a novel Finnish web- and mobile-delivered five-week intervention program called Youth COMPASS among a general sample of ninth-grade adolescents (n= 249, 49% females). The intervention group showed a small but significant decrease in overall stress (between-group Cohen's d = 0.22) and an increase in academic buoyancy (d= 0.27). Academic skills did not influence the intervention gains, but the intervention gains were largest among high-stressed participants. The results suggest that the acceptance and commitment based Youth COMPASS program may be well suited for promoting adolescents' well-being in the school context.
https://www.ncbi.nlm.nih.gov/pmc/articles/PMC6394525/