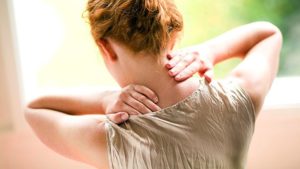 Reduce Pain Catastrophizing and Pain with Mindfulness
By John M. de Castro, Ph.D.
"People often increase the pain experience by adding to the physical sensations with a host of thoughts and feelings, like catastrophizing the pain or trying to suppress and ignore the pain. Mindfulness is a practice of attending to pain — or body sensations — and thoughts and feelings with that present-moment attention in an accepting and curious manner." – Susan Smalley
Fibromyalgia is a mysterious disorder whose causes are unknown. It is very common affecting over 5 million people in the U.S., about 2% of the population with about 7 times more women affected than men. It is characterized by widespread pain, abnormal pain processing, sleep disturbance, and fatigue that lead to psychological distress. Fibromyalgia may also have morning stiffness, tingling or numbness in hands and feet, headaches, including migraines, irritable bowel syndrome, sleep disturbances, thinking and memory problems, and painful menstrual periods. The symptoms are so severe and debilitating that about half the patients are unable to perform routine daily functions and about a third have to stop work. Although it is not itself fatal, suicide rates are higher in fibromyalgia sufferers.
There are no completely effective treatments for fibromyalgia. Symptoms are generally treated with pain relievers, antidepressant drugs and exercise. But these only reduce the severity of the symptoms and do not treat the disease directly. Mindfulness practices have also been shown to be effective in reducing pain from fibromyalgia. Some of the effects of mindfulness practices are to alter thought processes, changing what is thought about. In terms of pain, mindfulness training, by focusing attention on the present moment has been shown to reduce worry and catastrophizing. Pain is increased by worry about the pain and the expectation of greater pain in the future. So, mindfulness may reduce worry and catastrophizing and thereby reduce fibromyalgia pain.
In today's Research News article "Interactive effects of pain catastrophizing and mindfulness on pain intensity in women with fibromyalgia." (See summary below or view the full text of the study at: https://www.ncbi.nlm.nih.gov/pmc/articles/PMC6198401/ ), Dorado and colleagues recruited adult women suffering with fibromyalgia and had them complete questionnaires measuring mindfulness, pain, pain catastrophizing and fibromyalgia interference in daily activities and keeping a 7-day diary of their daily levels of pain and pain catastrophizing. They then examined predictors of the daily pain intensity and pain catastrophizing.
They found a strong positive relationship between pain catastrophizing and pain intensity indicating that the higher the daily levels of catastrophizing the greater the levels of pain. They also found that the higher the levels of mindfulness the lower the levels of daily pain catastrophizing and daily levels of pain. They found that this relationship was modified by facets of mindfulness. In particular, the greater the observing facet of mindfulness the smaller the relationship between daily pain catastrophizing and daily pain intensity. On the other hand, when the mindfulness facets of non-judging and acting with awareness were high then the greater the daily levels of catastrophizing the greater the levels of pain.
These relationships suggest that observing mindfully tends to mitigate the relationship of catastrophizing to pain while mindfully non-judging and acting with awareness tends to amplify the relationship. But, overall, mindfulness tends to be associated with lower catastrophizing. It has been shown in other work that mindfulness tends to lower fibromyalgia pain, The present study suggests that it may do so by reducing pain catastrophizing. Even though mindfulness, in general lowers pain and catastrophizing not judging the situation and acting toward it with awareness can actually heighten the effects of catastrophizing on pain.
It should be kept in mind that these results are correlational and conclusions about causation cannot be made. In addition, the results are complicated suggesting complex relationships between mindfulness and daily pain and catastrophizing levels. This indicates that further research is needed especially work in which mindfulness is altered by training and then observing the effects of this change on pain levels and catastrophizing and their relationships with each other.
So, reduce pain catastrophizing and pain with mindfulness.
"When pain is consistently part of your day, you can start to dwell on it. You may feel stress and anxiety about the pain you're feeling now, as well as pain that may occur in the future. Mindfulness may lead to changes in the brain that provide benefits for those with fibromyalgia." – Peggy Pletcher
CMCS – Center for Mindfulness and Contemplative Studies
This and other Contemplative Studies posts are available at the Contemplative Studies Blog http://contemplative-studies.org/wp/
They are also available on Google+ https://plus.google.com/106784388191201299496/posts and on Twitter @MindfulResearch
Study Summary
Dorado, K., Schreiber, K. L., Koulouris, A., Edwards, R. R., Napadow, V., & Lazaridou, A. (2018). Interactive effects of pain catastrophizing and mindfulness on pain intensity in women with fibromyalgia. Health psychology open, 5(2), 2055102918807406. doi:10.1177/2055102918807406
Abstract
The objective of this study was to examine the association between facets of trait mindfulness, pain catastrophizing, and pain severity in a sample of patients with fibromyalgia. Patients with fibromyalgia completed validated baseline and diary assessments of clinical pain, mindfulness, and pain catastrophizing. Multilevel modeling analyses indicated that the daily association between catastrophizing and pain intensity was moderated by certain mindfulness facets. Our findings suggest that various aspects of mindfulness may interact differently with pain and catastrophizing, which may have implications for the design and testing of interventions targeting mindfulness and catastrophizing in fibromyalgia patients.
https://www.ncbi.nlm.nih.gov/pmc/articles/PMC6198401/