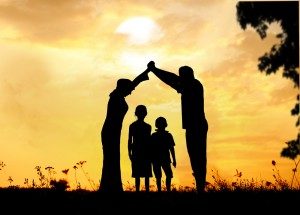 Improve Parenting and Reduce Stress with Mindfulness
By John M. de Castro, Ph.D.
"We can practice 'mindful listening' by simply being present for the other person, and giving them space to talk without imposing our own agenda. As one person in a family consciously practicing mindfulness in this way, you may find that you are modeling it for the others, and quietly encouraging them to listen with greater attention and empathy." – Tessa Watt
Raising children, parenting, is very rewarding. But, it can also be challenging. Children test parents frequently. They test the boundaries of their freedom and the depth of parental love. They demand attention and seem to especially when parental attention is needed elsewhere. They don't always conform to parental dictates or aspirations for their behavior. They are often affected more by peers, for good or evil, than by parents. It is the parents challenge to control themselves, not overreact, and act appropriately in the face of strong emotions. Meeting these challenges becomes more and more important with adolescents, as here are the greatest struggles for independence and the potential for damaging behaviors, particularly, alcohol, drugs, and sexual behavior.
own emotions, and to be sensitive and attentive their child. These skills are exactly those that are developed in mindfulness training. It improves the psychological and physiological responses to stress. It improves emotion regulation. It improves the ability to maintain attention and focus in the face of high levels of distraction. Mindful parenting involves the parents having emotional awareness of themselves and compassion for the child and having the skills to pay full attention to the child in the present moment, to accept parenting non-judgmentally and be emotionally non-reactive to the child.
In today's Research News article "Benefits of Mindfulness for Parenting in Mothers of Preschoolers in Chile." (See summary below or view the full text of the study at: https://www.frontiersin.org/articles/10.3389/fpsyg.2018.01443/full?utm_source=F-AAE&utm_medium=EMLF&utm_campaign=MRK_755938_69_Psycho_20180904_arts_A ),   Corthorn examined the effects of mindfulness training on parenting. They recruited healthy adult mothers of preschool children (2-5 years of age). They formed a no treatment control group and a mindfulness training group which received an 8 week program of Mindfulness-Based Stress Reduction (MBSR) that was adapted for mothers. They met for 2 hours per week for discussion and practiced mindful meditation and yoga. They were also instructed to practice at home. Both groups were measured before and after training and 2 months later for mindfulness, parenting stress, anxiety, depression, and mindful parenting, including subscales measuring listening with full attention, self-regulation in the parenting relationship, non-judgmental acceptance of self, and empathy and acceptance for the child.
They found in comparison to the control group and the baseline that after mindfulness training there was a significant reduction in parental stress and significant increases in mindfulness and mindful parenting including the subscales measuring non-judgmental acceptance of self as a mother, listening with full attention, self-regulation in the parenting relationship, and empathy and acceptance for the child. These improvements were maintained over the two months follow-up period. They also found that after training but not 2 months later there were significant decreases in overall stress and parental stress subscales of "Parental Distress" and "Difficult Child".
These are interesting results that suggest that the Mindfulness-Based Stress Reduction (MBSR) adapted for mothers produced significant and lasting improvements in the mothers' mindfulness and parenting skills and reduced their stress levels. It has been clearly shown by other research that mindfulness training reduces the psychological and physiological responses to stress, and improves parenting  Future research should investigate the effects of the mothers' participation on the well-being of their children. But, it is clear that mindfulness training is beneficial for the mothers. The mothers are better able to listen to, empathize with, and accept their children and these benefits would predict greater psychological health in the children.
So, improve parenting and reduce stress with mindfulness.
"As parents, perhaps the most precious thing we can give our children is the gift of our full presence, in the moment. This is the deep intention and invitation for parents as they make space for mindfulness practice in their lives. Mindful parenting takes to heart the deep truth that we can only give to our children what we have given first and fundamentally to ourselves." – Lisa Kring
CMCS – Center for Mindfulness and Contemplative Studies
This and other Contemplative Studies posts are also available on Google+ https://plus.google.com/106784388191201299496/posts and on Twitter @MindfulResearch
Study Summary
Corthorn C (2018) Benefits of Mindfulness for Parenting in Mothers of Preschoolers in Chile. Front. Psychol. 9:1443. doi: 10.3389/fpsyg.2018.01443
The present study evaluated whether mothers' participation in a mindfulness-based intervention led to statistically significant differences in their general levels of stress, depression, anxiety, parental stress, mindful parenting, and mindfulness. Forty-three mothers of preschool-age children participated, 21 in the intervention group and 22 in the comparison group. Scores of mental health variables were within normal ranges before the intervention. All of the participants worked at the Universidad Católica de Chile (Catholic University of Chile), and their children attended university preschool centers. Repeated measured ANOVA analysis were performed considering differences between gain scores of each group, rather than post-treatment group differences. This was chosen in order to approach initial differences in some of the measures (mindfulness, mindful parenting, and stress) probably due to self-selection. As predicted, the intervention group showed a significant reduction in general and parental stress and an increase in mindful parenting and general mindfulness variables when compared with the comparison group. Effect sizes ranged from small to medium, with the highest Cohen's d in stress (general and parental) and mindful parenting. In most cases, the significant change was observed between pre- and post-test measures. Follow-up measures indicated that the effects were maintained after 2 months.
https://www.frontiersin.org/articles/10.3389/fpsyg.2018.01443/full?utm_source=F-AAE&utm_medium=EMLF&utm_campaign=MRK_755938_69_Psycho_20180904_arts_A