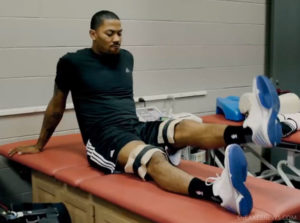 Improve Pain Tolerance After Athletic Injuries with Mindfulness
By John M. de Castro, Ph.D.
"Meditation is not something that only benefits yogis. Meditation gives athletes the ability to stay calm in the eye of the storm, it improves your ability to ignore distractions, and it has a powerful impact on the state of your nervous systems. All of these elements are significant to recovery time." – Jennifer Houghton
Athletic performance requires the harmony of mind and body. Excellence is in part physical and in part psychological. That is why an entire profession of Sports Psychology has developed. "In sport psychology, competitive athletes are taught psychological strategies to better cope with a number of demanding challenges related to psychological functioning." They use a number of techniques to enhance performance including mindfulness training. It has been shown to improve attention and concentration and emotion regulation and reduces anxiety and worry and rumination, and the physiological and psychological responses to stress. As a result, mindfulness training has been employed by athletes and even by entire teams to enhance their performance.
Athletes, however, often get injured. It has been shown that mindfulness can help with pain management. But, it is not known if mindfulness training can help in dealing with and recovering from severe athletic injuries. In today's Research News article "Effect of Mindfulness Based Stress Reduction (MBSR) in Increasing Pain Tolerance and Improving the Mental Health of Injured Athletes." (See summary below or view the full text of the study at: https://www.frontiersin.org/articles/10.3389/fpsyg.2018.00722/full?utm_source=F-AAE&utm_medium=EMLF&utm_campaign=MRK_650705_69_Psycho_20180524_arts_A ), Mohammed and colleagues examined the ability of a Mindfulness Based Stress Reduction (MBSR) program to reduce the physical and psychological effects of severe athletic injuries.
They recruited university athletes who had severe injuries that kept them from participating in their sport for at least 3 months. All athletes received usual care consisting of the standard physiotherapy treatments throughout the study. They were randomly assigned to receive either an additional 8-week program of Mindfulness Based Stress Reduction (MBSR). They met once a week for 90 minutes and were asked to practice at home for 20 minutes per day. MBSR contains meditation, yoga and body scan practices. For this study the practices were adapted to the physical needs and capabilities of the injured athletes. All athletes were measured before and after training for pain tolerance with a cold pressor test, rated their own levels of pain, and completed measures of mindfulness, positive and negative emotions, anxiety, and depression.
They found that following training the athletes receiving MBSR training had a significantly greater level of pain tolerance, and mindfulness compared to baseline and the control group. Both groups had significant improvements in mood, especially significant reductions in anxiety and stress. This is a small study and it needs to be repeated with larger groups and an active control condition. But, the results indicate that Mindfulness Based Stress Reduction (MBSR) improves pain tolerance and mindfulness in injured athletes. It has been previously demonstrated that mindfulness training reduces pain perception in general. The present study suggests that it also does so for severely injured athletes. This may be important for the athlete's recovery from their injuries.
It will be interesting to see if the heightened mindfulness produces improved athletic performance when the athletes recover and return to their respective sporting activities. It has been shown that mindfulness training improves athletic performance. But it is not known whether it is effective with athletes returning to competition after serious injury.
So, improve pain tolerance after athletic injuries with mindfulness.
"Athletes that fall into reactive habits are being mindful when under stress.  They are at the mercy of these destructive habits.  Becoming mindful creates a pause between the stimulus that occurs and the athletes reaction to the event." – Robert Andrews
CMCS – Center for Mindfulness and Contemplative Studies
This and other Contemplative Studies posts are also available on Google+ https://plus.google.com/106784388191201299496/posts and on Twitter @MindfulResearch
Study Summary
Mohammed WA, Pappous A and Sharma D (2018) Effect of Mindfulness Based Stress Reduction (MBSR) in Increasing Pain Tolerance and Improving the Mental Health of Injured Athletes. Front. Psychol. 9:722. doi: 10.3389/fpsyg.2018.00722
Abstract
Literature indicates that injured athletes face both physical and psychological distress after they have been injured. In this study, a Mindfulness Based Stress Reduction (MBSR) was utilised as an intervention for use during the period of recovery with injured athletes and, to the best of our knowledge, this is the first study using MBSR as an intervention for this purpose.
Objective: The aim of this research was to investigate the role of MBSR practise in reducing the perception of pain and decreasing anxiety/stress, as well as increasing pain tolerance and mindfulness. An additional aim was to increase positive mood and decrease negative mood in injured athletes.
Methods: The participants comprised of twenty athletes (male = 14; female = 6; age range = 21–36 years) who had severe injuries, preventing their participation in sport for more than 3 months. Prior to their injury, the participants had trained regularly with their University teams and participated in official university championships. Both groups followed their normal physiotherapy treatment, but in addition, the intervention group practised mindfulness meditation for 8 weeks (one 90-min session/week). A Cold Pressor Test (CPT) was used to assess pain tolerance. In contrast, the perception of pain was measured using a Visual Analogue Scale. Other measurements used were the Mindful Attention Awareness Scale (MAAS), Depression Anxiety and Stress Scale (DASS), and Profile of Mood States (POMS).
Results: Our results demonstrated an increase in pain tolerance for the intervention group and an increase in mindful awareness for injured athletes. Moreover, our findings observed a promising change in positive mood for both groups. Regarding the Stress/Anxiety scores, our findings showed a notable decrease across sessions; however, no significant changes were observed in other main and interaction effects in both groups.
Conclusion: Injured athletes can benefit from using mindfulness as part of the sport rehabilitation process to increase their pain tolerance and awareness. Further research is required to assess whether increasing pain tolerance could help in the therapeutic process.
https://www.frontiersin.org/articles/10.3389/fpsyg.2018.00722/full?utm_source=F-AAE&utm_medium=EMLF&utm_campaign=MRK_650705_69_Psycho_20180524_arts_A