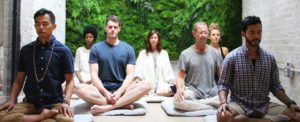 Improve Psychological Well-Being with EcoMeditation
By John M. de Castro, Ph.D.
"Eco Meditation ,. . .is a powerful meditation, a synergy of multiple techniques, doing certain physiological moves to help you get into a deep delta meditative state, the same as a meditative master, and in only 90 seconds. You can do this meditation any time of the day, and cumulative benefits accrue with long-term use." – Inspire Nation
Meditation training has been shown to improve health and well-being. It has also been found to be effective for a large array of medical and psychiatric conditions, either stand-alone or in combination with more traditional therapies. As a result, meditation training has been called the third wave of therapies. One problem with understanding meditation effects is that meditation is not a specific practice but rather a category encompassing a wide array of practices. It is not known which work best for the health and well-being of the practitioners and for improving different conditions.
In today's Research News article "The Interrelated Physiological and Psychological Effects of EcoMeditation." (See summary below or view the full text of the study at: https://www.ncbi.nlm.nih.gov/pmc/articles/PMC5871048/ ), Groesbeck and colleagues study the effects of a relatively new, less commonly practiced, technique called Eco-Meditation. As described by the authors, EcoMeditation "focuses on physiological cues. . . it has participants mimic the physiological state of an experienced practitioner. Participants mechanically assume breathing patterns and body postures that are characteristic of long-time meditators. EcoMeditation combines elements of 4 evidence-based techniques: the Quick Coherence Technique, Clinical Emotional Freedom Techniques, mindfulness meditation, and neurofeedback."
In an uncontrolled pilot study, they recruited participants who were attending a weekend meditation workshop at a residential conference center where they practiced EcoMeditation. Before and after the workshop and 2 months later, the participants were measured for anxiety, depression, happiness, pain, Posttraumatic stress disorder (PTSD), resting blood pressure, heart rate, heart rate variability, heart coherence, and Salivary immunoglobulin A and cortisol levels as physiological markers of stress.
They found that in comparison to the levels prior to the workshop, afterward there were significant decreases in anxiety, depression, pain, resting heart rate, salivary cortisol levels, and a significantly increase in happiness. Unfortunately, none of these effects were still present 2 months later. Hence, after participating in the workshop but not 2 months later the participants reported improved psychological well-being and less stress.
This is an uncontrolled pilot study and no firm conclusions can be made. Without a control group there are many sources of confounding present and many alternative explanations for the results. But, the results were interesting and provide support for a more controlled study.
So, improve psychological well-being with EcoMeditation.
"In meditation, you're seeking a state, like peace of mind, not an outcome. The rest of your life is about doing; meditation is about being." – Anne Siret
CMCS – Center for Mindfulness and Contemplative Studies
This and other Contemplative Studies posts are also available on Google+ https://plus.google.com/106784388191201299496/posts and on Twitter @MindfulResearch
Study Summary
Groesbeck, G., Bach, D., Stapleton, P., Blickheuser, K., Church, D., & Sims, R. (2018). The Interrelated Physiological and Psychological Effects of EcoMeditation. Journal of Evidence-Based Integrative Medicine, 23, 2515690X18759626. http://doi.org/10.1177/2515690X18759626
Abstract
This study investigated changes in psychological and physiological markers during a weekend meditation workshop (N = 34). Psychological symptoms of anxiety, depression, posttraumatic stress disorder (PTSD) and happiness were assessed. Physiological markers included cortisol, salivary immunoglobulin A (SigA), heart rate variability (HRV), blood pressure (BP), and resting heart rate (RHR). On posttest, significant reductions were found in cortisol (−29%, P < .0001), RHR (−5%, P = .0281), and pain (−43%, P = .0022). Happiness increased significantly (+11%, P = .0159) while the increase in SigA was nonsignificant (+27%, P = .6964). Anxiety, depression, and PTSD all declined (−26%, P = .0159; −32%, P = .0197; −18%, P = .1533), though changes in PTSD did not reach statistical significance. No changes were found in BP, HRV, and heart coherence. Participants were assessed for psychological symptoms at 3-month follow-up, but the results were nonsignificant due to inadequate sample size (n = 17). EcoMeditation shows promise as a stress-reduction method.