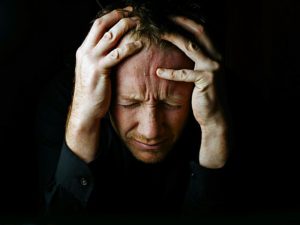 Improve Headache Pain with Mindfulness
By John M. de Castro, Ph.D.
"Mindfulness-based stress reduction (MBSR) can be a safe and effective means of lessening the effect of migraine headache and can be carried out while patients continue to take migraine medication." – Pauline Anderson
Headaches are the most common disorders of the nervous system. It has been estimated that 47% of the adult population have a headache at least once during the last year. There are a wide variety of drugs that are prescribed for chronic headache pain with varying success. Headaches are treated with pain relievers, ergotamine, blood pressure drugs such as propranolol, verapamil, antidepressants, antiseizure drugs, and muscle relaxants. Drugs, however, can have some problematic side effects particularly when used regularly and are ineffective for many sufferers. So, almost all practitioners consider lifestyle changes that help control stress and promote regular exercise to be an important part of headache treatment and prevention. Avoiding situations that trigger headaches is also vital.
Individual studies have reported that mindfulness training is an effective treatment for headache pain. There is a need, however, to summarize and analyze the existing literature. In today's Research News article "Mindfulness Meditation for Primary Headache Pain: A Meta-Analysis." (See summary below or view the full text of the study at: https://www.ncbi.nlm.nih.gov/pmc/articles/PMC5887742/ ), Gu and colleagues review, summarize, and perform a meta-analysis of the effectiveness of meditation practice for headache pain. They identified 11 published studies with adult patients. They find that the studies report that mindfulness meditation produces not only a significant reduction in headache pain but also a significant reduction in the frequency of headaches. Subgroup analysis revealed that Mindfulness-Based Stress Reduction (MBSR) was effective in reducing pain and 8 weeks of mindfulness meditation was effective in producing pain reduction.
Hence, the published research literature supports the conclusion that mindfulness meditation is a safe and effective treatment for headaches, reducing their number and intensity. Some of the effects of mindfulness practices are to alter thought processes, changing what is thought about. In terms of pain, mindfulness training, by focusing attention on the present moment has been shown to reduce worry and catastrophizing. Pain is increased by worry about the pain and the expectation of greater pain in the future. So, reducing worry and catastrophizing can reduce headache pain. In addition, mindfulness improves self-efficacy, the belief that the individual can adapt to and handle headache pain. In addition, mindfulness training also has been shown to alter not only what is thought, but also how thoughts are processed. Central to this cognitive change is mindfulness and acceptance. By mindfully viewing pain as a present moment experience it can be experienced just as it is and by accepting it, the individual stops fighting against the pain which can amplify the pain.
So, improve headache pain with mindfulness.
"Mindfulness meditation is proving to be of significant help in not only reducing migraines or chronic pain, but improvements in mood, outlook on life and illness, increased coping skills, enhanced sense of well-being, changes in perception of pain, higher tolerance of pain, enhanced immune function, less fatigue and stress and better sleep. Beyond that, other benefits that are derived from mindfulness include improved cognitive functioning and memory, more inner peace, empathy and compassion, higher levels of self-awareness, joy, pleasure, creativity, insight and intuition, all of which result in a life that is deeper and more fulfilling on many levels." – Cynthia Perkins
CMCS – Center for Mindfulness and Contemplative Studies
This and other Contemplative Studies posts are also available on Google+ https://plus.google.com/106784388191201299496/posts and on Twitter @MindfulResearch
Study Summary
Gu, Q., Hou, J.-C., & Fang, X.-M. (2018). Mindfulness Meditation for Primary Headache Pain: A Meta-Analysis. Chinese Medical Journal, 131(7), 829–838. http://doi.org/10.4103/0366-6999.228242
Abstract
Background:
Several studies have reported that mindfulness meditation has a potential effect in controlling headaches, such as migraine and tension-type headache; however, its role remains controversial. This review assessed the evidence regarding the effects of mindfulness meditation for primary headache pain.
Methods:
Only English databases (PubMed, Cochrane Central Register of Controlled Trials [the Cochrane Library], PsycINFO, Psychology and behavioral science collection, PsyArticles, Web of Science, and Scopus) were searched from their inception to November 2016 with the keywords ("meditation" or "mindfulness" or "vipassana" or "dzogchen" or "zen" or "integrative body-mind training" or "IBMT" or "mindfulness-based stress reduction" or "MBSR" or "mindfulness-based cognitive therapy" or "MBCT" and "Headache" or "Head pain" or "Cephalodynia" or "Cephalalgia" or "Hemicrania" or "Migraine"). Titles, abstracts, and full-text articles were screened against study inclusion criteria: controlled trials of structured meditation programs for adult patients with primary headache pain. The quality of studies included in the meta-analysis was assessed with the Yates Quality Rating Scale. The meta-analysis was conducted with Revman 5.3.
Results:
Ten randomized controlled trials and one controlled clinical trial with a combined study population of 315 patients were included in the study. When compared to control group data, mindfulness meditation induced significant improvement in pain intensity (standardized mean difference, −0.89; 95% confidence interval, −1.63 to −0.15; P = 0.02) and headache frequency (−0.67; −1.24 to −0.10; P = 0.02). In a subgroup analysis of different meditation forms, mindfulness-based stress reduction displayed a significant positive influence on pain intensity (P < 0.000). Moreover, 8-week intervention had a significant positive effect (P< 0.000).
Conclusions:
Mindfulness meditation may reduce pain intensity and is a promising treatment option for patients. Clinicians may consider mindfulness meditation as a viable complementary and alternative medical option for primary headache.