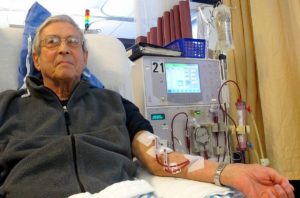 Improve Psychological and Physical Health in End Stage Renal Disease with Mindfulness
By John M. de Castro, Ph.D.
"Meditation could be a valuable, low-cost, nonpharmacologic intervention for reducing blood pressure and adrenaline levels in patients with chronic kidney disease" –  Kurtis Pivert
End-stage renal disease (ESRD) is a serious and all too common medical problem that results from a total and permanent failure of the kidneys. As a result, the body retains fluid and harmful wastes build up. Treatment, usually dialysis, is required to replace the work of the failed kidneys. Kidney dialysis uses a machine to filter harmful wastes, salt, and excess fluid from your blood. This restores the blood to a normal, healthy balance. Without dialysis or a kidney transplant the ESRD patient cannot survive It is estimated that ESRD occurs in more than 650,000 patients per year in the United States and is increasing by 5% per year. Those who live with ESRD are 1% of the U.S. Medicare population but account for 7% of the Medicare budget. Worldwide there are an estimated 2 million ESRD patients.
End-stage renal disease (ESRD) is frequently accompanied by a number of other serious diseases, such as cardiovascular disease and diabetes. Making matters worse is the fact that ESRD patients often experience psychological distress including depression. It is possible that mindfulness training may be helpful as it has been found be helpful for patients with kidney disease and help relieve depression.
In today's Research News article "Effectiveness of group cognitive behavioral therapy with mindfulness in end-stage renal disease hemodialysis patients." (See summary below or view the full text of the study at: https://www.ncbi.nlm.nih.gov/pmc/articles/PMC5875579/ ), Sohn and colleagues conducted and uncontrolled pilot study to investigate the effectiveness of group based Cognitive Behavioral Therapy that includes mindfulness training for improving the psychological health or 7 patients with End-Stage Renal Disease (ESRD) undergoing dialysis and suffering from depression.
The therapy included muscle relaxation, meditation, and cognitive therapy to uncover automatic thinking regarding their emotions and was conducted once a week for 12 weeks. The participants were measured before, at 8 weeks and after treatment for the biochemical variables of albumin, serum creatinine, calcium/phosphorus, and interdialytic weight gain and for the psychological variables of quality of life, anxiety, depression, perceived stress. They found that compared to baseline the participants had significant increases in quality of life, and significant decreases in albumin, serum creatinine, anxiety, depression, perceived stress.
Hence, after Cognitive Behavioral Therapy with mindfulness training the patients psychological and physical states were greatly improved. These are intriguing results that must be interpreted cautiously as this was an uncontrolled pilot study with just 7 patients. But, the findings clearly justify conducting a large randomized controlled trial with an active control condition. These patients suffer greatly and identifying a safe and effective therapy to relieve their psychological distress and improve their physical well-being is sorely needed.
So, improve psychological and physical health in end stage renal disease with mindfulness.
"Not only did mindfulness meditation decrease the anxiety related to dialysis, many patients also used this technique to assist relaxation and improve sleep at home." – Raymond Chang
CMCS – Center for Mindfulness and Contemplative Studies
This and other Contemplative Studies posts are also available on Google+ https://plus.google.com/106784388191201299496/posts and on Twitter @MindfulResearch
Study Summary
Sohn, B. K., Oh, Y. K., Choi, J.-S., Song, J., Lim, A., Lee, J. P., … Lim, C. S. (2018). Effectiveness of group cognitive behavioral therapy with mindfulness in end-stage renal disease hemodialysis patients. Kidney Research and Clinical Practice, 37(1), 77–84. http://doi.org/10.23876/j.krcp.2018.37.1.77
Abstract
Background
Many patients with end-stage renal disease (ESRD) undergoing hemodialysis (HD) experience depression. Depression influences patient quality of life (QOL), dialysis compliance, and medical comorbidity. We developed and applied a group cognitive behavioral therapy (CBT) program including mindfulness meditation for ESRD patients undergoing HD, and measured changes in QOL, mood, anxiety, perceived stress, and biochemical markers.
Methods
We conducted group CBT over a 12-week period with seven ESRD patients undergoing HD and suffering from depression. QOL, mood, anxiety, and perceived stress were measured at baseline and at weeks 8 and 12 using the World Health Organization Quality of Life scale, abbreviated version (WHOQOL-BREF), the Beck Depression Inventory II (BDI-II), the Hamilton Rating Scale for Depression (HAM-D), the Beck Anxiety Inventory (BAI), and the Perceived Stress Scale (PSS). Biochemical markers were measured at baseline and after 12 weeks. The Temperament and Character Inventory was performed to assess patient characteristics before starting group CBT.
Results
The seven patients showed significant improvement in QOL, mood, anxiety, and perceived stress after 12 weeks of group CBT. WHOQOL-BREF and the self-rating scales, BDI-II and BAI, showed continuous improvement across the 12-week period. HAM-D scores showed significant improvement by week 8; PSS showed significant improvement after week 8. Serum creatinine levels also improved significantly following the 12 week period.
Conclusion
In this pilot study, a CBT program which included mindfulness meditation enhanced overall mental health and biochemical marker levels in ESRD patients undergoing HD.
https://www.ncbi.nlm.nih.gov/pmc/articles/PMC5875579/