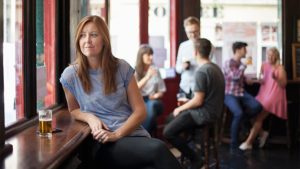 Make Self-Views More Positive and Relieve Social Anxiety Disorder with Mindfulness
By John M. de Castro, Ph.D.
"I call this type of mindfulness practice while we are interacting with others—or even while we are simply around others—curiosity training. We are learning to get out of our heads and into the moment. Instead of focusing our attention on ourselves—criticizing our performance or appearance, trying to guess what others are thinking of us, struggling to script out what to say—we learn to treat all those thoughts as background noise—something we're aware of but not paying attention to—and instead return our attention to taking interest in the situation, the person, and the conversation." – Larry Cohen
It is a common human phenomenon that being in a social situation can be stressful and anxiety producing. Most people can deal with the anxiety and can become quite comfortable. But many do not cope well and the anxiety is overwhelming, causing the individual to withdraw. Social Anxiety Disorder (SAD) is characterized by a persistent, intense, and chronic fear of being watched and judged by others and feeling embarrassed or humiliated by their actions. This fear may be so severe that it interferes with work, school, and other activities and may negatively affect the person's ability to form relationships.
SAD is the most common form of anxiety disorder and it is widespread, occurring in about 7% of the U.S. population and is particularly widespread among young adults. Anxiety disorders have generally been treated with drugs. But, there are considerable side effects and these drugs are often abused. There are a number of psychological therapies for SAD. But, about 45% of the patients treated do not respond to the therapy. So, there is a need to develop alternative treatments. Recently, it has been found that mindfulness training can be effective for anxiety disorders including Social Anxiety Disorder (SAD). Mindfulness-Based Stress Reduction (MBSR) contains three mindfulness trainings, meditation, body scan, and yoga, and has been shown to be effective in treating anxiety disorders. It is not known, however, how these treatments produce their effects.
In today's Research News article "Self-Views in Social Anxiety Disorder: The Impact of CBT versus MBSR." (See summary below or view the full text of the study at: https://www.ncbi.nlm.nih.gov/pmc/articles/PMC5376221/ ), Thurston and colleagues recruited unmedicated patients with Social Anxiety Disorder (SAD) and randomly assigned them to receive 12 weekly sessions of 2.5 hours of either Mindfulness-Based Stress Reduction (MBSR), Cognitive Behavioral Group Therapy (CBGT) or a wait-list control condition. They also recruited a group of healthy control participants. They were measured before and after training for social anxiety and positive and negative self-views.
They found that in comparison to healthy controls, participants with SAD had significantly lower positive self-views and significantly higher negative self-views. Both Mindfulness-Based Stress Reduction (MBSR), Cognitive Behavioral Group Therapy (CBGT) produced significant reductions in social anxiety and significant improvements in self-views, reducing negative and increasing positive self-views. Importantly, they found that changes in positive, but not negative self-views were the intermediary between MBSR and CBGT treatments and improvement in social anxiety. That is, the treatments improved the patients' positive views of themselves and this in turn produced reduced social anxiety.
These results are interesting and potentially important. By demonstrating that changing the patients' views concerning themselves was a key to improving social anxiety, the findings suggest that tailoring treatment to improving positive self-views might produce more effective therapies for Social Anxiety Disorder (SAD).
So, make self-views more positive and relieve social anxiety disorder with mindfulness.
"Our nervous system is like the soundtrack for every scene in life that we encounter. It is all but impossible to experience a scene as safe and happy when the music tells us otherwise. With a mindful, body-based approach, clients can learn to change their music." – Jeena Cho
CMCS – Center for Mindfulness and Contemplative Studies
This and other Contemplative Studies posts are also available on Google+ https://plus.google.com/106784388191201299496/posts and on Twitter @MindfulResearch
Study Summary
Thurston, M. D., Goldin, P., Heimberg, R., & Gross, J. J. (2017). Self-Views in Social Anxiety Disorder: The Impact of CBT versus MBSR. Journal of Anxiety Disorders, 47, 83–90. http://doi.org/10.1016/j.janxdis.2017.01.001
Abstract
This study examines the impact of Cognitive-Behavioral Group Therapy (CBGT) versus Mindfulness-Based Stress Reduction (MBSR) versus Waitlist (WL) on self-views in patients with social anxiety disorder (SAD). One hundred eight unmedicated patients with SAD were randomly assigned to 12 weeks of CBGT, MBSR, or WL, and completed a self-referential encoding task (SRET) that assessed self-endorsement of positive and negative self-views pre- and post-treatment. At baseline, 40 healthy controls (HCs) also completed the SRET. At baseline, patients with SAD endorsed greater negative and lesser positive self-views than HCs. Compared to baseline, patients in both CBGT and MBSR decreased negative self-views and increased positive self-views. Improvement in self-views, specifically increases in positive (but not decreases in negative) self-views, predicted CBGT- and MBSR-related decreases in social anxiety symptoms. Enhancement of positive self-views may be a shared therapeutic process for both CBGT and MBSR for SAD.