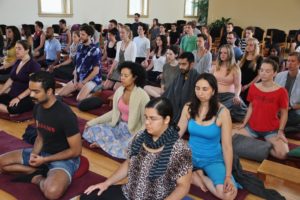 The Power of Retreat 5 – Meditation and Spirituality
"Meditation is the discovery that the point of life is always arrived at in the immediate moment." – Alan Watts
In a prior essay 'The Power of Retreat 4 – the Container of Silence' (https://www.facebook.com/ContemplativeStudiesCenter/insights/?section=navPosts), the effects of the container in which retreat is conducted were explored. But, the point of retreat is not the container, it is what transpires within it. Meditation and contemplation are the primary practices of the retreat. The amount varies with different types of retreats. The one we just returned from the amount of meditation varied between 3 to 4+ hours per day occurring in 6 to 8 periods beginning at 7:30 in the morning through 9:30 in the evening. The retreat not only allows for deep meditative experiences that build over the course of the retreat, but it also allows for time for contemplation. Just sitting or walking while reflecting on our environment, immediate experience, or the insights occurring in meditation is as important as the meditation itself.
The specific type of meditation practiced can vary with different retreats (see links below for explanations of meditation techniques). But, all practices emphasize quieting the mind, reducing the internal conversation and chatter, in order to better see and understand the operation of the mind. The amount of meditation is important as it is a 'practice' and over time the mind gets quieter. When the mind quiets all sorts of things can emerge, some expected, some a complete surprise, some sublime, but some very uncomfortable and upsetting. Be forewarned, meditation can produce wrenching experiences. We've seen many people spontaneously break out in tears at any moment. Most deal with it effectively, confronting and experiencing troubling experiences and the attached strong emotions. This is actually a very good thing as it can help to heal inner wounds that may have festered for decades. But, some participants are overwhelmed and need assistance or need to leave the retreat. Don't be put off, these are important experiences and may constitute breakthrough moments, leading to self-transformation.
The intent of meditation is not to elicit thinking or emotions, even though thinking and emotions occur frequently during meditation. The intent is to allow inner silence to prevail. At the retreat we attended we all wore tags stating "I am observing silence." This can be viewed very practically as a message to everyone around who may not be participating in the retreat, that we're not open to conversation, or even everyday niceties. But, it's true meaning is deeper. It suggests that we are observing silence itself, the silence within that is ever present and the foundation upon which all experiences emerge. It is a wonderful experience to be deeply immersed in the silence.
A powerful component of retreat is the commitment and intention that the participants bring. Most people coming to a retreat are very committed. The investment of money and especially a week's time is a concrete expression of that commitment. The week taken away from work and everyday activities is dear to many. It could have been used to take a cruise, tour a foreign country, go to a beach or theme park, visit friends and family, etc. So, the choice to go on retreat instead is meaningful. This commitment provides the motivation for the individual to focus on the work of the retreat and particularly on their intention. Most come with an intention to work on self-understanding, which may paradoxically include a loss of self! In addition, the fact that there is a group of committed individuals with a shared intention present energizes the retreat.
For many the intention is for spiritual development. Some come to retreat with a specific intention to experience spiritual awakening or to experience a union with God. But, even those who come for personal development reasons often migrate toward spiritual development. This is a natural outgrowth of meditation. It is impossible to look deeply inside, particularly at the silence and emptiness and not be spiritually affected, to not glimpse the deeper aspects of existence. In fact, it is common in retreat for people to have awakening experiences. These frequently occur not in the meditation itself but during the contemplative time. That's frequently where the fruits of meditation ripen. Additionally, the supportive environment of retreat can promote awakenings as the individual knows that these unusual experiences will be accepted and understood, whereas in everyday life they are not.
Silent meditation retreat is an opportunity to move away from our everyday lives. Some may see this as an opportunity to escape them but the power of retreat is not to escape our lives but to provide perspective on them. Yes, work, chores etc. must be done. But, by putting perspective on their true importance we become less stressed and anxious about them and don't ruminate about unfinished tasks. Rather, we can begin to live our life with balance, making sure that we take care of what constitutes the to do list of our happiness and growth. It has been pointed out that absolutely no one, on their death bed, wishes that they had spent more time at work. Retreat can provide this same kind of perspective. We come away from retreat with a clear realization that we must give higher priorities and more time to our emotional and spiritual lives. We must invest the precious time of our lives in rest and contemplation. We must devote ourselves more to others and especially, to caring for ourselves. We can see how important our relationships, family and friends are to our inner reality. Retreat can provide this perspective for us and is part of its life-altering power.
We highly recommend retreat, especially silent retreat, for those who wish for personal or spiritual development. But, be prepared. It is often not the pleasant relaxing time off that many envision. It can be emotional and spiritual dynamite that needs to be approached with caution.
"As gold purified in a furnace loses its impurities and achieves its own true nature, the mind gets rid of the impurities of the attributes of delusion, attachment and purity through meditation and attains Reality. – Adi Shankara"
CMCS – Center for Mindfulness and Contemplative Studies