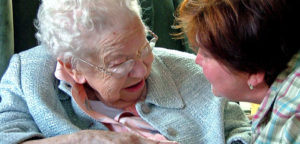 Improve Dementia Caregiver Psychological Health and Stress with Mindfulness
By John M. de Castro, Ph.D.
"people who care for family members with Alzheimer's disease and other dementias in the home experienced a decrease in perceived stress and mood disturbance when practicing Mindfulness-based Stress Reduction (MBSR)." – Heather Stang
Dementia is a progressive loss of mental function produced by degenerative diseases of the brain. Dementia patients require caregiving particularly in the later stages of the disease. Alzheimer's disease is the most common type of dementia and accounts for 50 to 70 percent of dementia cases. For Alzheimer's disease, there are an estimated 10 million caregivers providing 9 billion hours of care at a value of over $100 Billion dollars.
Caregiving for dementia patients is a daunting and all too frequent task. It is an intense experience that can go on for four to eight years with increasing responsibilities as the loved one deteriorates. In the last year, 59% of caregivers report that they are effectively on duty 24/7. Over time dementia will lead to loss of memory, loss of reasoning and judgment, personality and behavioral changes, physical decline, and death. The memory and personality changes in the patient may take away all those characteristics that make the loved one identifiable, unique, and endearing, producing psychological stress in the caregiver.
The feelings of hopelessness can be overwhelming regarding the future of a patient with an irreversible terminal degenerative illness. In addition, caregivers often experience an anticipatory grief associated with a feeling of impending loss of their loved one. If this isn't bad enough, a little appreciated consequence is that few insurance programs cover dementia care outside of the hospital. So, medical expenses can produce extra financial strain on top of the loss of income for the caregiver. It is sad that 72% of caregivers report relief when their loved one passes away. Obviously, there is a need to care for the caregivers of dementia patients. They play an essential and often irreplaceable role. So, finding ways to ease the burden is extremely important. Mindfulness practice for caregivers has been shown to help them cope with the physical and psychological demands of caregiving.
In today's Research News article "A Pilot Randomized Controlled Trial of Mindfulness-Based Stress Reduction for Caregivers of Family Members with Dementia." (See summary below or view the full text of the study at: https://www.ncbi.nlm.nih.gov/pmc/articles/PMC5070659/ ), Brown and colleagues recruited adult family members providing caregiving for patients with Alzheimer's Disease. They were randomly assigned to receive either an 8-week, once a week for 2 hours, Mindfulness-Based Stress Reduction (MBSR) program or a Social Support program. Participants were measured before and after the programs and 3 months later for perceived stress, experiential avoidance, mood states, physical and mental health, caregiver burden, and quality of relationship between the caregiver and care recipient. They also provided saliva samples to measure cortisol levels.
They found that both MBSR and Social Support produced significant improvements in experiential avoidance, depression, vitality, fatigue, confusion, and physical and mental health. They also found that MBSR also produced significant improvements in perceived stress, tension, and anger while Social Support produced significant improvement in caregiver burden. Unfortunately, these effects were not sustained at the 3-month follow-up.
Hence, it appears that both MBSR and Social Support are effective in improving caregivers' psychological well-being, but only temporarily. MBSR appears to be superior to Social Support in providing these benefits. The stress of caring for patients with Alzheimer's Disease is immense and the importance of the relief provided by these programs cannot be overemphasized. But, the study clearly demonstrates a need for future research to investigate means to prolong the effectiveness of these programs.
So, improve dementia caregiver psychological health and stress with mindfulness.
"One of the major difficulties that individuals with dementia and their family members encounter is that there is a need for new ways of communicating due to the memory loss and other changes in thinking and abilities. The practice of mindfulness places both participants in the present and focuses on positive features of the interaction, allowing for a type of connection that may substitute for the more complex ways of communicating in the past. It is a good way to address stress." – Marla Paul
CMCS – Center for Mindfulness and Contemplative Studies
This and other Contemplative Studies posts are also available on Google+ https://plus.google.com/106784388191201299496/posts and on Twitter @MindfulResearch
Study Summary
Brown, K. W., Coogle, C. L., & Wegelin, J. (2016). A Pilot Randomized Controlled Trial of Mindfulness-Based Stress Reduction for Caregivers of Family Members with Dementia. Aging & Mental Health, 20(11), 1157–1166. http://doi.org/10.1080/13607863.2015.1065790
Abstract
Objectives
The majority of care for those with Alzheimer's Disease and other age-related dementias is provided in the home by family members. To date there is no consistently effective intervention for reducing the significant stress burden of many family caregivers. The present pilot randomized controlled trial tested the efficacy of an adapted, 8-week Mindfulness-based Stress Reduction (MBSR) program, relative to a near structurally equivalent, standard Social Support (SS) control condition for reducing caregiver stress and enhancing the care giver-recipient relationship.
Method
Thirty-eight family caregivers were randomized to MBSR or SS, with measures of diurnal salivary cortisol, and perceived stress, mental health, experiential avoidance, caregiver burden, and relationship quality collected pre- and post-intervention and at 3-month follow-up.
Results
MBSR participants reported significantly lower levels of perceived stress and mood disturbance at post-intervention relative to SS participants. At 3-month follow-up, participants in both treatments conditions reported improvements on several psychosocial outcomes. At follow-up there were no condition differences on these outcomes, nor did MBSR and SS participants differ in diurnal cortisol response change over the course of the study.
Conclusion
Both MBSR and SS showed stress reduction effects, and MBSR showed no sustained neuroendocrine and psychosocial advantages over SS. The lack of treatment condition differences could be attributable to active ingredients in both interventions, and to population-specific and design factors.
https://www.ncbi.nlm.nih.gov/pmc/articles/PMC5070659/