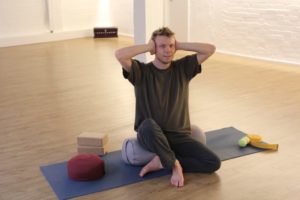 Relieve Tinnitus with Yoga
By John M. de Castro, Ph.D.
"With this new research we now know that regular yoga practice can reduce these symptoms and tinnitus without medication." – Barry Keate
Tinnitus is one of the most common symptoms to affect humanity. People with tinnitus live with a phantom noise that can range from a low hiss or ringing to a loud roar or squeal which can be present constantly or intermittently. It can have a significant impact on people's ability to hear, concentrate, or even participate in everyday activities. The vast majority of people with tinnitus have what is known as subjective tinnitus. This is caused by unknown problems somewhere in the auditory system; the inner, middle, or outer ear, the part of the brain that translates nerve signals as sounds, or the auditory nerves.
Approximately 25 million to 50 million people in the United States experience it to some degree. Approximately 16 million people seek medical attention for their tinnitus, and for up to two million patients, debilitating tinnitus interferes with their daily lives. There are a number of treatments for tinnitus including, counseling, sound therapy, drugs, and even brain stimulation. Unfortunately, none of these treatments is very effective. Mindfulness practices have been shown to be effective in treating Tinnitus. Hence there is a need to further explore the various forms of mindfulness practices as alternative treatments for tinnitus.
In today's Research News article "The Effects of Yoga in Patients Suffering from Subjective Tinnitus." (See summary below or view the full text of the study at: https://www.ncbi.nlm.nih.gov/pmc/articles/PMC5786150/ ), Köksoy and colleagues recruited tinnitus patients and provided them with yoga instruction for an hour once a week for 12 weeks. The practice consisted of postures, breathing exercises, meditation, and relaxation. The participants were instructed to practice as often as possible at home. They were measured before and after yoga practice for tinnitus severity, the everyday and emotional handicap produced by tinnitus, and stress symptoms produced by tinnitus.
They found that after the yoga practice there was a large, 58%, and significant reduction in tinnitus severity, a 44% reduction in the handicap produced by tinnitus, and a 21% reduction in the stress produced by tinnitus, including the psychological, physical, and pain facets of tinnitus produced stress. Hence the yoga practice was very effective in improving the symptoms of tinnitus.
It should be noted that there wasn't a comparison (control) condition present in the study. So, the results should be viewed as preliminary and a proof of concept. In addition, 1//3 of the original patient sample dropped out during the study. Nevertheless, the results provide a clear rationale for the performance of a large randomized controlled clinical trial of yoga for tinnitus. Tinnitus is such a widespread problem with few treatment options that a non-invasive and non-drug treatment that is safe and effective, would be a great step forward in relieving the suffering produced by this mysterious disease.
So, relieve tinnitus with yoga.
"Tinnitus sufferers will definitely be able to benefit from this type of yoga because of how relaxing it is and also beneficial in terms of overall health. When people who have tinnitus are more relaxed and less tense, they have a tendency to not perceive the ringing or buzzing sounds which they usually hear as much. Although this may not be a definitive cure for tinnitus, it is a rather good treatment option to explore." – Ramdev Yoga
CMCS – Center for Mindfulness and Contemplative Studies
This and other Contemplative Studies posts are also available on Google+ https://plus.google.com/106784388191201299496/posts and on Twitter @MindfulResearch
Study Summary
Sümbüle Köksoy, Can Mehmet Eti, Meltem Karataş, Yusuf Vayisoglu. The Effects of Yoga in Patients Suffering from Subjective Tinnitus. Int Arch Otorhinolaryngol. 2018 Jan; 22(1): 9–13. Published online 2017 Apr 3. doi: 10.1055/s-0037-1601415
Abstract
Introduction  Tinnitus is a perception of sound in the absence of an external source and it is a distressing issue. Yoga is a system of mind-body practices with the goal of uniting the body, mind and soul. It has been shown to reduce anxiety and stress, as well as improving the quality of life.
Objective  The aim of this study is to investigate the effects of yoga in patients suffering from chronic subjective tinnitus.
Methods  Twelve subjects previously diagnosed with chronic subjective tinnitus were selected for the study. The patients were asked to attend to yoga classes once a week and to practice yoga at home using a worksheet for 3 months. Each yoga class consisted of body exercises (asana), breathing (pranayama) and meditation (shavasana and yoga nidra). Tinnitus scores before and after the yoga classes were compared using the Wilcoxon test.
Results  Among the 12 patients, there were 4 men and 8 women and their mean age was 52.5 years. The median duration of tinnitus among the group was 5.4 years. There were statistically significant differences in the stress ( p  = 0.01), handicap ( p  = 0.004) and severity ( p  = 0.007) questionnaires scores.
Conclusion  This study indicated that yoga practices may reduce life stress and symptoms of subjective tinnitus.