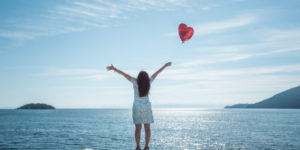 Improve Heart Disease with Mindfulness
By John M. de Castro, Ph.D.
"it is not the stress in our life, but the reaction to stress that is so potentially harmful to our health, including cardiovascular health. Hence, being in a potentially very stressful profession, meditation and relaxation techniques are extremely important and useful to minimize these unhealthy reactions to stress." – Joon Sup Lee
Cardiovascular disease is the number one killer, claiming more lives than all forms of cancer combined. "Heart disease is the leading cause of death for both men and women. About 610,000 people die of heart disease in the United States every year–that's 1 in every 4 deaths. Every year about 735,000 Americans have a heart attack." (Centers for Disease Control). A myriad of treatments has been developed for heart disease including a variety of surgical procedures and medications. But the safest effective treatments are lifestyle changes. These include quitting smoking, weight reduction, improved diet, physical activity, and reducing stresses. Cardiac rehabilitation programs for patients recovering from a heart attack, emphasize these lifestyle changes. Unfortunately, for a variety of reasons, 60% of cardiac patients decline participation, making these patients at high risk for another attack.
Other safe and effective treatments for cardiovascular disease are contemplative practices, such as meditation, tai chi, and yoga, have also been shown to be helpful for heart health. These practices have also been shown to be helpful for producing the kinds of lifestyle changes needed to prevent heart disease such as smoking cessation, weight reduction, and stress reduction. Although death from heart disease is decreasing in men it is actually increasing in women. So, there is a need to study the effectiveness of mindfulness practice for the treatment of cardiovascular disease in women.
In today's Research News article "Impact of Mindfulness Based Stress Reduction Therapy on Myocardial Function and Endothelial Dysfunction in Female Patients with Microvascular Angina." (See summary below or view the full text of the study at: https://www.ncbi.nlm.nih.gov/pmc/articles/PMC5762694/ ), Kim and colleagues recruited women who were diagnosed with microvascular angina which is "heart disease that affects the heart's smallest coronary artery blood vessels. Causes of microvascular angina: Spasms within the walls of these very small arterial blood vessels causes reduced blood flow to the heart muscle leading to a type of chest pain referred to as microvascular angina." (American Heart Association). The women were provided with an 8-week, 2.5 hour once-a-week program of Mindfulness-Based Stress Reduction (MBSR) which includes of meditation, yoga, and body scan practices and on hour per day of home practice. Participants were measured for heart function and stress parameters before and after the 8-week practice.
Kim and colleagues found that following the 8-week MBSR program there was a marked and significant decrease in most stress parameters including somatization, compulsivity, interpersonal sensitivity, depression, anxiety, phobic anxiety, paranoid ideation, and psychoticism. Importantly there were improvements in cardiovascular functions including a decrease in systolic blood pressure and improvements in heart left ventricular function and heart arterial blood vessel function. Additionally, they found that the greater the reduction in the stress parameters the greater the improvements in heart function.
Conclusions from this study must be tempered as there wasn't a comparison group included in the study, only females were examined, and no short- or long-term follow-up was included. But previous research has clearly established that mindfulness training, including MBSR, produces significant reductions in the psychological and physiological responses to stress and improves cardiovascular function. These prior findings combined with the present findings makes the case that MBSR reduces stress response which in turn improves cardiovascular function. This is very important for the promotion of longevity and well being in everyone but particularly for patients with cardiovascular disease.
So, improve heart disease with mindfulness,
"an analysis of 23 controlled trials into heart disease determined that psychosocial interventions (such as meditation, breathing exercises, and physical relaxation techniques) improved the outcomes when they were added to cardiac rehabilitation programmes for patients with CHD." – British Heart Foundation
CMCS – Center for Mindfulness and Contemplative Studies
This and other Contemplative Studies posts are also available on Google+ https://plus.google.com/106784388191201299496/posts and on Twitter @MindfulResearch
Study Summary
Bong Joon Kim, In Suk Cho, Kyoung Im Cho. Impact of Mindfulness Based Stress Reduction Therapy on Myocardial Function and Endothelial Dysfunction in Female Patients with Microvascular Angina. J Cardiovasc Ultrasound. 2017 Dec; 25(4): 118–123. Published online 2017 Dec 29. doi: 10.4250/jcu.2017.25.4.118
Abstract
Background
Mindfulness-based stress reduction (MBSR) is a structured group program that employs mindfulness meditation to alleviate suffering associated with physical, psychosomatic, and psychiatric disorders. In this study, we investigate the impact of MBSR on left ventricular (LV) and endothelial function in female patients with microvascular angina.
Methods
A total of 34 female patients (mean age 52.2 ± 13.8 years) diagnosed with microvascular angina underwent a MBSR program with anti-anginal medication for 8 weeks. The global longitudinal strain (GLS) of the LV was used as a parameter to assess myocardial function and reactive brachial flow-mediated dilatation (FMD) was used to assess endothelial function. Symptoms were analyzed by the Symptom Checklist 90 Revised to determine emotional stress. Changes in GLS and FMD between baseline and post-MBSR were analyzed.
Results
After 8 weeks of programmed MBSR treatment, stress parameters were significantly decreased. In addition, GLS (−19.5 ± 2.1% vs. −16.6 ± 2.5%, p < 0.001) and reactive FMD significantly improved (8.9 ± 3.0% vs. 6.9 ± 2.6%, p = 0.005) after MBSR compared to baseline. The changes in GLS correlated to changes in FMD (r = 0.120, p = 0.340) and with the changes in most stress parameters.
Conclusion
MBSR has beneficial impacts on myocardial and endothelial function in female patients with microvascular angina.
https://www.ncbi.nlm.nih.gov/pmc/articles/PMC5762694/