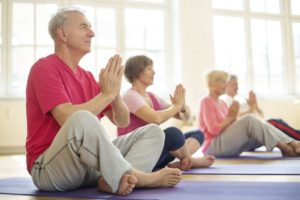 Reduce Inflammation in elderly Women with Yoga
By John M. de Castro, Ph.D.
"Inflammaging has been associated with conditions like diabetes, heart disease, stress, depression, and a weakened immune system. Several recent studies suggest that yoga could slow the harmful physical effects of stress and inflammaging." – Marylynn Wei
The immune system is designed to protect the body from threats like stress, infection, injury, and toxic chemicals. One of its tools is the Inflammatory response. This response works quite well for short-term infections and injuries. But when inflammation is protracted and becomes chronic, it can itself become a threat to health. It can produce autoimmune diseases such as colitis, Chron's disease, arthritis, heart disease, increased cancer risk, lung disease, sleep disruption, gum disease, decreased bone health, psoriasis, and depression. Needless to say, chronic inflammation can create major health problems. Indeed, the presence of chronic inflammation is associated with reduced longevity. So, it is important for health to control the inflammatory response, allowing it to do its job in fighting off infection but reducing its activity when no real external threat is apparent.
Of course, it is far better to prevent chronic inflammation in the first place than to treat it later. Mind-body techniques such as yoga, Tai Chi and meditation have been shown to adaptively reduce the inflammatory response. Aging is associated with a decline in immune system function and therefore an increase in chronic inflammation. As a result, the elderly are particularly vulnerable to chronic inflammation. So, it would make sense to test the effectiveness of mindfulness practices in the levels of inflammation in the elderly.
In today's Research News article "Elderly-customized hatha yoga effects on the vascular inflammation factors of elderly women." (See summary below or view the full text of the study at: https://www.ncbi.nlm.nih.gov/pmc/articles/PMC5683994/ ), Kim and Ju Examined this issue by recruiting 14 healthy elderly women between the ages of 70 and 80 and randomly assigning 7 of the women to no treatment and 7 to receive a 10-week, 3 times per week for 60 minutes Hatha yoga program. The Hatha yoga poses were modified for the elderly performing many of the poses while sitting in a chair. Blood was drawn at the beginning and end of the program and assayed for inflammation markers of albumin, white blood cell count, fibrinogen, high sensitivity C-reactive protein, and erythrocyte sedimentation rate.
They found that there were no significant changes in the inflammation markers for the control group, but the Hatha yoga group showed significant changes signaling reduced inflammation. These changes included significantly increased albumin levels and decreased vascular inflammation markers of fibrinogen, high sensitivity C-reactive protein, and erythrocyte sedimentation rate. So, engaging in Hatha yoga practice appeared to reduce inflammation in these elderly women.
The results should be interpreted carefully as there was not an active control condition. So, it cannot be determined if the yoga practice per se was responsible for the improvements or simply any gentle exercise would produce comparable benefits. But, the fact that statistically significant findings were present with only 7 women in the yoga group is remarkable and suggests that the effects are robust. Future research should include men and have an active control condition, perhaps treadmill walking or similar gentle aerobic exercise.
So, reduce inflammation in elderly women with Yoga.
"There's also good news for those of us who have a regular yoga practice. Several studies now report that a regular yoga practice brings down the levels of stress hormones that promote inflammation, lowers the levels of a number of pro-inflammatory molecules in the body and brings down inflammation that is beneficial in conditions like arthritis, reduces a subset of pro-inflammatory molecules called cytokines thereby relieving severe pain seen in diseases like fibromyalgia, and Inhibits inflammation that in turn weakens and even kills cancerous cells in people with cancer." -Ram Rao
CMCS – Center for Mindfulness and Contemplative Studies
This and other Contemplative Studies posts are also available on Google+ https://plus.google.com/106784388191201299496/posts and on Twitter @MindfulResearch
Study Summary
Kim, S., & Ju, S. (2017). Elderly-customized hatha yoga effects on the vascular inflammation factors of elderly women. Journal of Physical Therapy Science, 29(10), 1708–1711. http://doi.org/10.1589/jpts.29.1708
Abstract
[Purpose] The aim of this study was to examine the effects of the application of elderly-customized hatha yoga on the vascular inflammation factors of elderly women. [Subjects and Methods] This research was conducted with 14 elderly women, between 70 and 80 years old, divided into an elderly-customized hatha yoga group (n=7) and a control group (n=7). The application group participated in a hatha yoga program designed to be elderly-friendly for 10 weeks. At the end of the program, the vascular inflammation factors were measured, including the albumin, white blood cell count, fibrinogen, high sensitivity C-reactive protein (hs-CRP), and erythrocyte sedimentation rate (ESR). [Results] In the hatha yoga group, the albumin increased significantly after the application, when compared to the level before the application, while the fibrinogen, hs-CRP, and ESR decreased significantly. In the control group, the vascular inflammation factor levels before and after the application period were not significantly different. [Conclusion] Based on the results of this study, the application of elderly-customized hatha yoga created positive changes in the vascular inflammation factors of elderly women.