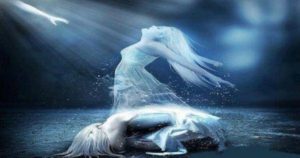 What's wrong with the Idea of an Afterlife
By John M. de Castro, Ph.D.
"I regard the brain as a computer which will stop working when its components fail. There is no heaven or afterlife for broken down computers; that is a fairy story for people afraid of the dark." – Stephen Hawking
"I am not interested in the afterlife. Religion is supposed to be about losing your ego, not preserving it eternally in optimum conditions." – Karen Armstrong
The idea of an afterlife has been important throughout history and is a dominant theme is most religions. It is also a recurrent theme in literature and the media. The question of whether there is an afterlife has been discussed, argued, and preached about for centuries. Yet we do not have clearly verifiable empirical evidence to confirm or deny the concept. Some rely on scriptures as their evidence, but many are skeptical of writings dating from primitive times. So, the argument rages.
The biggest problem with the idea of an afterlife is the word itself (I prefer to use the word afterexistence). The idea of an afterlife can be interpreted, I believe correctly, as referring to what if anything transpires after life is over. The problem is that it can also be interpreted as a life that occurs following death. This is where the problem begins. People think of it as a life. This should be easily seen a patently incorrect. Life ceases at death. All of the physical processes that make up a living thing are either terminated or in the process of termination at the point of death. Death clearly means life is over. So the belief that there is life after death is completely contradictory to what actually happens in death.
Much of the argument follows from this misinterpretation. Atheists see that the physical processes cease and conclude, with impeccable logic, that there is no life after death. But, theists believe, and I emphasize the word believe, that the deity will somehow preserve us, pretty much as we are ("in his own image and likeness") and bring us to a reward for our actions during life.
Maybe the problem with answering the question of an after existence comes from a reliance on logic, reason, and concepts that have their origin and existence in the physical realm. We're in essence using the tools from the physical processes of the brain to try to reach a conclusion about whether there's a non-physical reality. These processes were developed to understand and control the physical world. So, they would seem unsuited to exploring whether there's something beyond the physical. Perhaps if we rely instead upon what we're experiencing in the present moment, not what we think about it, but experience itself, we might be in a better position to explore the questions.
There is an important reframing of the question characterized by the quote "We are not human beings having a spiritual experience. We are spiritual beings having a human experience." – Pierre Teilhard de Chardin. What this quote captures is a notion to turn existence as we see it inside out. Rather than see the physical world as true and wonder whether there's something more, whether the spiritual is real or imagined, we can see the spiritual world as true and wonder whether there's something more, whether the physical is real or imagined. If you take the later interpretation it radically changes how we view an after existence.
What prompts the strong human tendency to believe in an afterlife is the sense we have from our experience that there is something more. That sense comes from a clear experience we have that there is a presence, an awareness, an essence, a spirit that is aware of all that is going on but is not part of it. We can see the impermanence of all things physical. They rise up and they fall away. But this presence, this awareness is unchanging. It has been the same since birth to the present moment. What it is experiencing has changed and is impermanent, but what's experiencing it has not.
If something is always the same even as the physical makeup of our bodies change from birth, to maturity, to old age, then it's a simple extrapolation that that something should continue when the ultimate physical change, death, occurs. The presence, the awareness, the essence, the spirit persists. What that would be like is hard to imagine, an existence without input from the senses, without thought or memory, without concepts or language, without motivations or choices, without a self or personality. But, this is exactly the conclusion that this logic leads to.
Could there be a rebirth or what some people call a reincarnation. Why not? If the spirit, the awareness, the presence, can create a physical existence once, why not do it again? For that matter, why not thousands of times? We don't have an answer to these questions. We can only judge its logical possibility if you assume that "We are spiritual beings having a human experience."
All of this leads back to the problem with the idea of an afterlife; that there's continuing physical existence after death. This seems, to put it mildly, unlikely. But, if we simply look at our experience, our awareness, we can come to a completely different way of looking at life and death. We can see that the one core real thing that escapes impermanence, the awareness, the presence, the essence, the spirit, the essence, that is always the same and never changing will not stop or change due to death, but will continue into an after existence.
"I don't believe in any particular definition of the afterlife, but I do believe we're spiritual creatures and more than our biology and that energy cannot be destroyed, but can change. I don't know what the afterlife is going to be, but I'm not afraid of it." –Alan Ball
CMCS – Center for Mindfulness and Contemplative Studies
This and other Contemplative Studies posts are also available on Google+ https://plus.google.com/106784388191201299496/posts and on Twitter @MindfulResearch