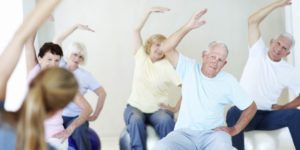 Improve Long-Term Postoperative Cardiac Health with Yoga
By John M. de Castro, Ph.D.
"If you are suffering from a heart problem and coronary artery bypass graft is the only surgical solution to the disease, yoga may heal you faster post the operation." – Sameer Kumar Sharma
Yoga practice has been shown to have a large number of beneficial effects on the psychological, emotional, and physical health of the individual and is helpful in the treatment of mental and physical illness, including cardiovascular disease and metabolic problems. This is important as cardiovascular disease is the number one killer, claiming more lives than all forms of cancer combined.
The safest effective treatments for people recovering from heart disease are lifestyle changes. These include quitting smoking, weight reduction, improved diet, physical activity, and reducing stresses. Contemplative practices, such as meditation, tai chi, and yoga, have also been shown to be helpful for heart health and for producing the kinds of lifestyle changes needed to promote recovery from heart disease such as smoking cessation, weight reduction, and stress reduction. Since, yoga is a mindfulness practice and an exercise it would seem to be ideally suited to promote recovery.
In today's Research News article "Yoga-based postoperative cardiac rehabilitation program for improving quality of life and stress levels: Fifth-year follow-up through a randomized controlled trial." (See summary below or view the full text of the study at: http://www.ijoy.org.in/article.asp?issn=0973-6131;year=2018;volume=11;issue=1;spage=44;epage=52;aulast=Amaravathi ),
Amaravathi and colleagues recruited patients recovering from coronary bypass surgery were receiving treatment as usual including pharmacotherapy and physiotherapy-based exercises. They were randomly assigned to receive either no further treatment or yoga training. Yoga was taught in the hospital and the patients were encouraged to continue practice at home following release. The patients were measured before and after treatment and periodically thereafter for perceived stress, positive and negative emotions, anxiety and depression, and quality of life. The current study reports the 5-year follow-up measurements.
At the 5-year follow-up, the yoga group, but not the control group had significant improvements in their overall quality of life including the physical, mental, environmental, and social dimensions. There were also significant reductions in perceived stress and negative emptions with the yoga group but not the control group. The reduction in stress is particularly important as stress is known to have negative consequences for cardiac patients. Hence, the addition of home yoga practice to the usual cardiac rehabilitation treatment resulted in significant improvements in the psychological states and quality of life that were still present 5 years later.
These results are remarkable, not in the effects of yoga practice, as these are well established, but in the duration of the effects. They were still present after 5 years. Such long-term follow-up is rare in research and is very important. A treatment is not useful if it is only effective for a brief time. Producing lasting improvements is the goal of all treatments and the present findings suggest that yoga practice produces such lasting effects.
Yoga practice is safe treatment that is very inexpensive to teach and maintain. It appears to be acceptable and satisfactory to a broad range of people, and has very good compliance. This suggests that yoga practice may be an almost ideal treatment for improving mental health and quality of life in patients recovering from coronary bypass surgery.
So, improve long-term postoperative cardiac health with yoga.
"After a heart surgery, life never remains the same. You could either look at it as an unfortunate incident or as a new lease of life, in which you've come out of the darkness and are privileged to be alive. The wisdom of yoga can help you transition through this phase of your life and speed recovery." – Ramanjit Garewal
CMCS – Center for Mindfulness and Contemplative Studies
This and other Contemplative Studies posts are also available on Google+ https://plus.google.com/106784388191201299496/posts and on Twitter @MindfulResearch
Study Summary
Amaravathi E, Ramarao NH, Raghuram N, Pradhan B. Yoga-based postoperative cardiac rehabilitation program for improving quality of life and stress levels: Fifth-year follow-up through a randomized controlled trial. Int J Yoga 2018;11:44-52
Abstract
Objectives: This study was aimed to assess the efficacy of yoga-based lifestyle program (YLSP) in improving quality of life (QOL) and stress levels in patients after 5 years of coronary artery bypass graft (CABG). Methodology: Three hundred patients posted for elective CABG in Narayana Hrudayalaya Super Speciality Hospital, Bengaluru, were randomized into two groups: YLSP and conventional lifestyle program (CLSP), and follow-up was done for 5 years. Intervention: In YLSP group, all practices of integrative approach of yoga therapy such as yama, niyama, asana, pranayama, and meditation were used as an add-on to conventional cardiac rehabilitation. The control group (CLSP) continued conventional cardiac rehabilitation only. Outcome Measures: World Health Organization (WHO)-QOL BREF Questionnaire, Perceived Stress Scale, Positive and Negative Affect Scale (PANAS), and Hospital Anxiety and Depression Scale (HADS) were assessed before surgery and at the end of the 5th year after CABG. As data were not normally distributed, Mann–Whitney U-test was used for between-group comparisons and Wilcoxon's signed-rank test was used for within-group comparisons. Results: At the end of 5 years, mental health (P = 0.05), perceived stress (P = 0.01), and negative affect (NA) (P = 0.05) have shown significant improvements. WHO-QOL BREF score has shown improvements in physical health (P = 0.046), environmental health (P = 0.04), perceived stress (P = 0.001), and NA (P = 0.02) in YLSP than CLSP. Positive affect has significantly improved in CLSP than YLSP. Other domains of WHO-QOL-BREF, PANAS, and HADS did not reveal any significant between-group differences. Conclusion: Addition of long-term YLSP to conventional cardiac rehabilitation brings better improvements in QOL and reduction in stress levels at the end of 5 years after CABG.
http://www.ijoy.org.in/article.asp?issn=0973-6131;year=2018;volume=11;issue=1;spage=44;epage=52;aulast=Amaravathi