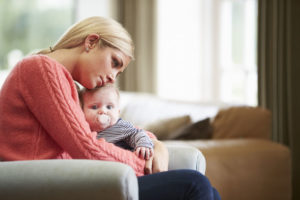 Reduce Postpartum Depression with Mindfulness
By John M. de Castro, Ph.D.
"Interventions that bring a deeper sense of self-knowing and well-being to mothers allow them, in turn, to model this behavior for their children. We can't possibly have the foresight to see how it ripples out from there, but we can be sure that it does." – Heather Grimes
The birth of a child is most often a joyous occasion. But, often the joy turns to misery. Immediately after birth it is common for the mother to experience mood swings including what has been termed "baby blues," a sadness that may last for as much as a couple of weeks. But some women experience a more intense and long lasting negative mood called postpartum depression. This occurs usually 4-6 weeks after birth in about 15% of births; about 600,000 women in the U.S. every year. For 50% of the women the depression lasts for about a year while about 30% are still depressed 3 years later.
Postpartum depression is treated much like depression in general with medications, psychotherapy, and support groups. But these methods often don't work or have troublesome side effects. So, alternative treatments are needed. Mindfulness training has been shown to improve anxiety and depression normally and to relieve maternal anxiety and depression during pregnancy. So, it would make sense to study the effects of mindfulness training as a treatment for postpartum depression.
In today's Research News article "The effectiveness of mindfulness training on reducing the symptoms of postpartum depression." See summary below or view the full text of the study at: https://www.ncbi.nlm.nih.gov/pmc/articles/PMC5586989/, Sheydaei and colleagues recruited new mothers who exhibited symptoms of depression and randomly assigned them to receive either treatment as usual or an 8-week program of Mindfulness-Based Cognitive Therapy (MBCT). MBCT consists of mindfulness training and Cognitive Behavioral Therapy (CBT) to investigate and alter aberrant thought patterns underlying depression. MBCT was administered for 2 hours, once a week, for 8 weeks. The women were measured for depression before and after treatment.
They found that after treatment the control group showed no change in depression while, on the other hand, the women who received the MBCT program had a significant, 25%, reduction in depression. The conclusions from this study need to be tempered with the fact that the control condition did not have an active treatment. So, placebo effects, demand characteristics, experimenter bias, etc. could be alternative explanations. But, it has been well established that mindfulness training in general and MBCT in particular are effective in treating depression. So, it is likely that MBCT effectively reduced the depression in these women with newborn children. Hence, MBCT appears to be a safe and effective treatment for postpartum depression. Mindfulness training might be employed not only to treat postpartum depression but also as a preventative measure.
So, reduce postpartum depression with mindfulness.
"mothers in the mindfulness group seemed to have had a better psychological experience of labor compared to the control group. They reported feeling greater "self-efficacy" during childbirth (the sense that they were able to handle it rather than feeling afraid), and lower symptoms of depression after the workshop and several weeks after childbirth." – Jenn Knudsen
CMCS – Center for Mindfulness and Contemplative Studies
This and other Contemplative Studies posts are also available on Google+ https://plus.google.com/106784388191201299496/posts and on Twitter @MindfulResearch
Study Summary
Sheydaei, H., Ghasemzadeh, A., Lashkari, A., & Kajani, P. G. (2017). The effectiveness of mindfulness training on reducing the symptoms of postpartum depression. Electronic Physician, 9(7), 4753–4758. http://doi.org/10.19082/4753
Abstract
Background and Aim
Postpartum depression is one of the prevalent disorders among new mothers. The present research aimed to examine the effectiveness of mindfulness training on reducing the symptoms of postpartum depression.
Method
The present quasi-experimental research was conducted on 410 new mothers in Shahid Chamran Hospital, Tehran in 2014. Using the Beck Depression Inventory (BDI), Structured Clinical Interview and Psychological Clinical Diagnosis, 67 mothers were selected and then randomly divided into experimental and control groups, each of which with 32 applicants. Afterwards, the experimental group received mindfulness training for 8 sessions, each lasting for two hours while the control group received no training. The data were analyzed through descriptive statistics and Analysis of Covariance (ANCOVA) in SPSS, version 20.
Results
Results showed that based on Beck Inventory, the scores for the experimental group in post-test were significant (p<0.001), compared to those for the control group. Also, it was revealed that pre- and posttest mean scores for postpartum depression in the control group were 25.81 and 25.12 respectively while the scores for the experimental group were 24.75 and 18.5 respectively. Since the posttest mean score in the experimental group was lower than that in the pretest, it can be said that the treatment, i.e., mindfulness training, was effective in reducing depression symptoms in mothers.
Conclusion
Findings proved that mindfulness training was effective in reducing the symptoms of postpartum depression in new mothers.