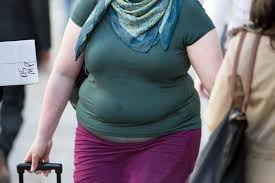 Treat Obesity with Mindfulness
By John M. de Castro, Ph.D.
" mindfulness breeds resilience—a quality necessary for one to stick with your diet or exercise regimen. And given how much of our unhealthy eating is essentially mindless—such as stuffing our faces while we watch television—it's easy to see how simply paying attention could have a significant impact on our diets." – Tom Jacobs
Obesity has become an epidemic in the industrialized world. In the U.S. the incidence of obesity, defined as a Body Mass Index (BMI) of 30 or above has more than doubled over the last 35 years to currently around 35% of the population, while two thirds of the population are considered overweight or obese (BMI > 25). Although the incidence rates have appeared to stabilize, the fact that over a third of the population is considered obese is very troubling. This is because of the health consequences of obesity. Obesity has been found to shorten life expectancy by eight years and extreme obesity by 14 years. This occurs because obesity is associated with cardiovascular problems such as coronary heart disease and hypertension, stroke, metabolic syndrome, diabetes, cancer, arthritis, and others.
Obviously, there is a need for effective treatments to prevent or treat obesity. But, despite copious research and a myriad of dietary and exercise programs, there still is no safe and effective treatment. Mindfulness is known to be associated with lower risk for obesity, alter eating behavior and improve health in obesity. This suggests that mindfulness training may be an effective treatment for overeating and obesity alone or in combination with other therapies.
In today's Research News article "Effectiveness of mindfulness training and dietary regime on weight loss in obese people." See summary below or view the full text of the study at: https://www.ncbi.nlm.nih.gov/pmc/articles/PMC5319254/, Asadollahi and colleagues recruited obese (BMI>30) individuals and randomly assigned them to one of four conditions; No-treatment, dietary regimen, Mindfulness-Based Cognitive Therapy (MBCT), or MBCT plus dietary regimen. MBCT was administered in 2-hour sessions once a week for 8 weeks and consists of mindfulness training and Cognitive Behavior Therapy (CBT) that is targeted at investigating and altering the individuals aberrant thought process. Participants were measured for psychopathology and anyone with significant pathology was eliminated from the study. The participants were also measured before and after the interventions and 2 months later for body weight and height.
They found that mindfulness training alone or a dietary regimen alone produced significant weight losses that persisted 2 months after the end of formal training. When mindfulness training was combined with a dietary regiment the weight loss was significantly greater at the end of training and 2 months later. So, Mindfulness-Based Cognitive Therapy (MBCT) is effective in reducing weight in obese participants and its effectiveness is amplified by combining it with a dietary regimen. So, mindfulness training can help to reduceobesity alone or in combination with dieting.
It is unclear how MBCT produces these positive effects on obesity, but it is known that MBCT can increase mindful eating and that eating food mindfully can results in lower overall intake and weight loss. MBCT is also known to reduce the psychological and physical responses to stress and stress is known to promote eating. So, it is reasonable to conclude that MBCT produces its effects on the body weight of the obese by increasing mindful eating and reducing stress.
So, treat obesity with mindfulness.
"Mindful eating is eating with purpose, eating on purpose, eating with awareness, eating without distraction, when eating only eating, not watching television or playing computer games or having any other distractions, not eating at our desks." – Carolyn Dunn
CMCS – Center for Mindfulness and Contemplative Studies
This and other Contemplative Studies posts are also available on Google+ https://plus.google.com/106784388191201299496/posts and on Twitter @MindfulResearch
Study Summary
Asadollahi, T., Khakpour, S., Ahmadi, F., Seyedeh, L., Tahami, Matoo, S., & Bermas, H. (2015). Effectiveness of mindfulness training and dietary regime on weight loss in obese people . Journal of Medicine and Life, 8(Spec Iss 4), 114–124.
Abstract
The present research was aimed to investigate the effectiveness of mindfulness training and dietary regime on weight loss in obese people. The research was quasi-experimental with posttest-pretest that used control group. The population consisted of all the individuals who attended two clinics of nutrition advice and diet therapy in Karaj. 60 individuals, whose BMI was more than 30, were selected by using the random sampling method. Moreover, they were evaluated by using the SCL-90 test in order to neglect them in case there existed any other significant disorder. Next, they were selected based on age, sex, and education. After explaining the individuals the ongoing research and collecting the informed consent written by them, the samples were placed in four groups (15 in each group). The groups that received mindfulness training attended the nutrition center for eight to 120-minute sessions. In addition, since all the participants referred to the center were motivated to lose weight, individuals who were placed in the control group and those who received mindfulness training were asked not to follow any specific diet for two months. Moreover, the in depth relaxation CD was prepared for those who asked, in order to train themselves at home. Descriptive statistical methods were employed in order to analyze the data and ANACOVA and variance analysis with frequent measurement were used. The research findings indicated that mindfulness training was accompanied by diet, which resulted in weight loss in obese patients. In addition, the findings of the two-month follow-up indicated lasting results.