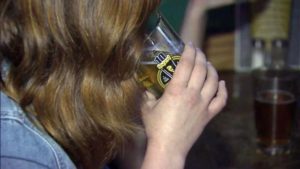 Brief Mindfulness Training may Increase Drinking Impulsivity to Negative Emotions
By John M. de Castro, Ph.D.
"it's helping people become really aware of what's happening in their minds. Once they see that, they have a choice and they have some freedom." – Sarah Bowen
Inappropriate use of alcohol is a major societal problem. In fact, about 25% of US adults have engaged in binge drinking in the last month and 7% have what is termed an alcohol use disorder. Alcohol abuse is very dangerous and frequently fatal. Nearly 88,000 people in the US and 3.3 million globally die from alcohol-related causes annually, making it the third leading preventable cause of death in the United States. Drunk driving accounted for over 10,000 deaths; 31% of all driving fatalities. Excessive alcohol intake has been shown to contribute to over 200 diseases including alcohol dependence, liver cirrhosis, cancers, and injuries. It is estimated that over 5% of the burden of disease and injury worldwide is attributable to alcohol consumption.
Alcohol abuse often develops during adolescence and it on display with college students where about four out of five college students drink alcohol and about half of those consume alcohol through binge drinking. About 25 percent of college students report academic consequences of their drinking including missing class, falling behind, doing poorly on exams or papers, and receiving lower grades overall. More than 150,000 students develop an alcohol-related health problem. These are striking and alarming statistics and indicate that controlling alcohol intake is an important priority for the individual and society.
There are a wide range of treatment programs for alcohol abuse, with varying success. Recently, mindfulness training has been successfully applied to treatment. One attractive feature of this training is that it appears to increase the ability of the drinker to control their intake, resulting in less binge drinking and dangerous inebriation. Since, mindfulness appears to hold promise as a treatment for excessive alcohol intake, there is a need to better understand its mechanisms of action in order to maximize its effectiveness. In today's Research News article "Examination of trait impulsivity on the response to a brief mindfulness intervention among college student drinkers." See summary below or view the full text of the study at: https://www.ncbi.nlm.nih.gov/pmc/articles/PMC4975969/, Vinci and colleagues examined how mindfulness training might alter impulsivity related drinking urges.
They administered the Alcohol Use Disorders Identification Test to college students and identified a group of at-risk drinkers. They were then randomly assigned to receive either a 10-minute guided mindfulness meditation, muscle relaxation instruction, or engaged for 10-minutes in a word search puzzle. Before and after the interventions the at-risk students were administered measures of the mindfulness, positive and negative emotions, urge to drink, drinking motives of Enhancement, Coping, Social Affiliative, and Social Conformity and of impulsivity including Negative Urgency, (lack of) Premeditation, (lack of) Perseverance, Sensation Seeking, and Positive Urgency.
They found that mindfulness was increased by the brief mindfulness training. They also found that mindfulness and relaxation modulated the effects of drinking motives on the urge to drink. For participants in the mindfulness group, having low Negative Urgency was associated with a low urge to drink, while participants with high Negative Urgency reported a high urge to drink. The opposite pattern was observed for participants in the relaxation group, such that for those with low Negative Urgency, urge to drink was high; for those with high Negative Urgency, the urge to drink was low.
Negative Urgency is the likelihood of acting impulsively when experiencing negative emotions. A brief Mindfulness experience appears to have an immediate effect of heightening the ability of acting impulsively to negative emotions to affect the urge to drink. It may, by focusing the individual on the present moment, make the individual more aware of their own emptions and therefore they become more responsive to them. A brief relaxation, on the other hand tends to lower the ability of acting impulsively to negative emotions to affect the urge to drink. Perhaps relaxation make the students less aware of their own emotions.
These results suggest that a brief mindfulness training of students who are at-risk for alcohol abuse may be counterproductive, sensitizing them to feeling emotionally bad and thereby making drinking more likely. Since, it has been well established that mindfulness training decreases drinking and drinking motives, the results suggest that care must be taken to insure that sufficient training occurs to produce benefits as opposed to sensitizing impulsive responses to negative emotions.
So, care must be taken t administer and adequate dose of mindfulness training when treating at-risk college students.
"mindfulness . . . just 11 minutes of the therapy can reduce alcohol consumption in heavy drinkers." – Liat Clark
CMCS – Center for Mindfulness and Contemplative Studies
This and other Contemplative Studies posts are also available on Google+ https://plus.google.com/106784388191201299496/posts and on Twitter @MindfulResearch
Study Summary
Vinci, C., Peltier, M., Waldo, K., Kinsaul, J., Shah, S., Coffey, S. F., & Copeland, A. L. (2016). Examination of trait impulsivity on the response to a brief mindfulness intervention among college student drinkers. Psychiatry Research, 242, 365–374. http://doi.org/10.1016/j.psychres.2016.04.115
Abstract
Mindfulness-based strategies show promise for targeting the construct of impulsivity and associated variables among problematic alcohol users. This study examined the moderating role of intervention (mindfulness vs relaxation vs control) on trait impulsivity and three outcomes examined post-intervention (negative affect, positive affect, and urge to drink) among 207 college students with levels of at-risk drinking. Moderation analyses revealed that the relationship between baseline impulsivity and the primary outcomes significantly differed for participants who underwent the mindfulness versus relaxation interventions. Notably, simple slope analyses revealed that negative urgency was positively associated with urge to drink following the mindfulness intervention. Among participants who underwent the relaxation intervention, analysis of simple slopes revealed that negative urgency was negatively associated with urge to drink, while positive urgency was positively associated with positive affect following the relaxation intervention. Findings suggest that level (low vs high) and subscale of impulsivity matter with regard to how a participant will respond to a mindfulness versus relaxation intervention.