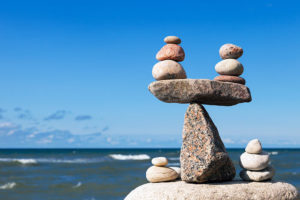 It's Eliminating the Causes of Suffering, Stupid
By John M. de Castro, Ph.D.
"The Buddha taught that beyond suffering lies great bliss. As we take steps towards removing the causes of suffering, we experience progressive levels of happiness. The path is a long one. But staying on it leads to a tremendous sense of liberation. There are other benefits from adhering to this philosophy – one can live in happiness, untroubled by any kind of negativity. At the end of this path, when desire and ignorance would have completely fallen away, one may experience the same transcendental joy that the Buddha did." – Buddha Groove
In a previous essay the first Noble Truth was discussed, reflecting the patently obvious fact that there is suffering, a.k.a. unsatisfactoriness. In the next essay the second Noble Truth was discussed also stating the obvious that there are causes to the suffering. But, not so obviously we saw how, all encompassing, unsatisfactoriness is in our lives and how subtle are its causes. We saw that most of the unsatisfactoriness emanated from our inability to accept things as they are and instead, go to war against reality.
As we look carefully and deeply at this unsatisfactoriness, we find that it is much more encompassing than we initially thought, affecting every aspect of our lives and experience, day in and day out. In fact, unsatisfactoriness is the rule and not the exception. It is the biggest single impediment to being truly happy, making progress on a spiritual path, and experiencing liberation. The Buddha recognized this and held out hope in the third Noble Truth, that suffering can be eliminated, that there can be a cessation of unsatisfactoriness.
At first glance the idea of eliminating suffering would seem simple, just eliminate the cause of suffering. Since, the cause of suffering, desiring things to be different than they are, is also simple, it should be an easy task to eliminate the desiring and thereby the suffering. But, it's not simple at all. It took arguably the greatest, most mentally disciplined, mindfulness practitioner of all time, the Buddha, six years of struggle to accomplish it. For most of us, it would seem to be an almost impossible task. To get an idea of the difficulty just realize that wanting to eliminate the desire for things to be different, is itself a desire for things to be different!
The complexity of the cessation of desires is also underscored by the fact that many desires are healthy and in fact necessary for life, e.g. hunger, thirst, breathing, etc. Obviously these desires should not be eliminated. In addition, many are for pleasant things that make life enjoyable, such as companionship, love, art, music, good food and wine, etc. It would certainly be a bland life without them. Others are unpleasant things that need to be avoided or tempered, such as pain, illness, fear, loneliness. It would seem problematic to remove these desires. In fact, the third Noble Truth does not call for the elimination of desires. Rather, it suggests that we should eliminate clinging to, grasping onto, these desires.
The difference between desires and clinging to desires is a subtle but very important distinction. There is nothing wrong with desires themselves. It is human nature to have them and if not clung to, they are normally healthy. But to be invested in the outcome of the desires is where the problem arises. It is perfectly fine to desire going to a concert, but it causes suffering when the outcome makes a difference. If the concert is cancelled or sold out or your car breaks down so you can't get there would you be OK with it, or would you be upset? If it's the latter then you're attached, you're grasping, you're clinging. If it's the former you're displaying the equanimity that the Buddha taught is the way to the cessation of suffering. Similarly, if you desire to get rid of a headache and take analgesics and rest, this is fine. But, if the headache continues and you're angry and upset to have to deal with the continuing pain, then that's clinging, grasping, and attaching to the desire. You can only alleviate the suffering by accepting that the headache is still there. Indeed, research has shown that the headache pain lessens just as soon as you cease to fight it and let go of resistance. As Ajahn Chah said, "If you let go a little, you'll have a little happiness. If you let go a lot, you'll have a lot of happiness. If you let go completely . . . you'll be completely happy."
Once again, though, this sounds simple, but in practice is devilishly difficult to do. The mind is programmed to control. It automatically tries to produce good feelings and hold onto them and eliminate bad feelings and prevent them from returning. So, even though we may wish to cease clinging to desires, our own mind works against us. We might try to force our will on the mind and battle its tendencies. But, as Adyashanti likes to say "If you go to war with your mind you'll be at war forever." The Buddha found this to be absolutely true as his attempts to control his mind with asceticism were a nearly mortal failure. He finally found a better way, "The Middle Way" where one works to restrain the mind, but doesn't get upset when failure occurs, simply returns to the effort with expectations of slowly moving more and more toward equanimity. This is a patient practice in the middle between striving and giving up. It works to tame the mind, but not dominate it.
The practice begins with an intention to explore everyday experiences, looking at each and asking the question, do I feel unsatisfactoriness and when you do exploring why, what is the cause of the unsatisfactoriness. Sometimes it's simple. You're caught at a red light and detect unsatisfactoriness and realize that you want to get somewhere (you want things to be different) rather than appreciating the drive. With this realization, you can often spontaneously let go and stop clinging to the desire to be somewhere else and simply enjoy a relaxing interlude to the stress of driving. At times, though, it may be difficult to release the clinging. You may feel that you're underpaid at work and thus feel unsatisfactoriness with you job rather than enjoying the moment to moment experience of the work. This feeling of unfairness may not simply diminish upon realization. This will take more work. One important lesson here, is that the key to ending suffering and becoming happy is not in a monastery or a pilgrimage, but right here in everyday life. This is where the practice is. This is where equanimity can be developed. It's right here, right now, in the present moment, in the midst of your life.
The practice from here becomes subtle. It involves first working with everyday experiences and noticing when unsatisfactoriness arises and secondly noting the underlying cause, the desire, the wanting, the craving. Then, thirdly, noting and observing that both the unsatisfactoriness and the desire go through a phase of arising, increasing in magnitude and fourthly noting that they both go through a phase of decline, falling away. Obviously, this requires patience and mindful observing. But, it reveals that unsatisfactoriness and its cause, desire, just like everything else, are impermanent. They come and they go. Note that you have just observed the cessation of unsatisfactoriness and desire, the exact state that you want to achieve. Note also that you didn't do anything. It all happened spontaneously, on its own.
For example, you may want to go out for dinner at a restaurant for a nice meal but realize that your budget won't allow it. This will likely be followed by feelings of frustration, the unsatisfactoriness. Observe the feelings arising. Then, look deeply for the underlying cause, perhaps the desire to have more money, greed. Observe, also how this desire for money arises and strengthens. Then if you patiently stay with these feelings, you'll note that they begin to decrease and fall away. The unsatisfactoriness and the greed slowly dissipate and eventually completely cease. You are left not caring that you can't go out for the meal, that you don't have the money. You have achieved a brief equanimity. As I'm sure, you'll recognize, this liberation will not last long, the feelings will arise again either immediately or at a later time. You haven't extinguished them, only experienced a brief cessation.
Once, the falling away of unsatisfactoriness and the underlying desire, is experienced. There is nothing else for you to do. Do not attempt to control this experience in any way. Do not attempt to maintain or lengthen the experience. This is a form of desiring things to be different than they are; the exact cause of unsatisfactoriness in the first place. It's very hard not to try to control it. Remember your mind is programmed to do this. Don't get upset if the mind jumps in and tries to do so. It's just what minds do. Simply watch it and see how this itself creates unsatisfactoriness that arises and falls away.
This is where the subtlety comes in. The equanimity, the decrease of unsatisfactoriness, and the cessation of desire can't be controlled. They must simply be allowed to come and go. As the practice continues the number of times this equanimity occurs and the duration of the cessation will start to increase on their own. The realization begins to dawn that you really don't have to do anything. All you need to do is accept things as they are. This acceptance produces a pleasant state that reinforces the process, making it occur more frequently and for longer duration in the future. You come to not only understand, but directly experience that unsatisfactoriness and desire can be ended simply by patiently waiting for them to spontaneously diminish and cease. When you do a pleasant feeling will spontaneously arise. This in turn leads to an upward spiral leading slowly to enduring equanimity.
It is important to understand that attempting to actually do anything to produce, hold onto, or lengthen the state is counterproductive. Patience and persistence is required here. Trust that it will all happen on its own if you just let it. Don't meddle. But, don't stop observing. This is the method revealed in the Third Noble Truth. It is the way to true happiness, true liberation, true enlightenment.
The Buddha provides a path that makes it more likely that this will occur. It is the fourth Noble Truth, also called the Noble Eightfold Path which is the subject of other essays.
"After suffering, the Buddha taught, there is supreme happiness. Every step of the way to removing the causes of unhappiness brings more joy. On the path to the end of suffering, which is a path that Buddhists may spend their whole lifetimes practicing, there are levels of happiness and freedom from craving and ignorance that can be achieved." – Buddhist Studies
CMCS – Center for Mindfulness and Contemplative Studies
This and other Contemplative Studies posts are also available on Google+ https://plus.google.com/106784388191201299496/posts and on Twitter @MindfulResearch