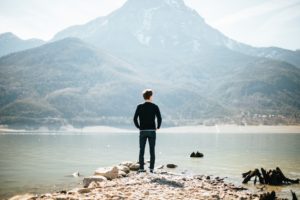 Improve the Self-Concept with the Mindful Self
By John M. de Castro, Ph.D.
"Mindfulness is about living with intention and awareness which creates the mind body connection towards a whole self. When we feel disconnected or fragmented from ourselves, others and what was once important to us we become open to a multitude of problems in life." – Naila Narsi
Most people strongly believe that they have a self, an ego. Reflecting this, our language is replete with concepts that contain self; oneself, myself, himself, herself, ourselves, self-concept, self-esteem, self-love, self-regard, selfless, selfish, selfhood, selfie, etc. But, particularly note the term self-concept. It directly states that self is a concept. It is not a thing. It is an idea.  This is important, as most of us think that there is a thing that is the self, when, in fact, there is not. A concept is a way to summarize a set of phenomena that appear to have common properties, such as fruit, or more abstractly, attention. But, note there is not a single entity that is fruit. It is a set of things that are grouped together by common biological factors. The idea of attention is not a thing. Rather it refers to a set of processes. This is also true of the concept of self.
The self is a concept and is created by thought. In other words, there's a process involving thinking that creates the concept of a self. This is a verb. We are not a self, we are producing a self, we are selfing! This suggests that the self can change and grow with circumstances. One that appears to have profound effects on the idea of self is mindfulness training. In today's Research News article "The Mindful Self: A Mindfulness-Enlightened Self-view." See summary below or view the full text of the study at: https://www.frontiersin.org/articles/10.3389/fpsyg.2017.01752/full?utm_source=F-AAE&utm_medium=EMLF&utm_campaign=MRK_433120_69_Psycho_20171024_arts_A, Xiao and colleagues explore the literature and theorization regarding the effects of mindfulness practice on the self-view.
They posit that mindfulness training "is a way of looking deeply into oneself in a spirit of self-inquiry and self-understanding." This can alter the way the individual thinks of the self, a form of re-perceiving the self. The published research indicates that mindfulness training can produce improvements in self-compassion, self-acceptance, self-perspective change, self-consciousness, self-concept, self-deconstruction and reconstruction, and self-referential processing. So, with mindfulness training the individual becomes more compassionate and accepting toward self and others and less self-focused; able to step outside and observe experience from a distance. In other words, mindfulness changes the components that make up the self-concept and in essence change the individual's idea of their self.
Xiao and colleagues label this new perspective and idea of the self, created by mindfulness training, as the "Mindful Self." This is viewed as a more authentic and true self and is similar to the highest level of psychological development, as visualized by Abraham Maslow, called self-actualization. The "Mindful Self" Is a balanced self-identity with a detached awareness, an understanding of interdependence, greater compassion and acceptance of self and others, empathy, and a desire for the cultivation of happiness; and growth, including a consideration of the development of the self and others.
The published literature supports the idea that mindfulness training produces a marked improvement in how the individual conceptualizes the self. It moves the concept of self toward a more authentic and integrated whole that is more connected to others and the environment. This "Mindful Self" is constructed by altering less mature ideas of the self with focused and relaxed attention on what is actually happening both inside and outside the individual. This is a great step in maturation, leading to a more accurate and integrated notion of the self. This, in turn, leads to improved interactions with others and greater overall happiness.
So, improve the self-concept with the "Mindful Self."
"We all have a sense of self. Whether that sense of self is positive or negative is based upon our experiences in life and our perceptions and assessment of ourself. . . .However, the problem is that our perception of ourself is often distorted." – Monica Frank
CMCS – Center for Mindfulness and Contemplative Studies
This and other Contemplative Studies posts are also available on Google+ https://plus.google.com/106784388191201299496/posts and on Twitter @MindfulResearch
Study Summary
Xiao Q, Yue C, He W and Yu J-y (2017) The Mindful Self: A Mindfulness-Enlightened Self-view. Front. Psychol. 8:1752. doi: 10.3389/fpsyg.2017.01752
Abstract
This paper analyzes studies of mindfulness and the self, with the aim of deepening our understanding of the potential benefits of mindfulness and meditation for mental health and well-being. Our review of empirical research reveals that positive changes in attitudes toward the self and others as a result of mindfulness-enabled practices can play an important role in modulating many mental and physical health problems. Accordingly, we introduce a new concept—the "mindful self"—and compare it with related psychological constructs to describe the positive changes in self-attitude associated with mindfulness meditation practices or interventions. The mindful self is conceptualized as a mindfulness-enlightened self-view and attitude developed by internalizing and integrating the essence of Buddhist psychology into one's self-system. We further posit that the mindful self will be an important intermediary between mindfulness intervention and mental health problems, and an important moderator in promoting well-being. More generally, we suggest that the mindful self may also be an applicable concept with which to describe and predict the higher level of self-development of those who grow up in the culture of Buddhism or regularly engage in meditation over a long period of time.
https://www.frontiersin.org/articles/10.3389/fpsyg.2017.01752/full?utm_source=F-AAE&utm_medium=EMLF&utm_campaign=MRK_433120_69_Psycho_20171024_arts_A