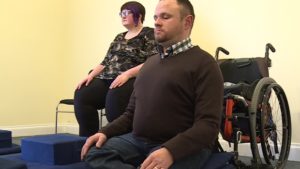 A Pilot Study of Mindfulness Training for the Cognitive and Psychological Symptoms with Multiple Sclerosis
By John M. de Castro, Ph.D.
"Mindfulness practice appears to be a safe, drug-free approach to coping with stress and anxiety, which may in turn help reduce your MS symptoms." Amit Sood
Multiple Sclerosis (MS) is a progressive demyelinating disease which attacks the coating on the neural axons which send messages throughout the body and nervous system. It affects about 2 million people worldwide and about 400,000 in the U.S. It is most commonly diagnosed in people between the ages of 20 and 50 years.  Unfortunately, there is no cure for multiple sclerosis. There are a number of approved medications that are used to treat MS but are designed to lessen frequency of relapses and slow the progression of the disease, but they don't address individual symptoms.
Although there is a progressive deterioration, MS is not fatal with MS patients having about the same life expectancy as the general population. Hence, most MS sufferers have to live with the disease for many years. So, quality of life becomes a major issue. Quality of life with MS is affected by fatigue, physical impairment, depression, and poor sleep quality. In addition, there are marked deficits in cognition in around half of MS patients that include impairments in memory, information processing speed, executive functioning, attention, and verbal fluency. There is a thus a critical need for safe and effective methods to help relieve the symptoms of MS and improve quality of life. Mindfulness has been previously shown to improve depression, sleep quality, cognitive impairments, emotion regulation, and fatigue. It has also been shown to improve the symptoms of multiple sclerosis.
In today's Research News article "The Effectiveness of Mindfulness-Based Stress Reduction on Psychological Distress and Cognitive Functioning in Patients with Multiple Sclerosis: a Pilot Study." See summary below or view the full text of the study at: https://www.ncbi.nlm.nih.gov/pmc/articles/PMC5605592/, Blankespoor and colleagues investigated the ability of mindfulness training to relieve the psychological symptoms, including cognitive impairments, with Multiple Sclerosis (MS). In a pilot study, they recruited patients with MS and provided them with an 8-week Mindfulness-Based Stress Reduction (MBSR) program consisting of meditation, body scan, and yoga practice. The participants met in group sessions for 2.5 hours once a week and also performed home practice. The participants were measured before and one week after training for mindfulness, depression, multiple sclerosis quality of life, fatigue, self-compassion, and cognitive ability including tests of memory, visuospatial memory, processing speed, working memory, attention, and executive function.
They found that in comparison to baseline measures, after MBSR training the patients showed significant improvements in their psychological states including their physical and emotional quality of life, self-compassion, and mindfulness. Unfortunately, the patients did not show cognitive impairments at baseline. So, it was not surprising that the only cognitive ability that significantly improved was visuospatial processing.
Unfortunately, the study was flawed in a number of ways. In particular the lack of a control comparison condition opens the way for a large number of alternative, confounding, explanations for the results. Also, there was a 30% dropout rate which raises the possibility that only those who felt better continued and were measured after treatment. Finally, the lack of baseline impairment in cognitive abilities precluded the assessment of the effectiveness of MBSR to improve these common symptoms of MS. The study needs to be repeated in a Randomized Controlled Clinical Trial (RCT) with procedures implemented to maximize patient retention and with patients who demonstrate cognitive impairment prior to treatment.
Patients with Multiple Sclerosis suffer in many ways and it will be important to determine if mindfulness training can reduce the suffering.
"Studies in multiple sclerosis, these have shown that mindfulness can improve quality of life and help people cope better with their MS. The studies also found that it decreased stress, anxiety and depression." – MSTrust
CMCS – Center for Mindfulness and Contemplative Studies
This and other Contemplative Studies posts are also available on Google+ https://plus.google.com/106784388191201299496/posts and on Twitter @MindfulResearch
Study Summary
Blankespoor, R. J., Schellekens, M. P. J., Vos, S. H., Speckens, A. E. M., & de Jong, B. A. (2017). The Effectiveness of Mindfulness-Based Stress Reduction on Psychological Distress and Cognitive Functioning in Patients with Multiple Sclerosis: a Pilot Study. Mindfulness, 8(5), 1251–1258. http://doi.org/10.1007/s12671-017-0701-6
Abstract
Patients with multiple sclerosis (MS) often suffer from psychological distress and cognitive dysfunctioning. These factors negatively impact the health-related quality of life. Only recently behavioral therapeutic approaches are being used to treat psychological distress in MS. The aim of the present pilot study was not only to investigate the effectiveness of mindfulness-based stress reduction (MBSR) on psychological distress but also to explore whether it can improve cognitive functioning among patients with MS. Outpatients of the MS Center of the Radboud University Medical Center (Radboudumc) were invited to participate in an MBSR training. Psychological and cognitive measures were administered pre- and post-intervention. Twenty-five MS patients completed the MBSR training and psychological measures, of which 16 patients completed the cognitive tests. Significant improvements were found in depressive symptoms, quality of life, fatigue, mindfulness skills, and self-compassion. Of the cognitive tests, performance on a visual spatial processing test significantly improved after the intervention. Overall, this pilot study showed promising results of the effects of MBSR on reducing psychological distress, and it suggests MBSR might improve cognitive functioning in MS patients. Future randomized controlled trials should be conducted to confirm the possible effectiveness of MBSR—and its long-term effects—on psychological and cognitive functioning in MS patients.