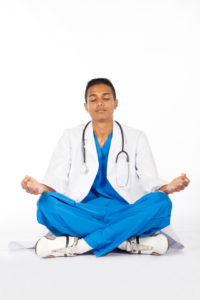 Relieve Medical Professional Burnout with Mindfulness
By John M. de Castro, Ph.D.
"mindfulness programs in the workplace may help employees better deal with stress, and develop the ability to observe negative emotions and automatic thought patterns and behaviors, and remain calm, present, self-aware and alert, rather than succumbing to the slippery slope of negative emotions." – Grace Bullock
Stress is epidemic in the western workplace with almost two thirds of workers reporting high levels of stress at work. In high stress occupations, like healthcare, burnout is all too prevalent. It is estimated that over 45% of healthcare workers experience burnout. Currently, over a third of healthcare workers report that they are looking for a new job. Burnout is the fatigue, cynicism, emotional exhaustion, sleep disruption, and professional inefficacy that comes with work-related stress. It not only affects the healthcare providers personally, but also the patients, as it produces a loss of empathy and compassion. Burnout it is a threat to the healthcare providers and their patients. In fact, it is a threat to the entire healthcare system as it contributes to the shortage of doctors and nurses.
Preventing burnout has to be a priority. But, it is beyond the ability of the individual to change the environment to reduce stress and prevent burnout, so it is important that methods be found to reduce the individual's responses to stress; to make the individual more resilient when high levels of stress occur. Contemplative practices have been shown to reduce the psychological and physiological responses to stress. Indeed, mindfulness has been shown to be helpful in treating and preventing burnout, increasing resilience, and improving sleep.
In today's Research News article "Effect of heartfulness meditation on burnout, emotional wellness, and telomere length in health care professionals." See summary below or view the full text of the study at: https://www.ncbi.nlm.nih.gov/pmc/articles/PMC5463663/, Thimmapuram and colleagues recruited hospital medical residents, staff physicians and nurses and allowed them to choose to participate in a no-treatment control condition or receive once a week for 12 weeks of meditation training consisting of one weekly 30-minute training session and morning and evening home practice. They were measured before and after training for burnout and emotional wellness. They also supplied salivary samples that were assayed for the molecular genetic aging marker of telomere length.
Following the 12-week intervention the meditation group had significant improvements in burnout including decreases in emotional exhaustion and depersonalization and a significant increase in feelings of personal accomplishment. The meditation group also had significant increases in measures of emotional wellness. In addition, the younger meditation participants (< 35 years of age) had a significant increase in telomere length.
The results are interesting but the study has a number of methodological shortcomings that prevent clear conclusions. These include self-selection for conditions and a no-treatment control producing potential confounding from participant bias, placebo effects, attention effects, experimenter bias, etc. There is evidence, however, from a number of better controlled prior studies that indicate that meditation practice can significantly relieve the symptoms of burnout and increase telomere length.
So, relieve medical professional burnout with mindfulness.
"Dealing with sick, scared, suffering and dying patients is draining all by itself. Throw in distraction by negative emotions like worry, anger, frustration, righteous indignation … and you can easily double the energy drain. Mindfulness is incredibly valuable, because it brings the energy drain of non-supportive thoughts and feelings to a screeching halt." – Dike Drummond
CMCS – Center for Mindfulness and Contemplative Studies
This and other Contemplative Studies posts are also available on Google+ https://plus.google.com/106784388191201299496/posts and on Twitter @MindfulResearch
Study Summary
Thimmapuram, J., Pargament, R., Sibliss, K., Grim, R., Risques, R., & Toorens, E. (2017). Effect of heartfulness meditation on burnout, emotional wellness, and telomere length in health care professionals. Journal of Community Hospital Internal Medicine Perspectives, 7(1), 21–27. http://doi.org/10.1080/20009666.2016.1270806
ABSTRACT
Background: Burnout poses significant challenges during training years in residency and later in the career. Meditation is a tool to treat stress-related conditions and promote wellness. Telomere length may be affected by burnout and stress. However, the benefits of meditation have not been fully demonstrated in health care professionals.
Objective: We assessed the effects of a 12-week 'Heartfulness Meditation' program on burnout, emotional wellness, and telomere length in residents, faculty members, and nurses at a large community teaching hospital during the 2015–16 academic year.
Methods: All subjects completed a baseline Maslach Burnout Inventory (MBI) and Emotional Wellness Assessment (EWA) at the beginning of the study. Meditators received instructions in Heartfulness Meditation. At week 12, subjects completed a follow up MBI and EWA scores. Salivary telomere length was measured at baseline and week 12.
Results: Twenty-seven out of a total 155 residents (17.4%) along with eight faculty physicians and 12 nurses participated in the study. Thirty-five enrolled as meditators and 12 as controls. At 12 weeks, the meditators had statistically significant improvement in all measures of burnout and in nearly all attributes of EWA. Controls showed no statistically significant changes in either burnout or emotional wellness scores. Relative telomere length increased with statistical significance in a younger subset of meditators.
Conclusion: Our results indicate that meditation offers an accessible and efficient method by which physician and nurse burnout can be ameliorated and wellness can be enhanced. The increased telomere length is an interesting finding but needs to be confirmed with further research.