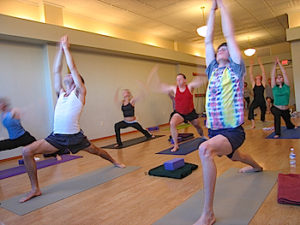 Improve Cardiopulmonary and Metabolic Condition and Body Weight with Yoga
By John M. de Castro, Ph.D.
"Every time you practice yoga, you have the chance to reclaim part of yourself that you don't always have easy access to. It might be physical, mental, or emotional, but the process of integration is quickened by yoga practice." – Dinabandhu Sarley
Yoga practice has been shown to have a large number of beneficial effects on the psychological, emotional, and physical health of the individual and is helpful in the treatment of mental and physical illness, including cardiovascular disease and metabolic problems. This is important as cardiovascular disease is the number one killer, claiming more lives than all forms of cancer combined. In addition, Metabolic Syndrome is a major risk factor for cardiovascular disease and diabetes. It generally results from overweight and abdominal obesity and includes high blood pressure, insulin resistance and elevation of plasma cholesterol and triglycerides. It is an important risk factor as it increases the risk of developing type-2 diabetes five-fold and heart attack or stroke three-fold.
A myriad of treatments has been developed for heart disease including a variety of surgical procedures and medications. But the safest effective treatments are lifestyle changes. These include quitting smoking, weight reduction, improved diet, physical activity, and reducing stresses. Other safe and effective treatments are contemplative practices, such as meditation, tai chi, and yoga, have also been shown to be helpful for heart health. These practices have also been shown to be helpful for producing the kinds of lifestyle changes needed to prevent heart disease such as smoking cessation, weight reduction, and stress reduction. Metabolic Syndrome can also be prevented or reverse the risk with exercise and weight loss.
Since, yoga is a mindfulness practice and an exercise it would seem to be ideally suited for the prevention of cardiovascular, pulmonary, or metabolic problems. In today's Research News article "Cardiopulmonary and metabolic effects of yoga in healthy volunteers." See summary below or view the full text of the study at: http://www.ijoy.org.in/article.asp?issn=0973-6131;year=2017;volume=10;issue=3;spage=115;epage=120;aulast=Divya, Divya and colleagues examine the effectiveness of yoga practice in improving cardiovascular and metabolic health in healthy adults. They recruited participants in a 41-day yoga training occurring 75 min/day, 6 days/week. Practice included meditation, breathing practice, mudras, postures, and relaxation. Before and after training they were measured for their lipid profile, thyroid function, cardiac and pulmonary function, and autonomic function.
They found that following the treatment there were significant improvements in cardiovascular function, including decreases resting heart rate and systolic and diastolic blood pressure, blood pressure response to standing, improvements in metabolic function, including decreases in body mass index, blood sugar, cholesterol, and blood fat, and increases in pulmonary function, including increases in lung size, expiratory volume, and peak expiratory flow rate. Hence, participation in the yoga training produced significant improvements in cardiopulmonary and metabolic health.
It should be noted that there wasn't a control or comparison condition included in the study. The participants physical state prior to training was simply compared to that after training. But, the improvements were of such a magnitude that it would be unlikely to be produced by confounding factors, such as expectancy effects or the passage of time. Since the participants were healthy adults at the start of training, the improvements are even more striking. This suggests that participation in yoga practice promotes health and may delay or prevent the onset of cardiovascular disease and metabolic syndrome.
So, improve cardiopulmonary and metabolic condition and body weight with yoga.
"Yoga burns calories, tones your body and gives you a challenging routine to perform. Further, yoga increases flexibility, muscular strength, and muscular endurance. Physiologically, yoga has been shown to decrease resting heart rate, respiration and blood pressure and improve metabolic rate." – Nikki Prosch
CMCS – Center for Mindfulness and Contemplative Studies
This and other Contemplative Studies posts are also available on Google+ https://plus.google.com/106784388191201299496/posts and on Twitter @MindfulResearch
Study Summary
Divya T S, Vijayalakshmi M T, Mini K, Asish K, Pushpalatha M, Suresh V. Cardiopulmonary and metabolic effects of yoga in healthy volunteers. Int J Yoga 2017;10:115-20
Abstract
Background: Yoga the spiritual union of mind with the divine intelligence of the universe aims to liberate a human being from conflicts of body–mind duality. Beneficial cardiovascular and pulmonary effects of yoga are in par with aerobic exercise, even amounting to replace the exercise model. We conducted an interventional study in healthy volunteers, to analyze the impact of short-term yoga training on cardiovascular, pulmonary, autonomic function tests, lipid profile, and thyroid function tests. Materials and Methods: A sample of fifty new recruits attending the district yoga center was subject to 75 min yoga practice a day for 41 days. Basal values of cardiovascular, pulmonary, autonomic function tests, lipid profile, and thyroid function tests were recorded before yoga training and were reassessed for postyoga changes after 41 days. Results: After yoga practice there was a significant reduction in the resting heart rate, systolic blood pressure, diastolic blood pressure, and mean blood pressure of the participants. Effects on autonomic function tests were variable and inconclusive. There was a significant increase in forced vital capacity, forced expiratory volume in 1 s, and peak expiratory flow rate after yoga. A significant reduction in body mass index was observed. Effects on metabolic parameters were promising with a significant reduction in fasting blood sugar level, serum total cholesterol, serum triglycerides serum low-density lipoprotein levels, and significant increase in high-density lipoprotein. There was no significant change in thyroid function tests after yoga. Conclusion: Short-term yoga practice has no effect on thyroid functions. Yoga practice was found beneficial in maintaining physiological milieu pertaining to cardiovascular and other metabolic parameters.
http://www.ijoy.org.in/article.asp?issn=0973-6131;year=2017;volume=10;issue=3;spage=115;epage=120;aulast=Divya