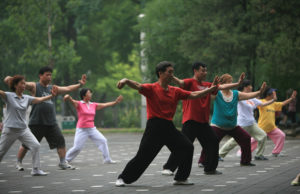 Improve the Negative Symptoms of Schizophrenia with Tai Chi.
By John M. de Castro, Ph.D.
"Tai Chi, can potentially reduce psychopathological and negative symptoms, decrease aggressive behaviors, and improve quality of life. It is an ideal rehabilitation intervention for patients with schizophrenia." – Supreme Chi Living
Schizophrenia is the most common form of psychosis. It effects about 1% of the population worldwide. It appears to be highly heritable and involves changes in the brain. It is characterized by positive symptoms such as hallucinations; seeing and, in some cases, feeling, smelling or tasting things that aren't there, or delusions; unshakable beliefs that, when examined rationally, are obviously untrue. It is also characterized by negative symptoms involving a reduced ability to function normally, neglect of personal hygiene, lack of emotion, blank facial expressions, speaking in a monotone, loss of interest in everyday activities, social withdrawal, an inability to experience pleasure, and a lack of insight into their symptoms. The symptoms of schizophrenia usually do not appear until late adolescence or early adulthood.
Schizophrenia is very difficult to treat with psychotherapy and is usually treated with antipsychotic drugs. These drugs, however, are not always effective, sometimes lose effectiveness, and can have some difficult side effects. In addition, even when effective, antipsychotic drugs only treat the positive symptoms of schizophrenia, leaving the negative symptom intact including the loss of functionality and a lack of insight. Hence, there is a need for safe and effective alternative treatments for schizophrenia that can treat the negative symptoms.
Mindfulness training has been shown to be beneficial for a variety of mental health problems, including anxiety, depression, Antisocial Personality Disorder, Borderline personality disorder, impulsivity, obsessive compulsive disorder, phobias, post-traumatic stress disorder, sexual dysfunction, and suicidality. It also appears to be helpful with psychosis. Mindfulness has also been shown to associated with lower symptom severity of schizophrenia. This suggests that mindfulness training may be an effective treatment for schizophrenia, including negative symptoms.  Tai Chi practice includes mindfulness training and also gentle physical exercise which may also be beneficial. Hence, it would seem reasonable to examine the ability of Tai Chi practice in treating the symptoms of schizophrenia.
In today's Research News article "Tai Chi for Schizophrenia: A Systematic Review." See summary below or view the full text of the study at:
https://www.ncbi.nlm.nih.gov/pmc/articles/PMC5434269/ Zheng and colleagues review and perform a meta-analysis of published research studies examining the effectiveness of Tai Chi practice in treating schizophrenia. They found 6 published randomized controlled trials. They found that compared to controls Tai Chi practice produced significant reductions in the negative symptoms of schizophrenia but not the positive symptoms. In addition, they report that there is a significant improvement in social function.
These are important findings as antipsychotic drugs only improve the positive symptoms of schizophrenia and not the negative symptoms. Since, Tai Chi practice appears to improve the negative symptoms and not the positive symptoms, it would seem to be acting in a completely different way and by a different mechanism. Tai Chi is most frequently practiced socially and this may account for the improved social function. In addition, Tai Chi practice might be the perfect adjunctive treatment. The combination of Tai Chi practice and antipsychotic drugs should improve all of the symptoms of schizophrenia.
So, improve the negative symptoms of schizophrenia with Tai Chi.
"The usual method for treating schizophrenic patients focuses on self-care, symptom management, and dealing with daily functions. Unfortunately, physical and psychological well-being fall by the wayside, since simply dealing with day-to-day functions is enough of a struggle for most schizophrenic individuals. The mind-body connection provided by Tai-chi is believed to make it the optimal type of exercise for individuals with mental illnesses." – Katie Dabrowski
CMCS – Center for Mindfulness and Contemplative Studies
This and other Contemplative Studies posts are also available on Google+ https://plus.google.com/106784388191201299496/posts and on Twitter @MindfulResearch
Study Summary
Wei Zheng, Qiang Li, Jingxia Lin, Yingqiang Xiang, Tong Guo, Qiong Chen, Dongbin Cai, Yutao Xiang. (2016). Tai Chi for Schizophrenia: A Systematic Review. Shanghai Archives of Psychiatry, 28(4), 185–194. http://doi.org/10.11919/j.issn.1002-0829.216051
Abstract
Background
Tai Chi as a form of moderate aerobic exercise originating in China, could promote balance and healing of the mind-body. Furthermore, Tai Chi has been used as an adjunctive treatment for patients with schizophrenia. However, no meta-analysis or systematic review on adjunctive Tai Chi for patients with schizophrenia has yet been reported.
Aim
A systematic review and meta-analysis was conducted to examine the efficacy of Tai Chi as an adjunctive treatment for schizophrenia using randomized controlled trial (RCT) data.
Method
Two evaluators independently and systematically searched both English- and Chinese-language databases for RCTs of Tai Chi for schizophrenia patients, selected studies, extracted data, conducted quality assessment and data synthesis. Statistical analyses were performed using the Review Manager (version 5.3). The Cochrane Grades of Recommendation, Assessment, Development, and Evaluation (GRADE) was used to assess the strength of the evidence.
Results
In 6 RCTs conducted in mainland China and Hong Kong, there were 483 participants including 215 subjects in the intervention group and 268 subjects in the control group. The trials lasted 16.0 (6.2) weeks. Compared to control group, we found significant differences regarding improvement of negative symptoms assessed by the Positive and Negative Syndrome Scale (PANSS) negative symptom sub-score (2 trials) and Scale for the Assessment of Negative Symptoms (SANS) (3 trials) over the study period in the intervention group (5 trials with 6 treatment arms, n=451, SMD: -0.87 (95%CI: -1.51, -0.24), p=0.007; I2=90%). Furthermore, there is no significant difference regarding improvement of positive symptoms assessed by the PANSS positive symptom sub-score (2 trials) and Scale for the Assessment of Positive Symptoms (SAPS) (2 trials) over the study period (4 trials with 5 treatment arms, n=391, SMD: -0.09 (95%CI: -0.44, 0.26), p=0.60; I2=65%). All included RCTs did not report side effects. Based on the GRADE, the strength of the evidence for primary outcome was 'very low'.
Conclusions
The data available on the effectiveness of adjunctive Tai Chi in patients with schizophrenia who are receiving antipsychotic is insufficient to arrive at a definitive conclusion about its efficacy. Furthermore, follow-up time in the available studies was relatively short, and all studies did not use blinded assessment of outcome measures. High-quality randomized trials are needed to inform clinical recommendations.