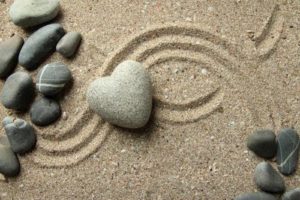 Improve Self-Compassion with Loving Kindness Meditation
By John M. de Castro, Ph.D.
"practicing 7 weeks of loving-kindness meditation increased love, joy, contentment, gratitude, pride, hope, interest, amusement, and awe. These positive emotions then produced increases in a wide range of personal resources (e.g., increased mindfulness, purpose in life, social support, decreased illness symptoms), which, in turn, predicted increased life satisfaction and reduced depressive symptoms." – Emma Seppala
Meditation training has been shown to improve health and well-being. It has also been found to be effective for a large array of medical and psychiatric conditions, either stand-alone or in combination with more traditional therapies. As a result, meditation training has been called the third wave of therapies. One problem with understanding meditation effects is that there are, a wide variety of meditation techniques and it is not known which work best for improving different conditions. One understudied meditation technique is Loving Kindness Meditation. It is designed to develop kindness and compassion to oneself and others. The individual systematically pictures different individuals from self, to close friends, to enemies and wishes them happiness, well-being, safety, peace, and ease of well-being.
Although Loving Kindness Meditation has been practiced for centuries, it has received very little scientific research attention. In today's Research News article "Does Loving-Kindness Meditation Reduce Anxiety? Results from a Randomized Controlled Trial." (See summary below). Weibel and colleagues recruited college students and randomly assigned them to a wait-list control condition or to practice Loving Kindness Meditation at 4 weekly, 90 minute sessions and were encouraged to practice at home. They were measured before and after the 4-week training period and 8 weeks later for anxiety, compassionate love, and self-compassion.
They found that following treatment, in comparison to the wait-list control participants, the Loving Kindness Meditation participants demonstrated significant increases in compassionate love, and self-compassion, including the self-kindness and common humanity subscales. At the 8-week follow-up, only the self-kindness subscale remained significant. Hence, the practice of Loving Kindness Meditation was found to enhance compassion and kindness toward the self.
These are disappointing results. Loving Kindness Meditation is a practice of directing compassion and kindness toward the self and others. So, these results only show that practicing compassion and kindness produces compassion and kindness. The failure to show any effects on anxiety suggest that Loving Kindness Meditation may not have effects beyond what it is designed to target.
There are a number of studies that show significant effects for Loving Kindness Meditation on a wide variety of physical and psychological issues. So, it would appear likely that the lack of effectiveness seen in the current study was due to the particular characteristics of this study. Perhaps, the brief, 4-week, duration of the practice was insufficient. Perhaps, other psychological characteristics than anxiety needed to be measured. Perhaps college students are not an appropriate group for Loving Kindness Meditation. Perhaps, placebo effects accounted for the differences in compassion and kindness. Regardless, it is clear that the current study does not demonstrate significant effects of Loving Kindness Meditation beyond what it practices; compassion and kindness toward the self.
"More than just a feel-good practice, compassion meditation leads to improved mood, more altruistic behavior, less anger, reduced stress and decreased maladaptive mind wandering, according to recent research." – Stacey Colino
CMCS – Center for Mindfulness and Contemplative Studies
This and other Contemplative Studies posts are also available on Google+ https://plus.google.com/106784388191201299496/posts and on Twitter @MindfulResearch
Study Summary
Weibel, D.T., McClintock, A.S. & Anderson, T. Does Loving-Kindness Meditation Reduce Anxiety? Results from a Randomized Controlled Trial. Mindfulness (2017) 8: 565. doi:10.1007/s12671-016-0630-9
Abstract
Although loving-kindness meditation (LKM) has shown some promise as a psychological intervention, little is known about the effectiveness of LKM for reducing one of the most prevalent mental health problems: anxiety. To build knowledge in this area, we conducted a randomized controlled trial, assigning non-clinical undergraduates to either a four-session, group-based LKM intervention (n = 38) or a waitlist control (n = 33). Self-reported anxiety, compassionate love, and self-compassion were assessed at pretreatment, posttreatment, and 8-week follow-up. Relative to control participants, participants in the LKM intervention reported higher compassionate love and self-compassion at posttreatment and higher self-kindness (a component of self-compassion) at follow-up. Anxiety ratings did not significantly differ between conditions at posttreatment or follow-up. Study limitations and directions for future research are discussed.