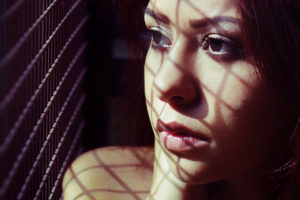 Improve Loneliness and Quality of Life with Women with HIV with Mindfulness
By John M. de Castro, Ph.D.
"Mindfulness-Based Therapies had a long-term effect on stress and both a short- and long-term effect on depression in people living with an HIV infection." – Yang Yang
More than 35 million people worldwide and 1.2 million people in the United States are living with HIV infection. In 1996, the advent of the protease inhibitor and the so-called cocktail changed the prognosis for HIV. Since this development, a 20-year-old individual, infected with HIV, can now expect to live on average to age 69. Hence, living with HIV is a long-term reality for a very large group of people.
People living with HIV infection experience a wide array of physical and psychological symptoms which decrease their perceived quality of life. The symptoms include muscle aches, anxiety, depression, weakness, fear/worries, difficulty with concentration, concerns regarding the need to interact with a complex healthcare system, stigma, loneliness, and the challenge to come to terms with a new identity as someone living with HIV. Hence, patients with HIV infection, even when controlled with drugs, have a reduction in their quality of life.  There is thus a need to find methods to improve the quality of life in people who are living with HIV infection.
Mindfulness has been shown to improve psychological and physical well-being in people suffering from a wide range of disorders including depression and anxiety. It has also been shown that mindfulness is associated with psychological well-being and lower depression in patients with HIV infection. Integrated Yoga is a contemplative practice is a mindfulness practice that includes postures, breathing practices, relaxation techniques, and meditation. It has been shown to reduce anxiety and depression in in patients with HIV infection. So, it would stand to reason that other mindfulness practices would be beneficial for people who are living with HIV infection.
In today's Research News article "The effectiveness of mindfulness-based cognitive therapy on quality of life and loneliness of women with HIV." See summary below or view the full text of the study at:
https://www.ncbi.nlm.nih.gov/pmc/articles/PMC5319288/
Samhkaniyan and colleagues recruited women infected with HIV and randomly assigned them to a no-treatment control or to receive 8 weeks of Mindfulness-Based Cognitive Therapy (MBCT), administered once weekly for 2 hours. They were measured before and after the 8-week intervention for loneliness and quality of life, including body health, emotional care, community relationships, and environmental health.
They found that the Mindfulness-Based Cognitive Therapy (MBCT) group had significant improvements in all measure in comparison to baseline and the control group, with significant improvements in loneliness, overall quality of life and each quality of life component, body health, emotional care, community relationships, and environmental health. Hence, MBCT appears to be an effective treatment for the psychological issues of loneliness and perceived quality of life in women diagnosed with HIV.
MBCT contains both mindfulness practice and also cognitive therapy that is designed to change faulty thought processes. Mindfulness training has been shown to relieve loneliness and lead to improvement in quality of life with a myriad of different conditions. Also, loneliness is an interpretation of the environmental conditions and the altered thinking produced by MBCT may well be responsible for the effect. A more mundane explanation is that the social contacts involved in receiving MBCT by themselves relieve loneliness and improve quality of life. A randomized controlled clinical trial with an active control group is needed to distinguish between these alternative explanations.
So, improve loneliness and quality of life with women with HIV with mindfulness.
"Given the stress-reduction benefits of mindfulness meditation training, there can be health protective effects not just in people with HIV but in folks who suffer from daily stress," – David Creswell
CMCS – Center for Mindfulness and Contemplative Studies
This and other Contemplative Studies posts are also available on Google+ https://plus.google.com/106784388191201299496/posts and on Twitter @MindfulResearch
Study Summary
Samhkaniyan, E., Mahdavi, A., Mohamadpour, S., & Rahmani, S. (2015). The effectiveness of mindfulness-based cognitive therapy on quality of life and loneliness of women with HIV . Journal of Medicine and Life, 8(Spec Iss 4), 107–113.
Abstract
Objective: The present study investigated the performance of Mindfulness according to the Cognitive approach on the Quality of Life and Loneliness of women with HIV.
Methods: This research is a semi-experimental with pretest-posttest and check team, which was conducted in winter, 2014. In this research, 24 positive HIV women in Tehran were selected by volunteers sampling method and were stochastically related to either the control team (n = 12) or the MBCT groups (n = 12) and, the World Health Organization quality of life survey and the University of California Los Angeles loneliness scale were administrated as pretest. The MBCT team got eight sessions of mindfulness according to the cognitive theory and the check team got no intervention. At the end, the post-test was administrated to two groups and, covariance method was used for data analysis by SPSS-20 software.
Findings: The results of the present study indicated that there were clear variations among the test groups check group and MBCT (p < 0.001). Therefore, Mindfulness-based Cognitive theory increased the mean quality of life and decreased loneliness.
Conclusion: The findings indicated that the Mindfulness-based Cognitive therapy increased the quality of life and decreased loneliness in positive HIV women. Therefore, in order to modify the quality of life and loneliness in these cases, attention to these variables during clinical trials with the goal of an appropriate intervention, will be beneficial.
https://www.ncbi.nlm.nih.gov/pmc/articles/PMC5319288/