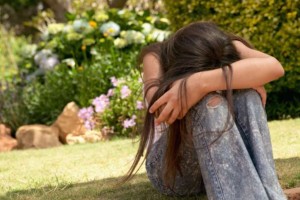 By John M. de Castro, Ph.D.
"Mindfulness-based cognitive therapy helps participants in the classes to see more clearly the patterns of the mind; and to learn how to recognize when their mood is beginning to go down. It helps break the link between negative mood and the negative thinking that it would normally have triggered. Participants develop the capacity to allow distressing mood, thoughts and sensations to come and go, without having to battle with them. They find that they can stay in touch with the present moment, without having to ruminate about the past, or worry about the future." – Center for Suicide Research
Major Depressive Disorder (MDD) is a severe mood disorder that includes mood dysregulation and cognitive impairment. It is estimated that 16 million adults in the U.S. (6.9% of the population suffered from major depression in the past year and affects females (8.4%) to a great extent than males (5.2%). It's the second-leading cause of disability in the world following heart disease. It has also been shown that depression is, to a large extent, inherited, but can also be affected by the environment. Since the genes basically encode when, where, and how chemicals are produced, it is likely that there are changes in brain chemistry produced by the genes responsible for Major Depressive Disorder.
The usual treatment of choice for MDD is drug treatment. This supports the altered brain chemistry notion for MDD since the most effective treatment for MDD, drug treatment, changes brain chemistry. In fact, it is estimated that 10% of the U.S. population is taking some form of antidepressant medication. But a substantial proportion of patients (~40%) do not respond to drug treatment. In addition, the drugs can have nasty side effects. So, there is need to explore other treatment options.
Mindfulness meditation is a safe alternative that has been shown to be effective for major depressive disorder even in individuals who do not respond to drug treatment. Mindfulness Based Cognitive Therapy (MBCT) was developed specifically to treat depression and has been shown to be very effective in treating existing depression and preventing relapse when depression is in remission. It makes sense that if altered brain chemistry underlies MDD and that MBCT is an effective treatment for MDD, then MBCT must in some way change brain chemistry. In today's Research News article "Evaluating metabolites in patients with major depressive disorder who received mindfulness-based cognitive therapy and healthy controls using short echo MRSI at 7 Tesla"
https://www.facebook.com/ContemplativeStudiesCenter/photos/a.628903887133541.1073741828.627681673922429/1196100317080559/?type=3&theater
Li and colleagues explore brain chemistry changes in Major Depressive Disorder (MDD) and the effects of Mindfulness Based Cognitive Therapy (MBCT) on those brain chemistry changes.
They recruited patients who were diagnosed with MDD but who were not currently taking antidepressant drugs and who were not practicing meditation or yoga. The brains of these patients and healthy controls were scanned with a powerful imaging technique called Magnetic Resonance Spectroscopic Imaging (MRSI). It is capable of non-invasively detecting levels of particular chemicals in the brain. The patients then received an 8-week MBCT group therapy followed by rescanning of the brains for the same chemicals.
They found that the MDD patients compared to healthy controls had elevated levels of choline-containing compounds and decreased levels of N-acetyl aspartate, myo-inositol, and glutathione.
These chemicals are breakdown products of active brain chemicals (metabolites). These are all markers of brain function. The heightened levels of choline-containing compounds suggests that there is with increased cell density and/or membrane turnover in MDD. The decreased levels of N-acetyl aspartate suggest that there is a loss of neurons or neuronal function in MDD. The decreased levels of myo-inositol suggest that there is a loss of or dysfunction of glial cells in MDD. Finally, the decreased levels of glutathione suggest that there is a lower level of neuron excitation in the brain in MDD.
Importantly, Li and colleagues found that MBCT significantly reduced depression levels and at the same time normalized the levels of all of the metabolites that had abnormal levels in the patients. These are potentially important results. They demonstrate altered brain chemistry in MDD suggestive of dysfunction in the normal activities of the nervous system and point to potential causal factors in MDD. They also provide suggestions as to how MBCT changes the brain to effectively treat MDD.
It should be noted that the changes in metabolites in Major Depressive Disorder may be the result of the depression rather than its cause. The fact that the changes vanished after treatment reduced depression tends to support this contention. It is a complex disease effecting the most complex entity in the universe, the human brain. Hence, there is still a lot of work to do to determine the causal factors in MDD.
Regardless, change major depression brain chemistry with mindfulness.
 "Mindfulness is the only thing I know to do that can dig me out of despair and give me even a few seconds of time out from me," – Ruby Wax
CMCS – Center for Mindfulness and Contemplative Studies