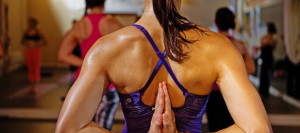 "My system works, as long as people let me do my job my way. It is not just the sequence, it is how you do it: the timing, the mirrors, the temperature, the carpet. But if people only do it 99% right, it is 100% wrong. When someone tries to mess with it, the people won't get the yoga benefits." – Bikram Choudhury
Yoga practice has been shown to improve physical well-being (see http://contemplative-studies.org/wp/index.php/category/contemplative-practice/yoga-contemplative-practice/). But, there are a large number of different types of yoga practice including Ansura, Ashtanga, Bikram, Hatha, Hot Yoga, Iyengar, Jivamukti, Kripalu, Kundalini, Prenatal, Restorative, Viniypga, Vinyasa, and yin. One problem with the research on yoga effects is that different researchers use different types of yoga. So, it is difficult to compare results. In addition, the studies do not establish the relative effectiveness of each type of yoga.
Bikram Yoga is somewhat unique in that it employs a set sequence of 26 poses (asanas) and two breathing exercises. It is practiced in a heated environment (105°F, 40.6°C, 40% humidity) and there is a unique programmed instructional dialogue. The hot environment is thought to soften the muscles making them more pliable and loosen the joints making them more flexible allowing the practitioner to go deeper into poses. The sweating that occurs is thought to help remove toxins and impurities.
In today's Research News article "The Effects of Bikram Yoga on Health: Critical Review and Clinical Trial Recommendations"
https://www.facebook.com/ContemplativeStudiesCenter/photos/a.628903887133541.1073741828.627681673922429/1137653292925262/?type=3&theater
http://www.ncbi.nlm.nih.gov/pmc/articles/PMC4609431/
Hewett and colleagues review the published research on the effectiveness of Bikram Yoga on physical well-being. They report that in terms of physical fitness, Bikram Yoga increases lower body range of motion, balance, isometric dead-lift strength, isometric maximal voluntary contraction, total hip bone density, and balance compared to the control group. It appears to improve cardiovascular fitness, increasing carotid artery compliance and decreasing beta-stiffness, and HDL and total cholesterol. In overweight and obese practitioners Bikram Yoga improved a number of metabolic markers including blood lipids, insulin resistance, and glucose tolerance. Psychologically, this form of yoga appears to reduce perceived stress and increase mindfulness.
These are important findings suggesting that Bikram Yoga is effective in improving fitness, cardiovascular, health, and psychological well-being. The reviewed research studies were limited and did not investigate many other physical and mental parameters and did not investigate Bikram Yoga's applicability to the treatment of diseases. Unfortunately, the research studies reviewed did not compare Bikram Yoga to other forms of yoga, so it is not known what if any of the reported benefits are specific to Bikram Yoga and which are in common with other practices. This review is an important first step in documenting the effects of Bikram Yoga which are shown to be widely beneficial. It is clear that much more research is warranted comparing the effects of the different forms of practice.
Regardless, the results are clear that you can improve well-being with Bikram Yoga.
"To sweat is to pray, to make an offering of your innermost self. Sweat is holy water, prayer beads, pearls of liquid that release your past. Sweat is an ancient and universal form of self healing, whether done in the gym, the sauna, or the sweat lodge … The more you sweat, the more you pray. The more you pray, the closer you come to ecstasy."  – Gabrielle Roth
CMCS – Center for Mindfulness and Contemplative Studies
This and other Contemplative Studies posts are available at the Contemplative Studies Blog http://contemplative-studies.org/wp/