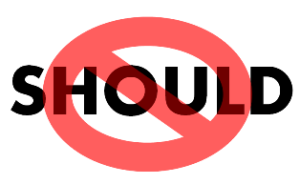 Humans torment themselves with "shoulds" and "coulds". "Things should be this way." "I could have made a different choice." "He could have done this for her." "She shouldn't have said that." "I should work harder." My son should call home more often." "I shouldn't have done that." "I should plan more for the future." "I could go to church more often." "I should be doing better," etc. The list could go on endlessly.
All of these "shoulds" and "coulds" do nothing to change anything except for our happiness. They produce regrets, dismay, and dislike of ourselves and others. Since "should" and "could" imply that we are not acting or feeling as we might, it suggests that we are flawed. This then becomes the source for low self-esteem. Since "should" implies that others aren't as good as we'd like or expect them to be, it suggests they are unworthy. This then becomes the source for gossip, putting others down, and dislike.
Every time that we say "should" or "could" it is a blatant admission that we're unhappy with ourselves, things, or others as they are. We want them to be different. The discrepancy between what is and what we want it to be makes us unhappy with the way they are. This is the very essence of suffering. How can one be happy if thing are not right, if they "should" or "could" be different.
The secret to happiness is learning to accept things as they are. This doesn't mean that we like or endorse what is, we simply accept it as reality. We can see all of the suffering and injustice in the world, not like it, and prefer that it wasn't there, but recognizing that this is the way it is. This then suggests that the key to our happiness is learning to accept the world, ourselves, and others just as they are.
How can we do this? Mindfulness practice is a key to accepting things as they are. It helps us focus on the present moment. "Shoulds" and "coulds" revolve around the past. Being in the now there can be no "should" or "coulds". There is only what is at the moment.
If we pay careful attention to the present moment we can begin to see that nothing is lacking. Everything that is needed right now is completely present. There is wonder and beauty in what is present in front of us. Happiness can become a simple constant state. It's not an ecstasy or a high, but an enduring state of joy. If we can open our eyes without "should" or "could" it is more than possible, it is inevitable.
Unfortunately, there always seems to be this inner voice reminding us of what "should" or "could" be or have been. It is hard to be happy when we're being constantly reminded by ourselves that things would be better if they were different. To find that happiness that is always there inside us, we need to quiet that voice or recognize that it is only a thought and let it go. This is where practice comes in. We must work at it. We have too long a history of busy minds and listening to the inner voice. It will take a while to learn a different way.
Stick with the practice. Be persistent. It will slowly begin to quite the mind. We will gradually learn to recognize that the inner voice is only a thought produced by a deluded mind and learn to ignore it, just let it pass through like a piece of dust in the wind. Remember, that if we're willing to invest this time and effort we can indeed find the peace and happiness that is always present right here and right now.
So, practice and learn to find joy in things as they are.
CMCS – Center for Mindfulness and Contemplative Studies