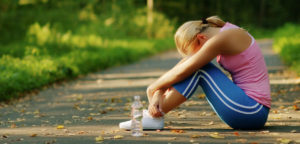 Reduce Athletic Burnout with Mindfulness
By John M. de Castro, Ph.D.
"Mindfulness training has the potential to prevent athlete burnout because of stress reduction and increased recovery.  It also has the potential to enhance performances.  Mindfulness exercises could be beneficial for athletes who struggle with demands from several sources." – P. Furrer
Athletic performance requires the harmony of mind and body. Excellence is in part physical and in part psychological. Without inheriting an athletic body and without many hours of training the individual will never reach an elite level. But, once there, the difference between winning and losing is psychological. That is why an entire profession of Sports Psychology has developed. "In sport psychology, competitive athletes are taught psychological strategies to better cope with a number of demanding challenges related to psychological functioning." They use a number of techniques to enhance performance including anxiety or energy management, attention and concentration control (focusing), communication, goal setting, imagery, visualization, mental practice, self-talk, controlling negative emotions, team building, time management/organization.
Mindfulness training has been shown to enhance a number of the characteristics that are taught by Sports Psychologists. Mindfulness training improves attention and concentration and emotion regulation and reduces anxiety and worry and rumination, and the physiological and psychological responses to stress. As a result, mindfulness training, including meditation and yoga practices, have been employed by elite athletes and even by entire teams to enhance their performance. It makes sense at this point to step back and take a look at the state of the research.
In today's Research News article "Mindfulness and Athlete Burnout: A Systematic Review and Meta-Analysis." (See summary below or view the full text of the study at: https://www.ncbi.nlm.nih.gov/pmc/articles/PMC6388258/ ), Li and colleagues review and summarize, and perform a meta-analysis of the published research literature on the effectiveness of mindfulness as an antidote to athletic burnout. They identified 10 studies including 2 controlled trials, 5 cross-sectional surveys, 1 prospective survey, and 2 qualitative studies.
They found that the literature in general reports that mindfulness training produces a reduction in burnout symptoms in athletes and that mindful individuals tend to have significantly lower levels of burnout symptoms. Meta-analysis revealed a significant association between mindfulness and lower burnout, particularly with the burnout symptoms of emotional and physical exhaustion.
Hence, the research suggests the mindfulness is a potential antidote to athletic burnout. But the reviewed studies were methodologically weak and larger, well controlled, randomized controlled trials, with long-term follow-up are needed. Thus, although the research has produced promising results, conclusions must be tempered pending more research.
So, reduce athletic burnout with mindfulness.
"Despite how physically ready athletes are for competition, their performances may suffer if they do not have control over their minds. Improving mindfulness, or participating in mindfulness-based interventions may help athletes monitor and cope with their sport related anxiety, help them focus during their competitions, and help boost their confidence. Athletes are looking for whatever will give them the advantage, so why not try mindfulness?" – Crystal Chariton
CMCS – Center for Mindfulness and Contemplative Studies
This and other Contemplative Studies posts are e also available on Google+ https://plus.google.com/106784388191201299496/posts and on Twitter @MindfulResearch
Study Summary
Li, C., Zhu, Y., Zhang, M., Gustafsson, H., & Chen, T. (2019). Mindfulness and Athlete Burnout: A Systematic Review and Meta-Analysis. International journal of environmental research and public health, 16(3), 449. doi:10.3390/ijerph16030449
Abstract
Objective: This review aims to identify, appraise, and synthesize studies reporting the relationship between mindfulness and athlete burnout and the effects of mindfulness-based interventions (MBIs) on athlete burnout. Methods: Studies were identified through searching six electronic databases using combinations of three groups of keywords and manual search. Two independent reviewers screened the searched studies, extracted data of the included studies, and assessed the study quality. The extracted data were synthesized qualitatively and quantitatively. Results: Ten studies consisting of two controlled trials, six surveys, and two interview studies met the inclusion criteria. The two controlled trials had weak methodological quality, and the remaining studies were of moderate to high research quality. Results of controlled trials and interview research generally showed that MBIs had positive effects in burnout prevention. Meta-analytic results indicated a negative association between mindfulness and burnout. Conclusions: There is some evidence showing that mindfulness was negatively associated with athlete burnout. However, given the small number of interventions and qualitative studies, there is limited evidence on whether MBIs are useful in preventing athlete burnout. More studies are needed to corroborate these findings.
https://www.ncbi.nlm.nih.gov/pmc/articles/PMC6388258/