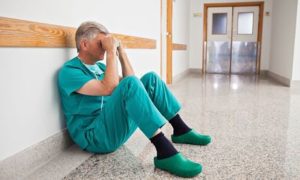 Reduce Physician Burnout with Mindfulness
By John M. de Castro, Ph.D.
"For me, the program has been worth everything. It has enabled me to emerge from my depression, change my toxic work situation, improve my home and family life, and allow myself to be happy and realize that I deserve to be happy." ~ Anonymous MD
Stress is epidemic in the western workplace with almost two thirds of workers reporting high levels of stress at work. In high stress occupations, like healthcare, burnout is all too prevalent. Burnout is the fatigue, cynicism, emotional exhaustion, sleep disruption, and professional inefficacy that comes with work-related stress. It is estimated that over 45% of healthcare workers experience burnout. Currently, over a third of healthcare workers report that they are looking for a new job. It not only affects the healthcare providers personally, but also the patients, as it produces a loss of empathy and compassion. Burnout, in fact, it is a threat to the entire healthcare system as it contributes to the shortage of doctors and nurses.
Preventing burnout has to be a priority. Unfortunately, it is beyond the ability of the individual to change the environment to reduce stress and prevent burnout, so it is important that methods be found to reduce the individual's responses to stress; to make the individual more resilient when high levels of stress occur. Contemplative practices have been shown to reduce the psychological and physiological responses to stress. Indeed, mindfulness has been shown to be helpful in treating and preventing burnout, increasing resilience, and improving sleep. It would be best to provide techniques to combat burnout early in a medical career. Medical residency is an extremely stressful period and many express burnout symptoms. This would seem to be an ideal time to intervene.
In today's Research News article "Mind-Body Skills Training for Resident Wellness: A Pilot Study of a Brief Mindfulness Intervention." (See summary below or view the full text of the study at: https://www.ncbi.nlm.nih.gov/pmc/articles/PMC5954313/ ), Romcevich and colleagues conducted a small pilot study of the effectiveness of a Mind-Body Skills Training (MBST) program to reduce burnout in hospital residents. They recruited 2nd through 4th year residents and had them complete 4 weekly 90-minute training sessions and 12 on-line modules including relaxation, breath following meditation, and loving kindness meditation. They were measured before and after training and 6 months later for burnout, perceived stress, resilience, mindfulness, self-compassion, and burnout subscales of emotional exhaustion, depersonalization, and personal achievement.
They found that after training there were significant improvements in personal achievement, perceived stress, resilience, and mindfulness and an unexpected decrease in self-compassion. At the 6-month follow-up there were significant improvements in self-compassion, depersonalization and mindfulness. Hence, the pilot results suggest that Mind-Body Skills Training (MBST) may be effective in improving well-being and decreasing symptoms of burnout in medical residents.
It will be necessary to replicate these results in a larger controlled randomized trial. But the pilot results are encouraging. They suggest that this form of mindfulness training may be a safe and effective method to improve well-being and intervene early in the career to prevent future burnout in medical professionals.
So, reduce physician burnout with mindfulness.
"these tools can help us be the best we can be in our "inner space" while we struggle to eliminate the challenges and burdens that occupy the "outer space" of our practice of medicine. After all, if we can't take care of ourselves, we won't have anything left to care for others." – Lynne Lillie
CMCS – Center for Mindfulness and Contemplative Studies
This and other Contemplative Studies posts are also available on Google+ https://plus.google.com/106784388191201299496/posts and on Twitter @MindfulResearch
Study Summary
Romcevich, L. E., Reed, S., Flowers, S. R., Kemper, K. J., & Mahan, J. D. (2018). Mind-Body Skills Training for Resident Wellness: A Pilot Study of a Brief Mindfulness Intervention. Journal of Medical Education and Curricular Development, 5, 2382120518773061. http://doi.org/10.1177/2382120518773061
Abstract
Background:
Interventions to address burnout include mind-body skills training (MBST), but few studies have evaluated the feasibility of MBST for busy pediatric residents.
Objective:
In this pilot study, we tested the feasibility of a brief MBST intervention, using in-person peer-led training supported by online modules, to decrease stress and burnout in pediatric resident physicians.
Methods:
Of 99 (10%) residents, 10 residents at Nationwide Children's Hospital in Ohio participated in up to four 90-minute MBST sessions more than 1 month, led by a co-resident with 5 years of informal training in mind-body skills. Participants were offered 8 assigned online modules through OSU Center for Integrative Health and Wellness. Measures including Maslach Burnout Inventory (MBI), Cohen's Perceived Stress, Smith's Brief Resilience, Cognitive and Affective Mindfulness Scale-Revised, and Neff's Self-Compassion Scale (NSS) were administered before (T1) and after (T2) the course. Participants were offered optional monthly "maintenance" sessions for 6 months and completed a third set of measures at this follow-up (T3).
Results:
The residents completed an average of 4.3/8 online modules and attended an average of 2.8/4 in-person sessions. There was significant improvement in positive attitude, perceived stress, and resilience post intervention (T2). Follow-up evaluation (T3) also demonstrated significant improvement in burnout (depersonalization) and mindfulness. More than 75% of participants found the course worthwhile.
Conclusions:
A short mixed-method mindfulness-based skills course may be a practical way to offer resilience and stress management training to busy resident physicians.
https://www.ncbi.nlm.nih.gov/pmc/articles/PMC5954313/